SEATLE, WASHINGTON | APRIL 3, 2021
3200 block of SW Avalon Way (West Seattle) – 2-Alarm
Firefighters were dispatched to a Fire in Building call in the 3200 block of Southwest Avalon Way in West Seattle, Washington State on Saturday, April 3, 2021 around 1824 hours PT. The building is a mixed use business with retail space on floor one and apartments on floors two through six.
The original units dispatched to the fire were B7, E32, E3, L11 at 1824 hour PT.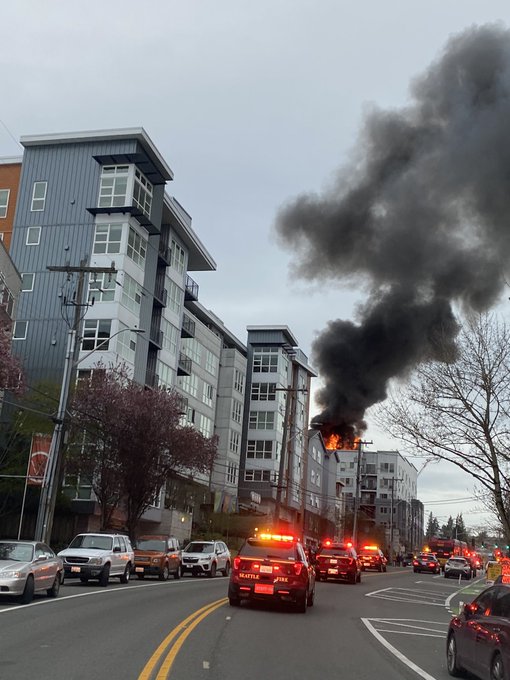 It was quickly upgraded to a full response with additional fire assets and equipment A14 AIR10 B5 DEP1 E11 E13 E37 L13 M32 M44 MAR5 R1 REHAB1 SAFT2 STAF10. (1st alarm)
At a later time, Command called for a 2nd alarm. The Fire Alarm Center or FAC dispatched E29, E5, Air240-260, B2, E10, E2, E26, E30, L1, L3 and the SFD PIO.
L9 and L10 were added to this incident prior to 2000 hours T.
Fire has been contained to the top floor but major water damage is evident on the top floors.
The cause and extent of damage is under investigation at this time.
It is unknown if there were any injuries to civilians or firefighters at the time of this post.
300 block of Bellevue Avenue East – 1st Alarm/Full-Response
Firefighters were busy chasing another fire in building call at 0421 hours PT. This was in the Capitol Hill neighborhood prompting A25, B4, E16, E22,E31, E36, E8, L13, L6, L9, M17, MAR5, B6, SAFT2, Air240, Air240-260 to be dispatched.
This was an unoccupied building that was set for demolition.
The cause was listed as "undetermined" by Marshal 5 (SFD Fire Investigator). There was no determined amount of loss given that the building was set to be destroyed.
2000 block of 23rd Avenue South (South Seattle) – 2-Alarm
At 0303 hours, Firefighters were dispatched to the 2000 block of 23rd Avenue South in Seattle on Saturday. This was a mid-rise U-shaped building under construction in the Mount Baker neighborhood. The fire had appeared to begun on the first floor and spread to the upper floors.
First arriving units were greeted by heavy flames and smoke.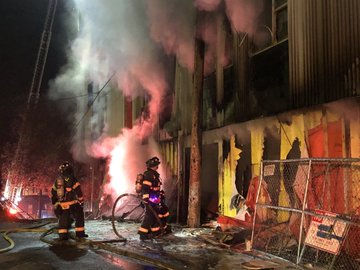 Units dispatched were B5, E30, E6, L3 then determined it to be a working fire, initiating a full response.
The full response included A5, Air10, B2, Dep1, E10, E13, E6, L1, M1, M44, MAR5, R1, REHAB1, SAFT2, STAF10.
Additional resources deployed were Air 240-260, B4, E2, E25, E28, E34, L10, L4, PIO.
Seattle FD's Marshal 5 determined this was an arson caused fire. The Seattle Police Department Arson unit is currently looking for any tips from the public. You may contact them at
(c) 2021 NW Fire Blog – Updated 2005 PT