1200 PT | SATURDAY | JUNE 19, 2021
The WILLOW FIRE started on Thursday at 2010 and reported at 2053 hours PT, which is burning on the Willow Creek and Marble Peak Trail, southeast of Big Sur (Monterey County), California on Los Padres National Park. This is in the Ventana Wilderness NW of the Arroyo Seco Rec area, close to the Tassajara Zen Center.
Evacuations are in effect.
Evacuations ordered for Tassajara Rd, from the Tassajara Zen Center to China Camp Campground, in the Los Padres National Forest, including tributary Forest Routes. (6/18/2021 – Monterey County OES)
Evacuations ordered for All areas of Arroyo Secco Rd west of Woodtick Canyon, including Arroyo Seco Campground, Rocky Creek Rd, Camp Cawatre. (6/18/2021 – Monterey County OES)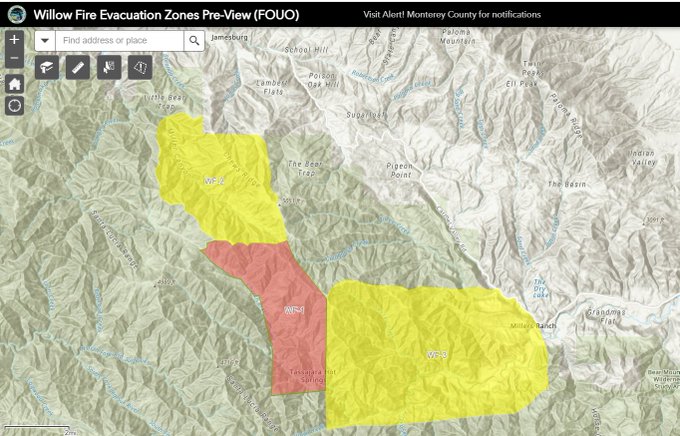 The only access is by hiking into the area.
Pinnacle National Park Service visitors are seeing smoke from this fire burning in Big Sur and Los Padres National Forest. The Park would like to remind visitors that this is not a threat to the Park but Pinnacle NPS remains at a very high fire danger where fires and grills are not allowed.
As of yesterday, the fire had scorched 1,500 acres and it was said to be moving south-southeast as winds changed the direction.
Incident Cooperators: Los Padres NF, Big Sur FD. IC: is Tony Zavala with the USFS.
(c) 2021 NW Fire Blog