Updated 1:15 AM PDT
SUMMARY
Windstorm #1 has arrived with #2 on its heels.  So, what have you  done to prepare yourselves?You say, 'It's not that bad. I have been through other storms.'  Here's why it is so important to start taking matters into your hands and #PrepareNOW (our very own hashtag)
WINDGUSTS IN THE LAST 24 HOURS – Reported by the National Weather Service.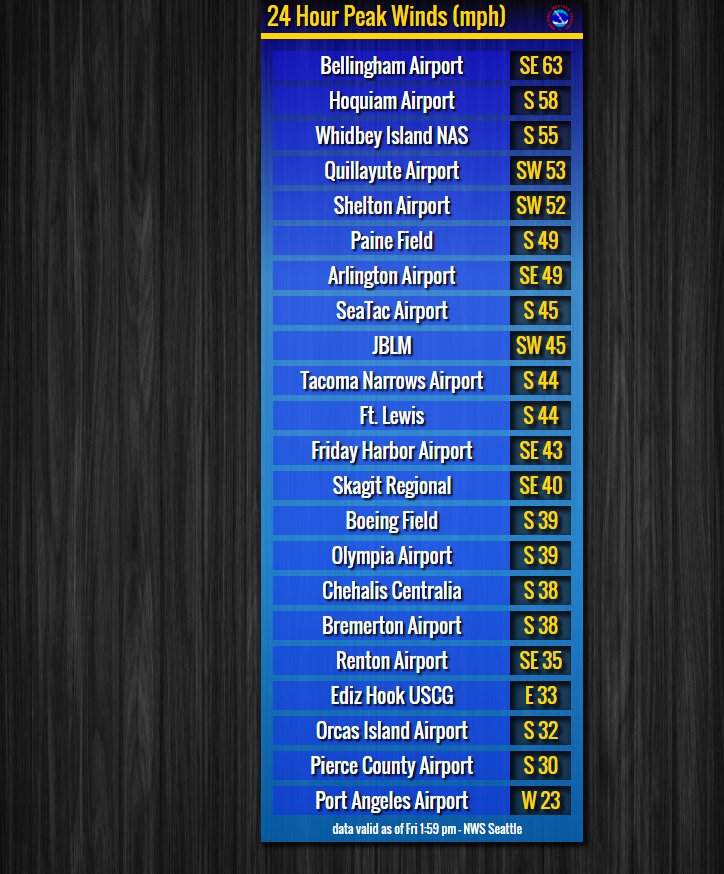 WHY IT IS SO IMPORTANT
Why is this such a big event for the Pacific Northwest this year?  Higher than normal winds are blowing through the Pacific jet stream from a remnant of Typhoon Songda, that had reached the highest winds clocking in at 150 m.p.h.
The storm started as a Tropical Storm on October 9th, began picking up speed becoming a Typhoon on October 10th with winds reported as 120 m.p.h.
On October 11th, the storm had been deemed as a Super Typhoon with the highest winds at 150 m.p.h.! The following day, winds have lessened to around 120 m.p.h. becoming a Tropical Storm once again, but not before high winds are being carried around Alaska down to the great Pacific Northwest.
Winds will be considerable less but they will still be around the 40's and into the 60's, so please be careful when you go out or if you can stay in
PUBLIC SERVICE ANNOUNCEMENTS
ALERTS – FLOOD
Spokane & Stevens Counties:  Flood Watch in effect from Saturday morning (Washington Weather on Twitter)
ALERTS – ADVERSE WEATHER –  NWS/NOAA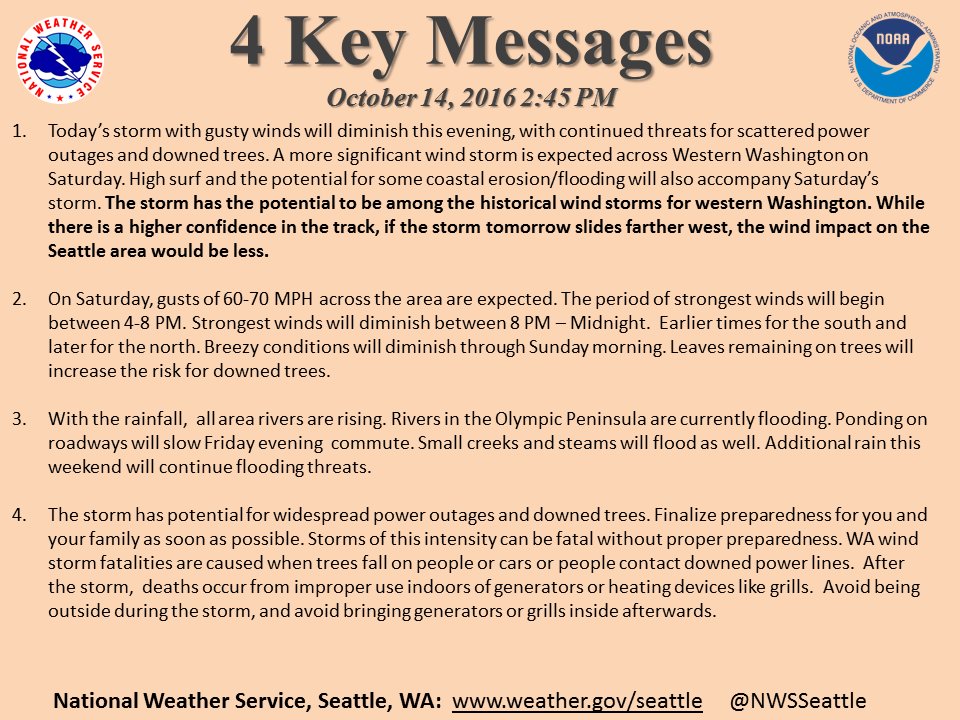 ALERTS – ROAD CLOSURES
Road Closures: Skagit County DEM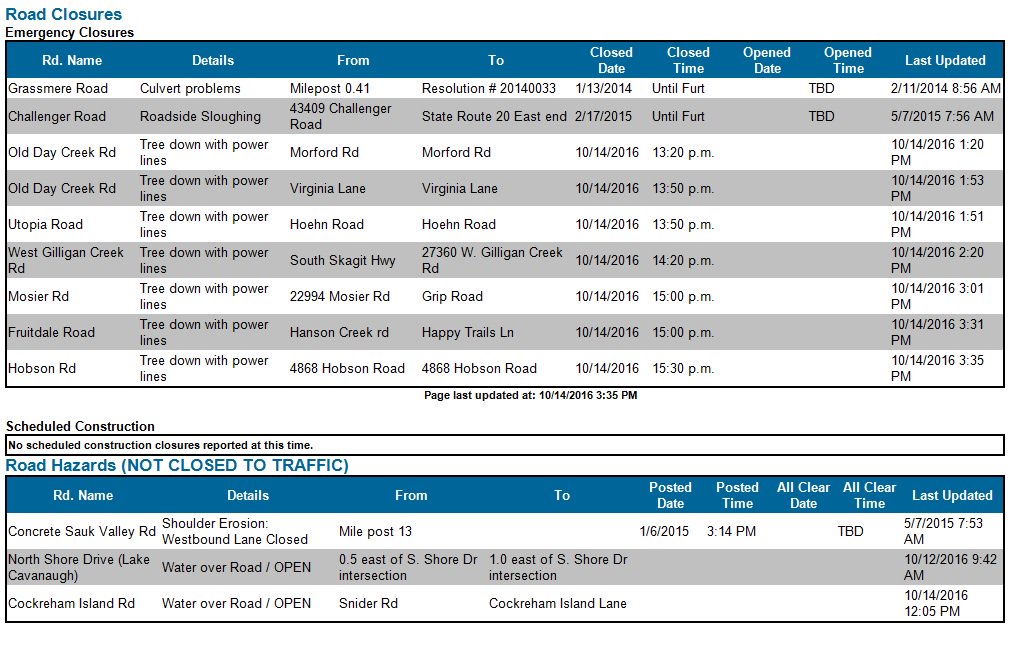 ALERTS – RECREATIONAL ACTIVITIES
National Forests:  Too dangerous for walks, hikes and driving in wooded areas – Willamette National Forest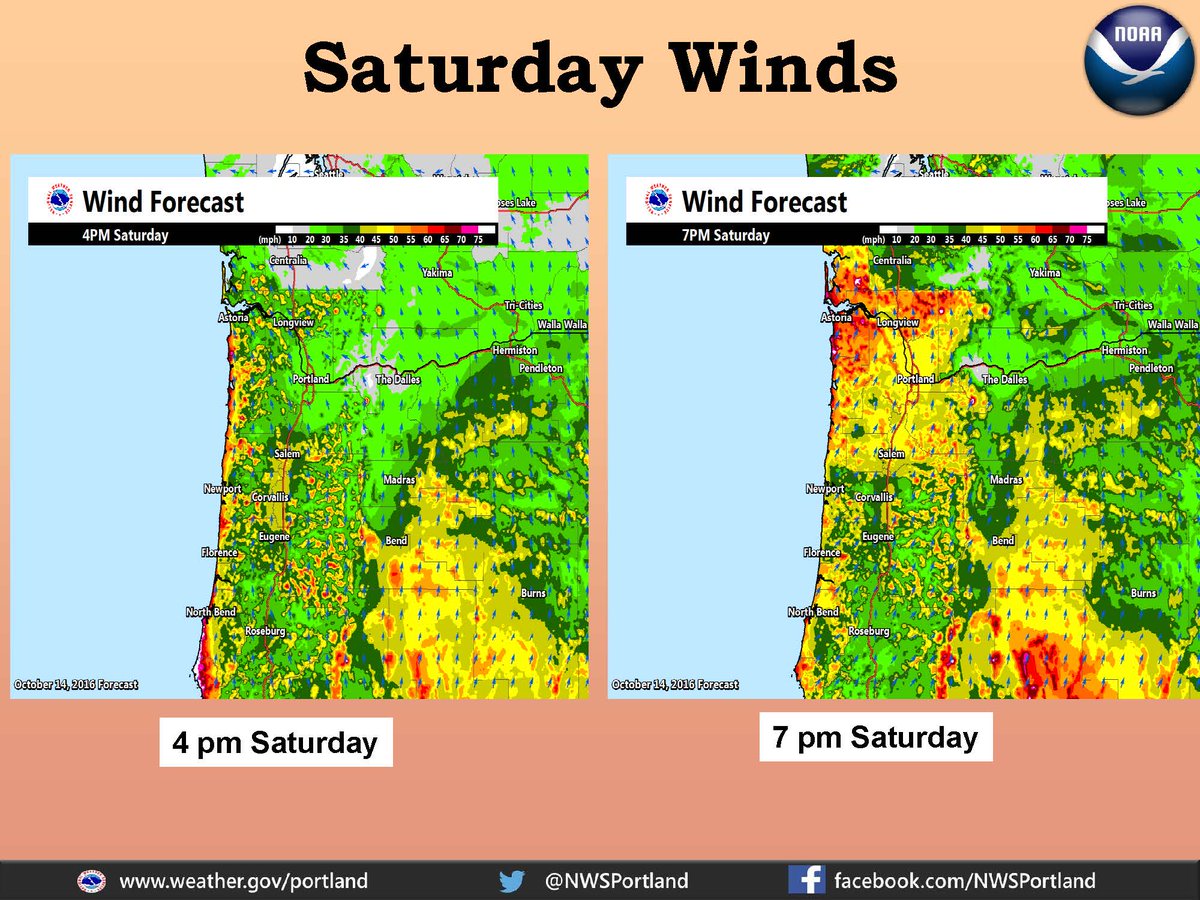 ALERTS – TRANSPORTATION
Washington State Ferries:   "Visibility is low across all routes at start of PM commute. Captains have closed outer decks, advises folks to stay seated." – WSDOT Ferries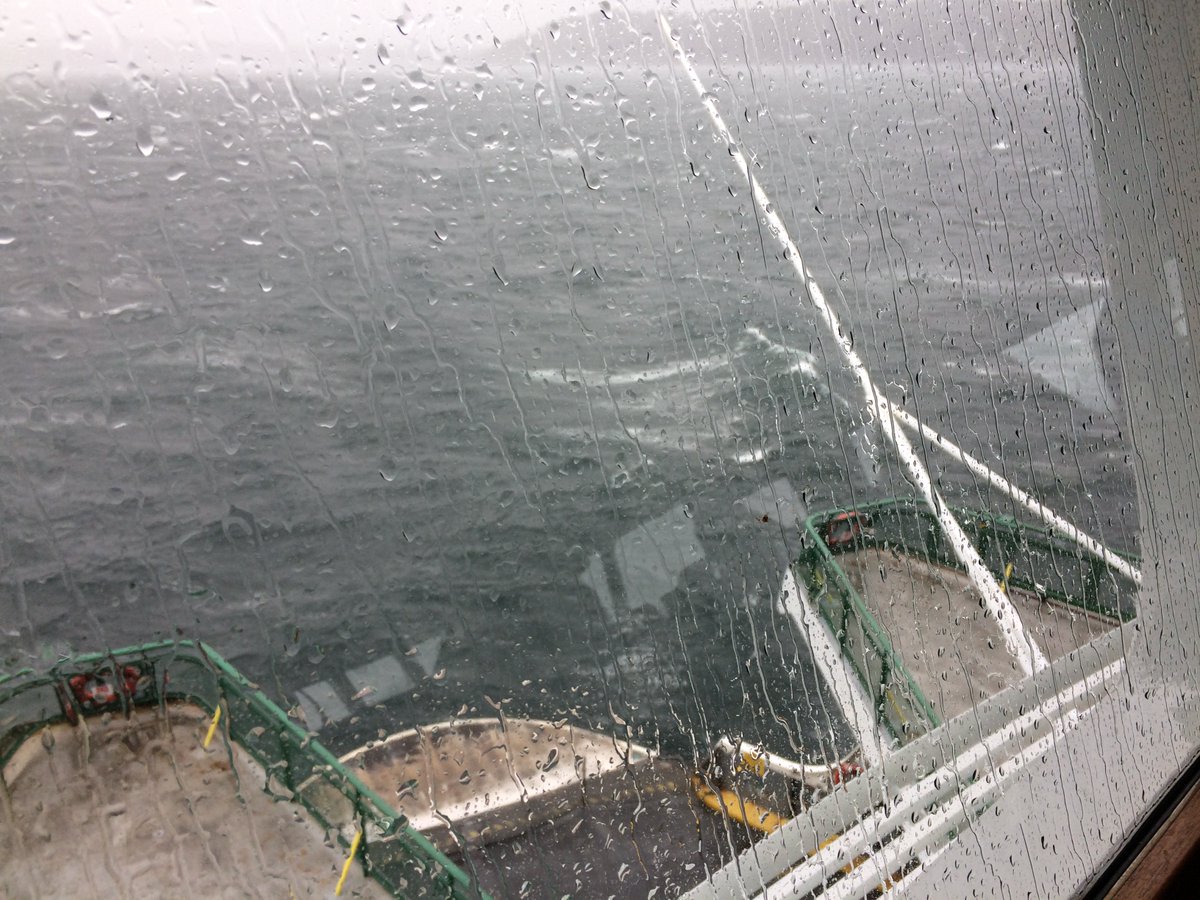 ALERT – WEATHER
WATCH : High winds, Flooding and Power outages on the Coast / Coast Range – NWS Portland (OR)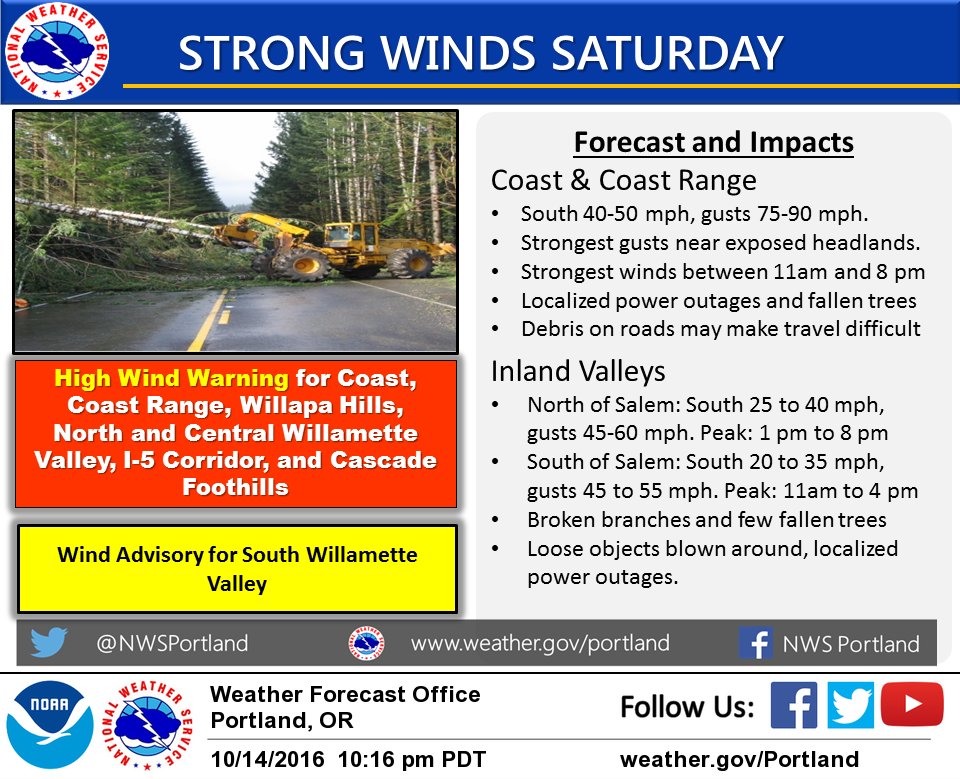 REPORT ROADWAY ISSUES
Pierce County, Washington – Report 24/7 to 253-798-6000 or piercecountywa.org/rfa.
Hood Canal Bridge (WA):  SR 104 Hood Canal Bridge closure to vehicles is scheduled at approx. 12:45 am on 10/15/16, expect up to a 60-minute delay (posted 11:56 PM PDT)
HOW TO PREPARE
HOW WOULD YOU PREPARE?
We took a recent Poll on Twitter asking the question:  "What 2 thing would you do to PrepareNOW for an Emergency?"
The Choices were Camp Outdoors, Bring your Generator indoors, Have water for 48 hours and Gas Up your car.
We had hoped no one would pick bringing in their Generator indoors, but 5% of those polled chose this answer.  Check out the reason why this could be so deadly to you and your family. (Check out the image under "What To Do When the Power Goes Out")
Thank you to those who participated in the Poll.
WHEN THE POWER GOES OUT
Here are some ideas of what to have on hand to be Prepared for any type of Emergency, excluding Flooding in your home or inhabitable due to an Earthquake or Tornado:
BEING PREPARED FOR 3 DAYS
"We recommend the following to Building an Emergency Preparedness Kit, Preparation Tips and Ways to Protect You/Your Family Before/During/After an Event.  (Info based upon Fire, Police, Emergency Management and EMS articles, posts and knowledge)" – NWFB
Water:   Include one gallon per person for each day. Note:  Water along with food (unless otherwise labeled) should be changed out every six months.
Food:  Include items such as beef jerky, protein and/or granola bars, canned and/or vacuum packed canned foods and other non-perishables. (Don't forget your pets and their pet food)
Medications:  Don't forget to keep this on hand and have enough for the time allotted.  The Disaster or Emergency could last longer than 3 days, i.e. Power outages, Earthquakes, Tornadoes, etc.
Battery-powered Radio:  An alternative could be a hand-crank powered radio.  If you use a Battery operated radio, make sure you have extra batteries.
Flashlights:  There are also alternatives out there, such as, Battery-powered or Solar-powered Latterns. Do not use candles.  These lead to fires when candles are left unattended.
Matches:  These could be used to light pilot lights on gas stoves (inside homes- make sure no smell of gas in the air), camping stoves, fires in fireplaces, etc.
First Aid Kit:  Don't feel like spending time or energy on putting together a Kit? You can visit various stores such as camping supply stores, specialty stores or the American Red Cross.
We recommend the following for a Kit (TIP:  You can visit the American Red Cross @ http://www.redcross.org/prepare/location/home-family/get-kit/anatomy to find a full and a complete list or to purchase your own)
Sterile gauze pads of different sizes
Adhesive tape
Scissors
Tweezers
 Elastic bandage
Antiseptic wipes
Soap
Splint
Alcohol wipes
Thermometer
Non-latex gloves
List of Emergency Phone Numbers (yours)
Great Resources:  3 Days, 3 Ways. Campaign  http://www.co.cowlitz.wa.us/DocumentCenter/View/58
INCIDENT COOPERATORS
Via our friends at the Washington State Public Health Agency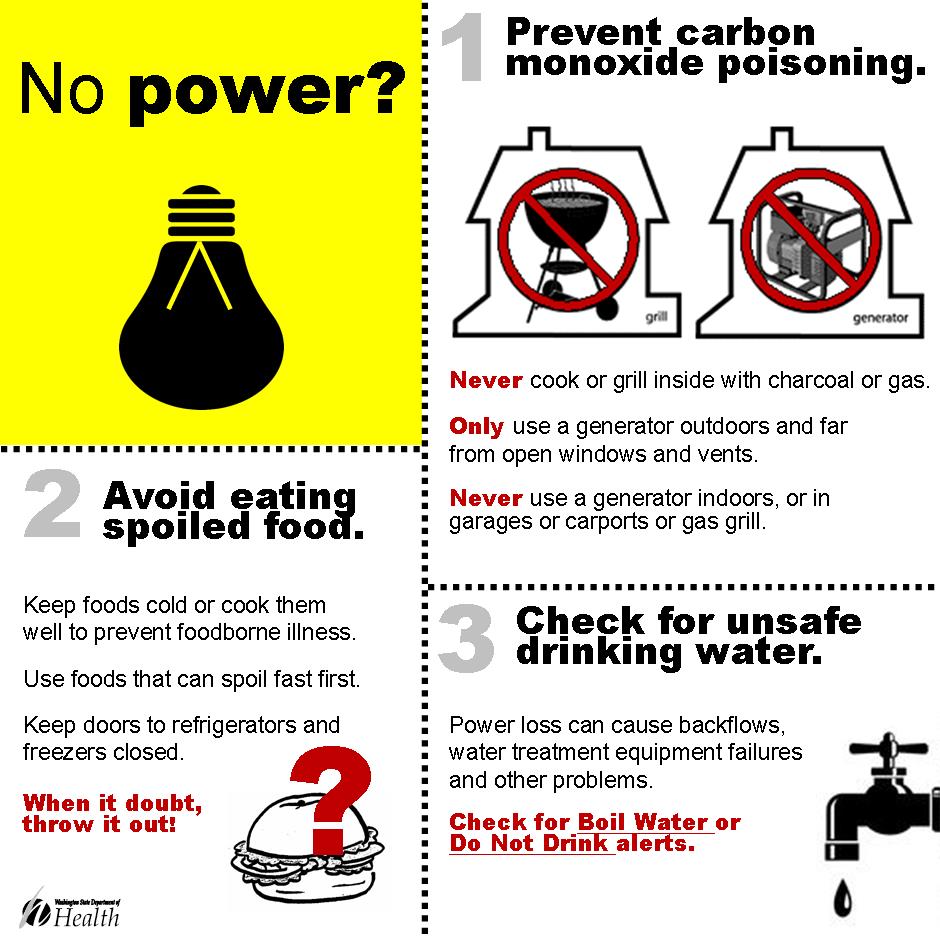 RESOURCES
UTILITIES
Pacific Power Portland  (OR):  Reporting downed power lines, call 9-1-1 then 1-877-508-5088.  "Always treat them as if they are LIVE power lines. Stay away!"
Puget Sound Energy (PSE):  Is Your Power out? Check out the  Outage Map   http://pse.com/accountsandservices/ServiceAlert/Pages/Outage-Map.aspx  or you can download for free their app
Seattle City Light:  Report outages to 206-684-3000 or 206-684-7400.  Outage Map:  http://www.seattle.gov/light/sysstat/
Snohomish PUD:  Report power outages to them @ 425-783-1001.
OUTAGES
UTILITIES
Snohomish County PUD:  13,000 customers are without power due to winds are picking up.
Seattle City Light:  7 power outages affecting 165 households per outage map.
STORM IMAGES
STORM SURGES
La Push, Washington:  US IOOS gov / NOAA reporting on 10/13/2016 storm rolling in.  Credit:  usioos.gov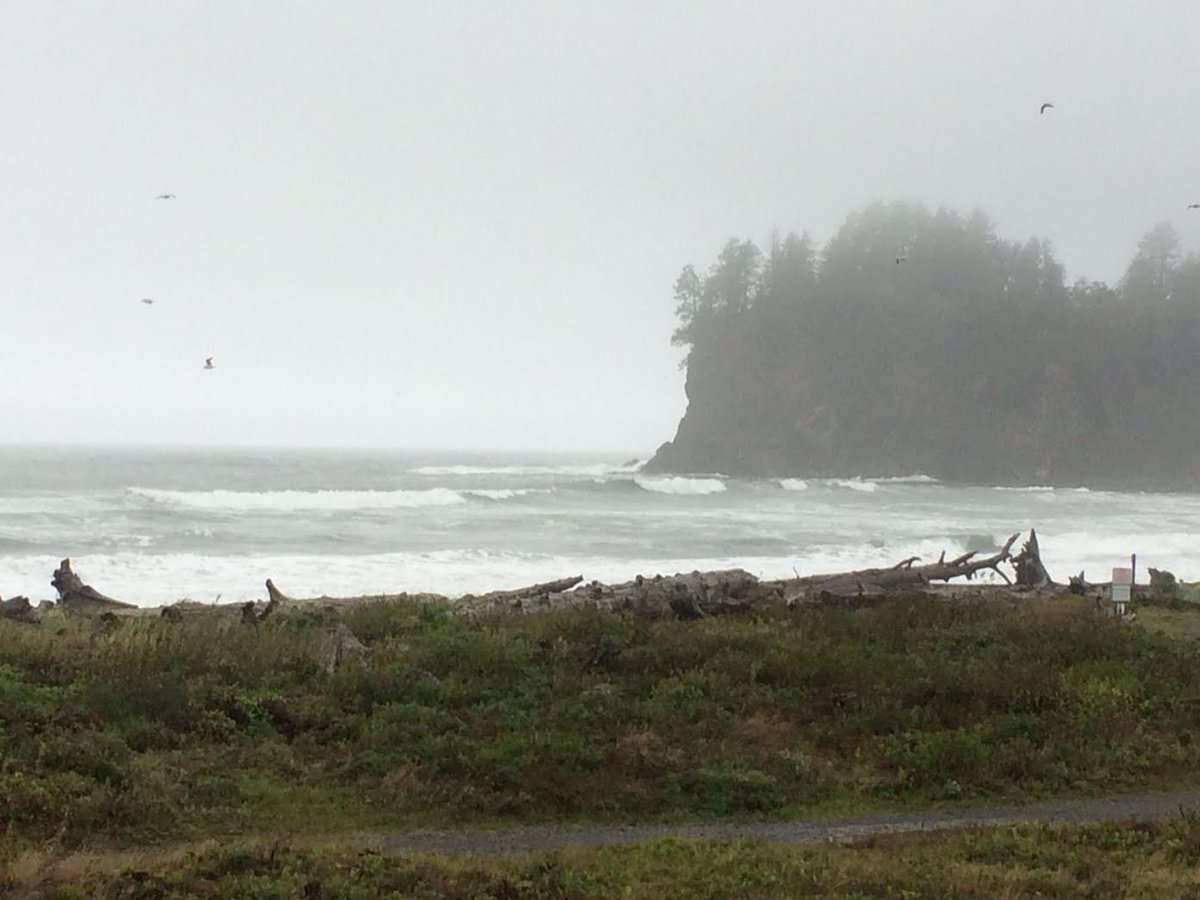 SOCIAL MEDIA
WHAT'S BEING SAID ON MEDIA
"I  could care less if I have fuel in the car!  Water + food + shelter." – Twitter user
"Early data tonight unchanged on strong windstorm track for #wawind. Differ on strength: "bad" and "real bad." Waiting on more later." – News media
"Wind will start around Olympia about 4-6 PM and in Seattle area a couple of hours later. Wind will pick up suddenly and hard." – NWS Seattle
"Sat. storm watch: "Whoever gets hit, is going to get hit pretty hard" – Twitter user
"Weather hasn't been to bad here yet in the Bellevue Area." – Twitter user
"A Dock was seen heading westbound  floating down the Sammamish River towards Lake Washington." – Bothell PD
"Right now, strongest effects from #Songda will be Seattle area westward." – Weather source
"Consider postponing your #razorclam trip this weekend! They'll still be there next week!" – Washington State Parks
"Due to storms, could be transit interruptions." – King County Metro  (Seattle, Washington).  Check out their site here –>  https://content.govdelivery.com/accounts/WAKING/bulletins/16b2167
"Winds likely E before switching southerly in eve. Expect high wind when southerlies arrive. Can't specify on SE protection." – NWS Seattle (@ 1AM PDT)
# # #
NW FIRE BLOG
Come, Follow Us on our Social Media Channels:  Twitter @nwfireblog and Facebook.
HASHTAGS BEING USED ON SOCIAL MEDIA
 #wawx  #wawind #orwx  #idwx  #TyphoonSongda
(c) 2016 The #NWFireBlog