Seattle, Washington – At approximately 1557 hours today, Seattle firefighters were dispatched to a Fire in a Building [multi-level abandoned apartment building] located at 669 S. King Street.  
Units dispatched were Aid 5, Air9, Battalions 5 & 6, Deputy 1, Engines 10, 2, 25, 5, 6; Ladders 1 & 3; Medic10, Rehab1, Safety2, Staff10.
It was upgraded to a 2-11 with additional fire crews and apparatus being dispatched.  Responding units and resources were Engines 8, 13, 30, 20, 16, 26, 32; Ladders 6, 7 & 4; PIO, Marshal5, Air260 and CommVan.
Firefighters evacuated the exposure building.  Firefighters are fighting the fire from a defensive point and are concerned with the top two floors collapsing.  A collapse zone has been established around the burning building.
Some fire apparatus have also moved away from the fire building and out of the collapse zone.
Firefighters continue to work on the rooftop and from the exterior. Check out photo on #Seattle #Fire's photo.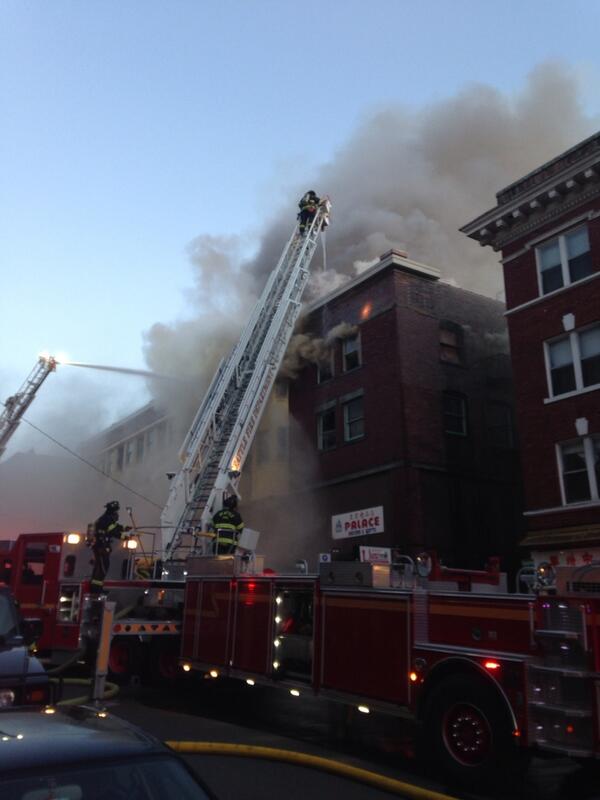 It is reportedly that the apartment building has long been abandoned with a few businesses on the first floor. The rest of the building has been left unmaintained and its structural integrity is in question.
The collapse zone is deemed all of S. King Street by Seattle Fire Department.
There is no cause known at this time as firefighters are still fighting the fire.  Once the fire is out and cooled, then the Fire Marshal will be able to enter the premises to locate the cause of the fire.
(c) 2013 The NW Fire Blog