POST SUMMARY | State of Texas, known as The Lone Star State was hit extremely hard from by a Category 4 Hurricane (Harvey) that made landfall late evening on Friday, August 25, 2017.  It was downgraded to a Category 2 later but not before the storm unleashed its fury of downpours.  
This storm is due to produce ever more water than the areas can even hold flooding structures, infrastructures, threatening the State's economy.    The storm reached its peak intensity slamming into Rockport sustaining much of the extreme amount of damage.  Many parts of the State have been devastated beyond recognition.
. . . . . . .
" It is the first time since 9/11 that all 28 FEMA Urban SAR teams have been mobilized."
– Jeff Stern, VA State DEM Coordinator
. . . . . . .
DISTRESS CALLS
Call 9-1-1.  The US Coast Guard says do not report Distress calls over Social Media. You must report by calling 911.  Keep trying until you get through.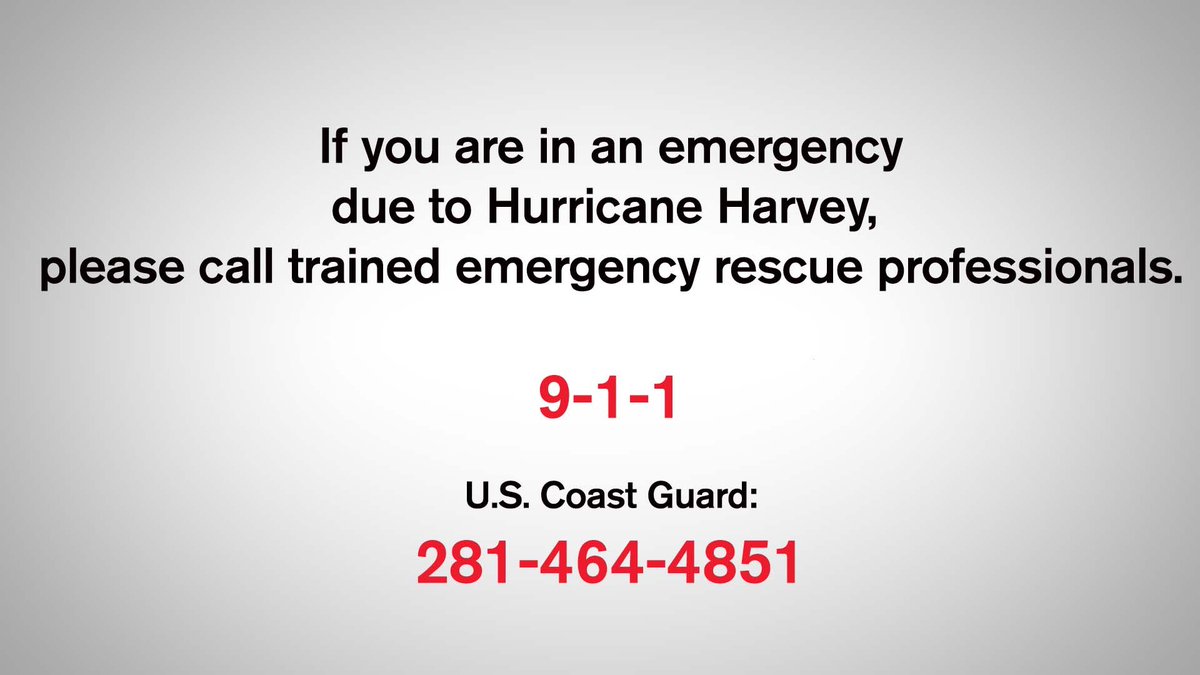 EVACUATIONS
Rosenburg, TX.  Mandatory evacuations for homes on Huntington Road. Unknown if bridge into area will hold as river levels are rising. Bridge is only escape out of area. (Posted by RPD 2202 Hours CDT). 
Bay City, TX. Mayor announces entire City is under a mandatory evacuation by 1300  hours on Monday, 8/28/2017, due to 10-foot flood expected. https://www.facebook.com/footstepsforthefallen/posts/645510148987649
Sugar Land, TX. Two LIDs are under mandatory evacuations. http://abc13.com/judge-mandatory-evacuations-for-two-sugar-land-lids/2349438/
. . . . . . .
As of Aug 27, 2017,  there is NO evacuation orders in place for the City of Pearland. (This was fake news)
. . . . . . .
RESCUE TIPS
What to Do to Be Rescued.  The USCG is urging residents, people to be rescued to call the Houston # at 281-464-(4851) or (4852) or (4853) or (4854) or (4855).  Get on your roofs.  Tips:  Stay calm; don't panic. Don't go to the attic as rescuers cannot see you. Get to high ground immediately. Mark the roof to be seen from the air. Wave sheets, towels to be noticed.
. . . . . .
Houston 911 received 56,000 calls (from 2200 hours Saturday, 8/26/2017 through 0100 hours on Sunday, 8/27/2017).  During an average day, they usually handle about 8,000 calls.  
                       . . . . . . .
PUBLIC SERVICE ANNOUNCEMENTS
No Drones in Disaster Recovery Zones.  TX Military Department has seen a rise of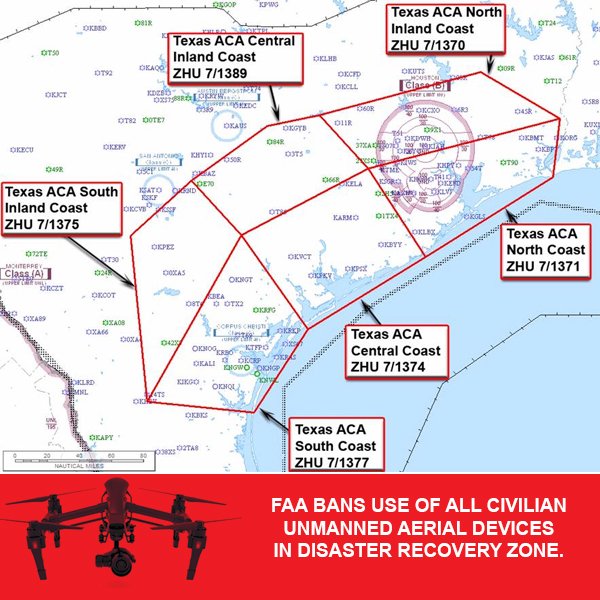 Drone operators trying to get in on some action of their own, but did you know that it is extremely dangerous for those on the ground and in the air?  Did you know it is illegal and can not only net you a ticket, but some hefty jail time? It is true.  Here are some of the problems and where rescuers are working.
. . . . . . .
FAA, DOD asking people not to fly drones in and around Houston, TX.  There have been reports of close calls by pilots.
. . . . . . 
CLOSURES
WB I-10. Westbound I-10 being closed at mile marker 655 or about 40 miles east of Seguin due to flooding. (TxDOT – Yoakum)
Ben Taub Hospital, MD Anderson. Shutdown as of 1913 hours CDT.  These are the two trauma hospitals in the City.
. . . . . . .
As of 0600 Hours CDT 8/27/2017, Houston TranStar logged 174 high-water road closures in the area. This included I-10, I-45, I-610, I-69, US 290, TX 225, TX 288,  Beltway 8 and TX 3 in Galveston, Texas.
. . . . . . .
HOW TO HELP
Volunteers Needed.  City of Dallas, TX.  http://www.voly.org/join/index.html
Boats Needed.  Houston Police Department.  Call 713-881-3100.
Blood Donations. Austin hospitals need blood donations at We Are Blood, A Blood  Center in Central Texas.  https://weareblood.org/
. . . . . . . 
 Social media rumors tell of hundreds dead, thousands of rooftop rescues and millions of people stranded is #FakeNews. 
. . . . . . .
SAFETY
Boil Water Alert.  City of Corpus Christi is under a WATER BOIL ALERT. Do not drink the water. Caused due to the Storm's destruction. Effective 8/25/2017, until further notice.
American Red Cross.  Safe and Well.  Register today so your loved ones can find you, or use as a way to find those who may be missing.  https://safeandwell.communityos.org/cms/index.php
. . . . . . .
Turn Around, Don't Drown campaign is critical in saving lives more than ever. 
. . . . . . .
Facebook Safety Check.  Activated for this event. Log in to your Facebook page and register ASAP.  https://www.facebook.com/safetycheck/hurricane-harvey-aug24-2017/about/
Emergency Alerts.  Sign up for Pearland, TX Residential Alerts here –> https://www.pearlandtx.gov/residents/get-connected/e-alerts  Government offices currently shutdown on 8/28/2017 and 8/29/2017 with a possibility of longer says their website.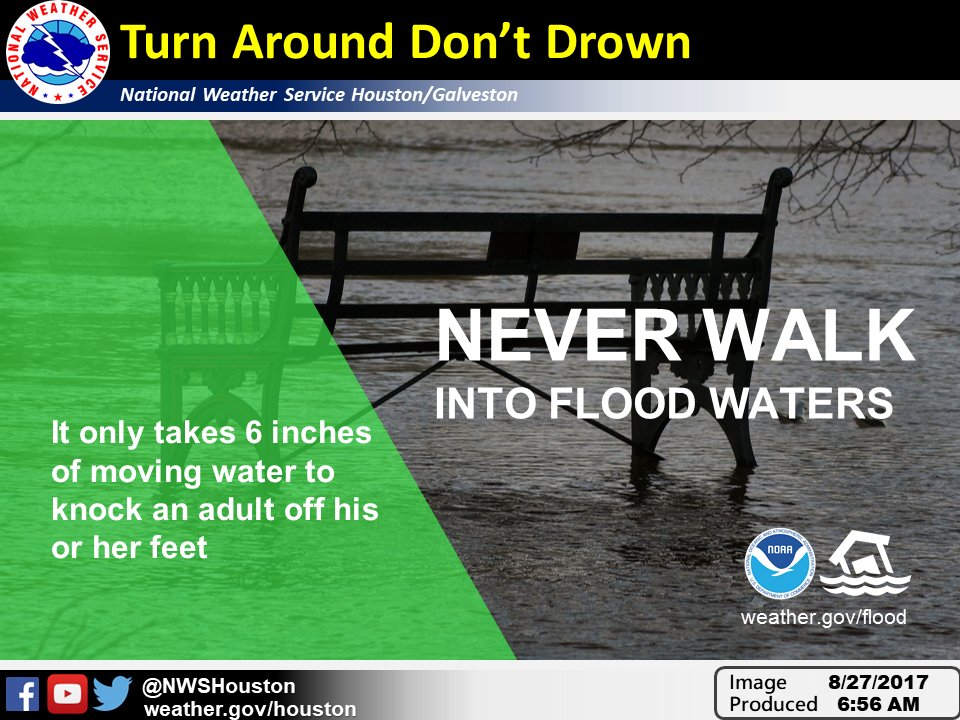 Wading Through Flood Waters. AVOID DRIVING, WALKING through flood waters.  6 inches of swiftly moving water can knock an adult over.  (NWS Houston)
INCIDENT COOPERATORS
Incident Cooperators are those who act as Partners and as in this State of Emergency – work together on Federal, State and Local levels to ensure resources are able to assist the area's needs of the government, its people, property and its communities. Due to the vast amount of resources, we apologize ahead of time if we missed anyone!
American Red Cross.  100's of volunteers are/have traveled all over the U.S. to lend their time, talents and compassion to victims and evacuees. 
LA Cajun Navy.  State of Louisiana sending the LA Cajuna Navy. 
TX Governor Greg Abbott  
Houston OEM
Houston PD.  SWAT team conducted several hundred high-water rescues and were still actively searching and conducting more rescue operations. (1713 CDT)
INTF-1 HAZMAT Support.  Indiana Task Force 1 arriving in Katy (near Houston), TX. (1834 PDT)
LAFD TF1.  70 members en route says LAFD Fire Chief Terrazas.
MA-TF1.  A FEMA Task Force is en route from Massachussetts and will soon joining others. (1810 PDT)
Miami-Dade Fire.  FL-TF1 en route to Texas to assist with SAR effects in affected areas.
National Guard.  Multiple military trucks, Humvees and other vehicles that can tread water were seen driving down City streets.
New Jersey.  SAR crews were deployed.
FDNY – NYPD USAR NY TF1.  The Joint FDNY and NYPD USAR NY Task Force-1 deployed earlier today.
PA TF-1.  40 members.  Leaving the PA Fire Academy and heading to South Texas.  (1917 PDT)
Partnership for Inclusive Disaster Strategies.  Hotline setup for people with Disabilities. 800-626-4959.
Sacramento Fire.  USAR TF7 sends 14-member water rescue team.  Crews drove 2,000 miles to their destination.
Salvation Army.  Previously shipped extra pallets of water and food on 8/23/2017.
Save The Children.  Setting up Child Friendly Spaces in evacuation shelters to help kids and families.  DONATIONS. Text "HURRICANE" to 2022 to donate $25 to the "Save the Children's Hurricane Harvey  Relief Fund".
TX State, Emergency Management Department Is the main hub of activity that will coordinate Federal, State and local resources pouring into their State.
US Coast Guard Heartland.  The USCG is urging residents, people to be rescued to call the Houston # at 281-464-(4851) or (4852) or (4853) or (4854) or (4855).  Get on your roofs.  Tips:  Stay calm; don't panic. Don't go to the attic as rescuers cannot see you. Get to high ground immediately. Mark the roof to be seen from the air. Wave sheets, towels to be noticed.
WA TF1 Urban SAR.  FEMA team from Pierce County, Washington State is sent to assist along with other FEMA units.
SHELTERS
American Red Cross Shelters.  Shelter Locator here –> http://www.redcross.org/get-help/disaster-relief-and-recovery-services/find-an-open-shelter?utm_source=arctwitter&utm_medium=social&utm_campaign=harvey
Harris County, TX.  Compiled list of open shelters. http://readyharris.org/News-Information/Ready-Harris-News/Post/26637
Katy ISD.  The Morton Ranch HS (MRHS) located at 21000 Franz  Road 77449 and the Cinco Ranch HS (CRHS) located at 23440 Cinco Ranch Blvd, both in Katy, TX will be opening at 0730 CDT on Monday.  They will be offering shelter, serving breakfast, lunch and dinner to those in need.  DONATIONS of blankets, pillows, towels will be accepted at either High School beginning at 0730 hours.  SOCIAL MEDIA Channels are Katy ISD "OnTheGo" app. Website:  www.Katyisd.org.  Twitter:  @katyisd 
WEATHER TRACKERS
Storm Surge Tracker.  The NWS  created the first-ever operational storm surge watch. Twitter @NHC_Surge. https://twitter.com/NHC_Surge/status/900376620543823872 Shows the current conditions. 
SOCIAL MEDIA
There are multitudes of photos, storm images and other unimaginative descriptions of what those are truly seeing, hearing and experiencing.  We will share with you what they are feeling, see and what they are hearing.  Some photos are copyrighted so we will try to explain the best way we can as to what is being posted out there in the Social Media world.
USCG Heartland.  Sector Corpus Christi IMD members assess damage in Port Aransas, TX. 
Disaster Assistance & Recovery Info.  The City of Austin (TX) Office of Homeland Security and Emergency Management have a wealth of info.  Go to their site here –>  http://austintexas.gov/help (8/26/2017 @ 0417 CDT
Gas Prices.  National news media reporting gas prices are set to spike due to #HurricaneHarvey wreaks havoc on our vital energy facilities.  It is time to focus on rescues and saving lives.  This something that can easily be put back on the back burner.
Roadblocks.  I-10 freeway is now closed due to heavy flooding. Police are using multiple cruiser to keep motorists out of harm's way.  A photo by a news media outlet shows mostly semis (approximately 8 semi rigs across and unknown how long the back-up is but there is no getting off this freeway by turning around.
Pet Rescues.  Social media reporting dog rescues are coming in at 60 per hour. 
Countries Pray for  Our U.S. Texas.  Canadian President: "Canadians are keeping the people of Texas in our thoughts – we're ready to offer any assistance needed to help recover from this disaster." – Justin Trudeau
(c) 2017 The NW Fire Blog – Updated 8/27/2017