UPDATE 2 | SATURDAY | NOV 2 2019
A new wildfire has broken out off of Bradley Road and Solano Verde Drive at the top of South Mountain, north of Somis and about one mile south of Santa Paula (Ventura County), California.
Fire was reported as originating on October 31st at 1815 hours PDT. The cause is still under investigation.
Firefighters are briefed prior to beginning work on their shift this morning. Photo Credit | VCFD PIO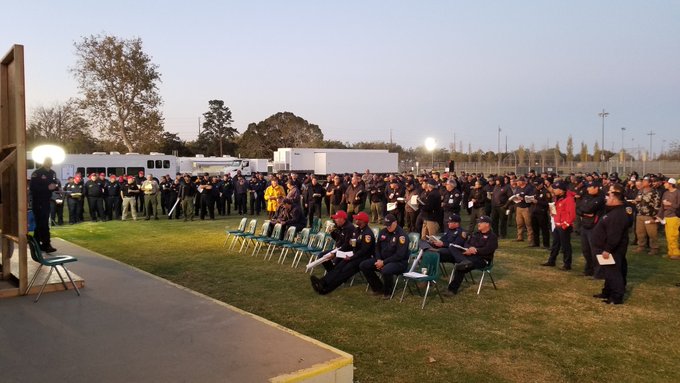 Currently, the fire has destroyed 9,412 acres of brush and short grass.  Crews have gained a 30% containment status.
Fire management is in Unified Command with Ventura County FD and Sheriff Office, along with CAL FIRE – San Luis Obispo Unit.
There are 1,579 fire personnel along with 262 fire engines, seven water tenders, six helicopters, 35 hand crews, four other crews and 10 dozers on the fire ground.
Two structures have been destroyed.
Incident Cooperators include, but are not limited to:  VCOES, VC Animal Services, CHP, CA DOC, CAL Resources Corp, SoCAL Gas, United Water and SoCAL Edison. Red Cross.
(c) 2019 NW Fire Blog