INCIDENT SUMMARY
Around 2325 hours EST, scanner feed for the Miami County Police, Fire and EMS – Central area began broadcasting about a possible tornado that may have touched down in Troy, Ohio.
INCIDENT STATUS
Lots of damage has been reported, along with many power lines down and gas leaks.
Debris and damaged to commercial buildings have shutdown the downtown corridor.
One report of a chimney into a house was called in with all occupants self-evacuated with no injuries reported.
Traffic collisions have also occurred with one vehicle reported as having a major fuel leak.
Northbound train in Troy is currently not running as power is out in the area.  Services are trying to get it back moving, may be blocking Market Street.
RESPONSES
Both Fire and Police are out responding to calls for service and assisting with rescues.
INFRASTRUCTURE
First Responders are finding power outages in and around neighborhoods, business districts and impacts to their CAD/MDCs in their vehicles.
EYEWITNESS ACCOUNTS – Through the Eyes of Social Media
"Tornados in Ohio in January… Yeah, the planet's totally fine. Everything's cool. Nothin' to see here." – Social Media user.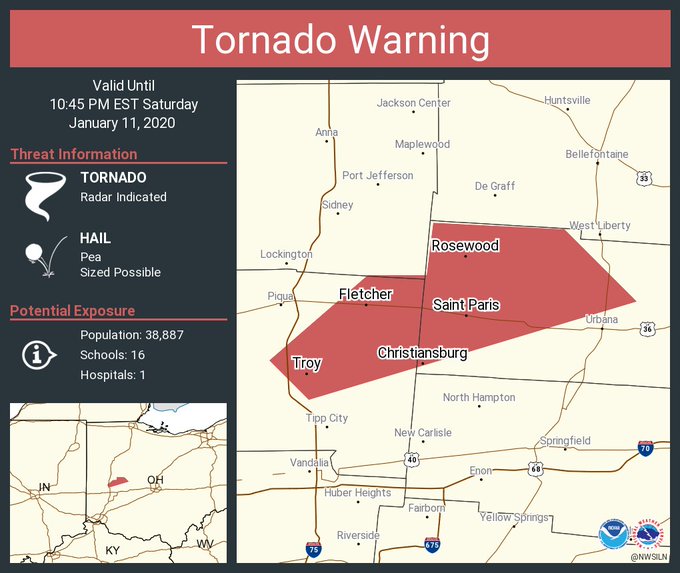 "tornado just tore up my downtown so that's cool, tornadoes in jan in ohio, totally normal" – Social Media user
"Tornado warning in central Ohio with the convection developing and headed toward southern ON overnight. Not expecting any tornadoes here tonight!" – Weather media.
"We are supposed to have snow storms in Ohio not tornadoes!" – Social Media.
"Severe thunderstorms, including tornadoes, remain possible through tonight over portions of the South and northward into parts of the Ohio Valley and Mid Atlantic." – NWS
TORNADO HISTORY 
1/4/2019:  50 tornadoes occurred from Iowa to Ohio on Memorial Day. – News Media.
4/3/2019:  Tornado peak season runs from April through July. – News Media.
1940 – 2018:  8  Tornadoes during this time period. – News Media.
ABOUT TROY, OHIO
The City of Troy is the county seat of Miami and located about 19 miles north of Dayton.  Population was last recorded at 26,132 residents in the 2018 census. It is considered to be the 61st largest city in the State of Ohio.
The Police Department is located at 124 East Main Street.  It has 38 Officers and three civilian employees, 3 divisions (Patrol, Detective and Administration).
The Fire Department was established in 1850 with the Troy Hook & Ladder Company and the Troy Bucket Company.
The Department formally organized in the Fall of 1857.  During current times, it now has three fire stations with 37 firefighter-paramedics, a one Training Lieutenant, two Assistant Chiefs and a Fire Chief.  They serve a 74.2 square miles within the city and in three townships.  They average about 5,000 incidents annually.
(c) 2020 NW Fire Blog