INCIDENT SUMMARY
A large ball of fire gutted a commercial building formerly known as Kopey's Auto or known as Waterville Auto Company listed in the 100 block of W Locust Street in  Waterville, Washington . This occurred on Thursday night, April 16, 2020 .
Video Credit by WSP Trooper Weber shows an inferno eating up everything in its path and while additional footage from various media and eyewitness accounts show the building burning down to its foundation.
It was unknown if this incident was escalated to a 2nd alarm or higher, as scanner feed was spotty at best.
Fire appeared to be fueled by the wind and whipped its ugly head in creating some of its own fiery weather conditions.  One video displays a firenado or so it appears to us.
CAUSE
The cause is unknown but earlier reports by WSP Trooper John Bryant gave an update that SR 2 was closed due to a large brush fire. Some images indicate the large  fire was only the commercial structure fire , which appeared to be near a wooded area.
We reached out to WSP Trooper John Bryant to see if that was the cause of this firel. We are waiting for a return on that question.
#Breaking: SR 2 in Waterville is blocked due to a large brush fire. WSDOT setting up detours. – WSP Trooper Bryant.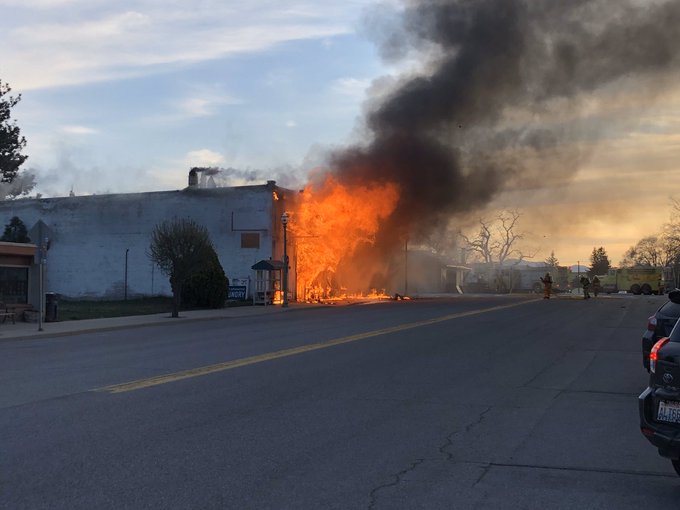 RESOURCES
Five (5) mutual aid fire districts from the Douglas and Chelan Counties were dispatched.  Douglas County Sheriff's Office along with the Washington State Patrol handled traffic control.  Two private ambulances from Waterviille Ambulance and Ballard Ambulance were also part of the full fire response.
BUILDING DETAILS
The building is considered as one of Waterville's iconic and historical buildings that was part of the original City's construction boom in 1900.  The building sits on Lots 8-12 and had a value of just shy of $65,000.00.  Its total square footage tops out at 17,424 and its service garage at 10,600 square feet.
The one-story building was made of concrete block and supported by masonry bearing walls. Its height was approximately 14 feet tall.
This property, along with a structure with multiple units and a cafe are still owned by the Kopes in Waterville.
Below is what the property looked like before the fire burned it  to the ground.
Photo Credit | Douglas Co Assessor's Office
ABOUT CITY OF WATERVILLE, WASHINGTON
The town of Waterville was founded in 1885 and became a City in its own right in 1889 with a few hundred people listed as current residents.
In 2020, Wateverville is now home to  a popuation of 1,140 residents.
The city is the proud venue for the annual North Central Washington Fair usually held the third week of August.
Waterville is served by the Douglas County Fire District #1, an all-volunteer fire department that is said to have a station along with two private ambulances across the street from where the commercial fire took place.
The Fire District  bio online says it has three stations with a total 35 all-volunteer firefighters. No full or part-time paid firefighters are on their rosters.
We were unable to locate any type of Social Media accounts, such as Facebook or Twitter. However, it's counterparts in District 2, 5 and others have a great presence online. We had hope to find out more about this rural fire department.
The Fire Station is located at 107 North Chelan in Waterville.
(c) 2020 NW Fire Blog – Updated 4/16/2020 2355 hours PDT