INCIDENT SUMMARY.  A wildfire is burning in the 7400 block of Crews Road and east of Gilroy in Santa Clara County named the CREWS FIRE in the State of California that ignited on Sunday, July 5th.
CURRENT STATUS.   Evacuations are in progress for those at Highway 152 between Bloomfield Avenue and San Felipe. A temporary Red Cross shelter has been set-up in the parking lot of the
RESOURCES.   CAL FIRE SCU (Lead Agency). Santa Clara County FD. Red Cross. Joseph Elfelt/MappingSupport.
INCIDENT TIMELINE.
Photo Credit | PG&E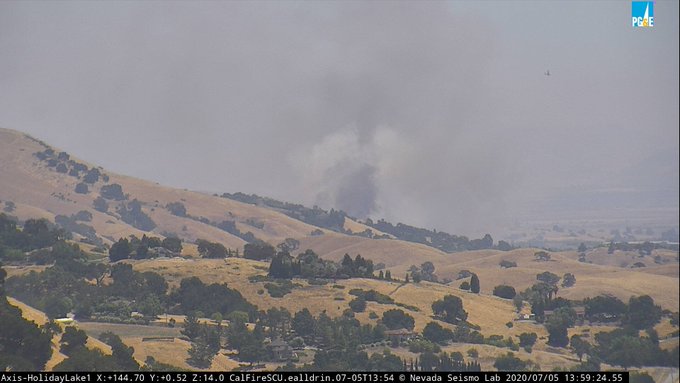 1936 | Evacuation orders issued for Highway 152 between Bloomfield Avenue and San Felipe.
1932 | Multiple spot fires across Canada Road. Possible evacuations for those on along Highway 152. It is still about 5 miles out in front. T914 (VLAT) now en route from Arizona.
1924 | AA140 reporting 1,200 acres with potential for 5,000 acrew. VLAT still on order but appears order has not been filled.
1915 | Hollister Airtanker Base is low on retardant. Tankers being diverted to Paso Robles to refill. Not preferred but allows tankers to continue with evening operations.
1900 | 12 air tankers reported being in the area. Units are reportng 4 new spot fires across Canada Road.
1835 | 1,000 acres. 0% contained.
1829 | Fire burning towards Hwy 152. Evacuations continue on Canada Road.
1824 | AA140 reports another 50-acre spot fire in the fire. Firing operations in progress.
1724 | Cowboy 911 helps with evacuations off Canada Road.  Fire is estimated 600 acres.
HASHTAGS.  #CAwildfires #FireSeason2020 #CrewsFire
(c) 2020 NW Fire Blog – Updated 7/5/2020 2000 PT