INCIDENT SUMMARY.    This is one of several fires first wildfire burning in Santa Clara County called the PARK FIRE.  It is located on East Dunne Avenue and Finley Ridge Road in the area of Anderson Reservoir in Morgan Hill, California.
Fire was reported on Saturday, July 4th at 2300 hours PT.   Some reporting fireworks were the cause of this wildfire. Fire Officials have not released the cause at the time of this post.
CURRENT STATUS.   There has been 343 acres burned.  It now has a 50% containment status.  Earlier this morning, 25 homes were threated but none were reported as damaged or destroyed.  However, several outbuildings were damaged.
Forward progression was stopped on Sunday morning around 1030 hours PT.  Expected long duration for mop-up operations due to steep and poor inaccessible terain.
Photo Credit | CAL FIRE SCU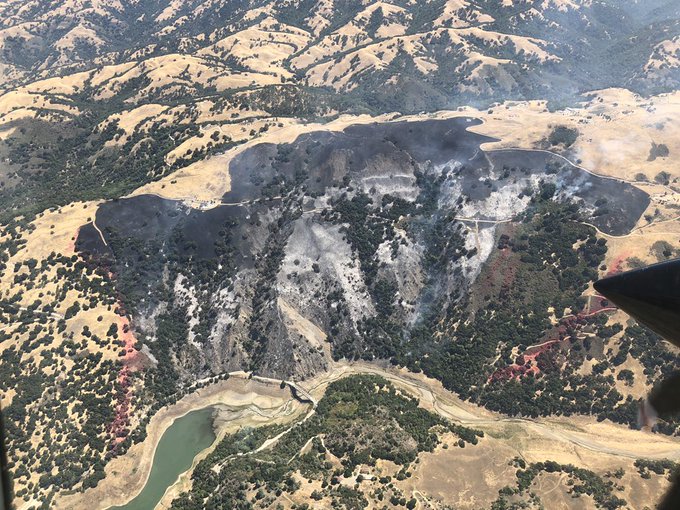 RESOURCES.   38 fire engines, 8 hand crews, 4 dozers. 237 CAL FIRE and OCFA Firefighters.  Incident Cooperators:  Santa Clara County Parks Department, Santa Clara County Sheriff's Office and the California Highway Patrol.  CAL FIRE. OCFA PIO.
EVACUATIONS.    80 people have been evacuated.  20 more are sheltering-in-place.  Animals are safe at the Irvine Regional Park.
HASHTAGS.  #CAwildfires #FireSeason2020 #ParkFire
(c) 2020 NW Fire Blog – Updated 7/5/2020 1615 PT