INCIDENT SUMMARY.  A wildfire is burning in the 7400 block of Crews Road and east of Gilroy in Santa Clara County named the CREWS FIRE in the State of California that ignited on Sunday, July 5th.
Photo Credit | PG&E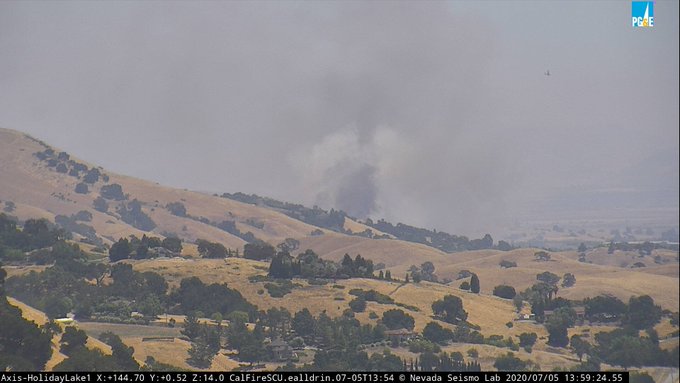 CURRENT STATUS.  Several structures have been involved with more being threatened.  It is currently 150 acres with a moderate rate of spread. Additional firefighting suppression aircraft and equipment are en route to the fireline.   Evacuations are in progress.
RESOURCES.   CAL FIRE SCU (Lead Agency).
INCIDENT TIMELINE.
1553 | Fire is at 150 acres. 0% containment.
1550 | Fire has jumped Canada Road.
1516 | CAL FIRE SCU units on-scene of fire off of Crews Road and Oak Spring Circle, north of Gilroy in Santa Clara County County. 150 acres. Moderate rate of spread. Evacuations are in progress.
1510 | IC reporting 150 acres. Making good progress onthe fire but head of the fire still is active.
Photo Credit | PG&E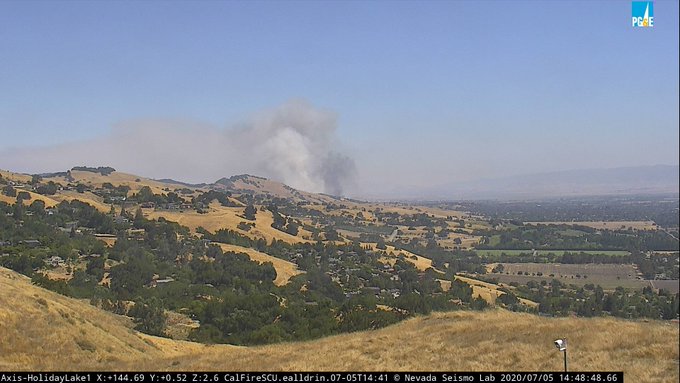 1500 | The CREWS FIRE is the second fire in Santa Clara County. 1st fire is named the PARK FIRE.
1450 | Large column visible from 15 miles out can be seen. (eyewitness report)
1445 | CREWS FIRE starting to spread. 5 tankers are dispatched.  IC asked for 5 closest Type 3 engines and 3 additional water tenders.
1443 | CREWS FIRE firefighters are on-scene of a vegetation fire with structures involved and additional ones threatened. Fire currently at 30 acres with a moderate rate of spread per CAL FIRE PIO.
1429 | AA460 requesting 1 additional air tanker.  Total of 5 tankers and 3 copters have been assigned.
1419 | AA460 orders 4 tankers and 2 copters. Structures threatened in area of Crews Road and Sunlit Oaks Court. Tanker 80 laying down retardant.
1409 | Units race to Sunlit Oaks for emergency structure protection. Fire behavior now has a rapid rate of spread. IC requesting 1 additional Type-2 copter.
1406 | E348 reporting fire building rapidly, 2 structures are now fully involved. CAL FIRE BC requesting 5 additional Type 3 engines.
1402 | AA460 reports fire east of Gilroy. Structure fire into wilderness interface that is approximately 3-5 acres with dangerous rate of spread with multiple structures threatened. Fire located in the 7400 block of Crews Road.  AA460 was over the 1st fire called the PARK FIRE called in the CREWS FIRE.
HASHTAGS.  #CAwildfires #FireSeason2020 #CrewsFire
(c) 2020 NW Fire Blog – Updated 7/5/2020 1550 PT