Washington is starting to have have some wildfire activity this morning and this is a compiled list for Tuesday's incidents in the State.
# # #
GENE FIRE – Lyle – Klickitat County.
Dispatched 1246 PT. 0.1 acre. Grass and brush Contained/controlled 1511.
HOMER ADAMS FIRE – Deckerville, Mason County.
Dispatched 1115 PT. 0.1 acre. Grass. IC SHAFTO. Open CAD call. In patrol status. South Puget Sound Dispatch Center.
HORSE PARK FIRE – I-90 and Milepost 80 – Kittitas County.
Dispatched 1531 PT. .25 acres. Grass, brush and timber. Contained 1717 PT. Out 1800 PT.
LOWELL POINT FIRE – South end of Camano Island.
Dispatched 1235 PT. 0.1 acre of timber, hardwoods. Open CAD call.  Northwest Dispatch Center.
MULLINIX FIRE – South Millinix Road – Spokane County.
Dispatched 1836 PT.  AR7403 (IC), AR26 and AR7404. On-scene 1909 PT.  .25 acres. Open CAD call.  NE WA Comm Ctr.
QUAIL FIRE – Quail Valley Run, Kittitas County. 
Dispatched 1644 PT. Quail Valley Run. 0.3 acres slah, logs, duff. SE-Martin (IC), E4201, E4206, SE-Slyfiiel. Contained 1721 PT. Controlled 1855 PT.
SADDLE MTN FIRE – Western end of Saddle Mtn – Grant County.
Started approximately 7/6/2020 at 1230 PT. 9,958 acres. 50% contained. Cause is under investigation. No structures reported damaged or destroyed. No closures or evacuations are in effect.    This is the most current information for this wildfire. Fire is burning on US Fish & Wildlife protected land.
Resources include:  7 crews, 20 engines, 2 dozers, water and aircraft are unknown. 1 team of 8 smoke jumpbers with a total of 232 fire personnel assigned to this incident. the SE WA Interagency IMT, Team 2 is current managing this wildfire.  (this is also covered in a post of its own.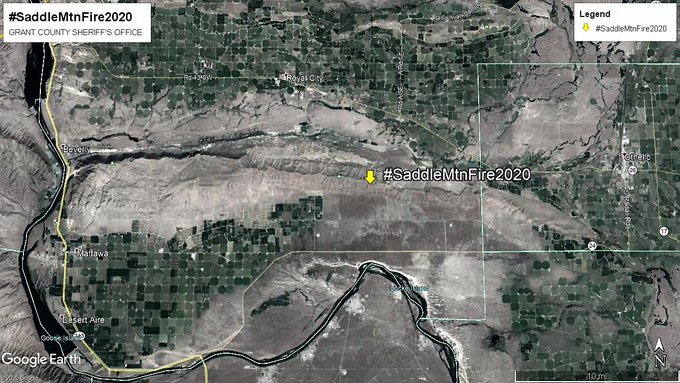 Additional resources were brought in on the day one of the fire (7/6/2020) which includes Grant County Fire District 8 and 5, as well as BLM and Handford FD.  There were 4 aircraft with an 8-person team of Jumpers. Afternoon winds would impact the fire area causing a challenge of keeping the fire within its containment lines.
STARR FIRE – Starr Road – Okanogan County.
Dispatched 1306 PT. 5.4 acres. Grass and brush. 1414 (IC). Open CAD Call. NE WA Comm Ctr and Central WA Comm Ctr. 2 acres.  Grass and brush.  Contained/controlled 1511 PT
(c) 2020 NW Fire Blog – Updated 7/7/2020 2005 PT