White Center, Washington | Southend Fire assets and equipment were dispatched to a 2-Alarm Commercial structure fire on Wednesday, July 8, 2020, just before five o'clock in the morning.
Photo Credit | Zone3 Fire REHAB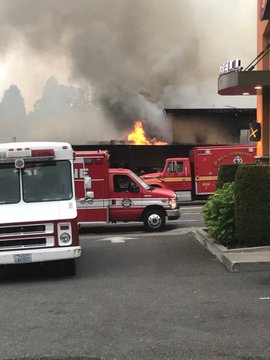 Units were quickly on-scene. Agencies were from the Puget Sound, Tukwila, Burien, Tukwila and Skyway Fire Departments, as well as the North Highline and King County Fire Districts.
King County Paramedics (IAFF 2595) and the King County Sheriff's assisting with medical and traffic control.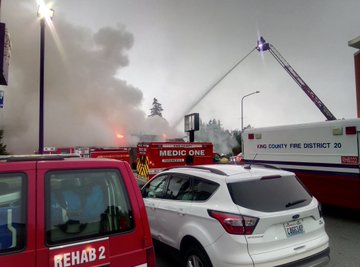 REHAB units were also tied in to the call bringing out REHAB units 2, 3, 302, 304 and 322.
Crews brought in aerials and specialized equipment working to put out the stubborn and fierce fire.
The 2-Alarm incident took place  in the 10700 block of 16th Avenue, S.W., Seattle, Washington.
The structure was verified to be vacant building once housing a former funeral home.
As it continued to burn in the area, roadway closures began impacting the White Center community streets, one block out from 16th Avenue S.W. to S.W. 107th Streets.  This would be a normal process as multiple lines would be laid on the streets and up connected to hydrants.  This is to avoid drivers or those from damaging or destroying fire hoses.
No reports of firefighter injuries were reported.
The cause of the fire is unknown and is under investigation.
(c) 2020 NW Fire Blog – Updated 7/9/2020 – 1155 PT