King County, Washington
Incident Summary
Firefighters responded to a late night to early morning residential structure fire where first due units observed the first floor was fully engulfed.  Due to poor access issues, they were unable to conduct an immediate primary search of the building.   Later it was discovered to be vacant when the fire started. A preliminary cause is unknown at this time.
Units fought the fire from the exterior as defensive operations throughout the whole incident. There were no injuries or any type of structural integrity issues reported.
Resources were dispatched from Renton Fire (RFA), Puget Sound Fire and King County Medics.
Operations Timeline
2345 | Fire units:  B11, B313, E311, E313, E314, E317, E377, L311, A313, M7, MSO1 dispatched to a fully engulfed fire on floor one of a residential structure in the 18600 block of 108th Ave SE in Renton, Washington.
0008 | E377 established a water supply.  Fire attack is being made from 108th.  They are having to lay a long hose lay.
0013| Firefighters report access is limited.  To set-up master stream from the Bravo to the Charlie side.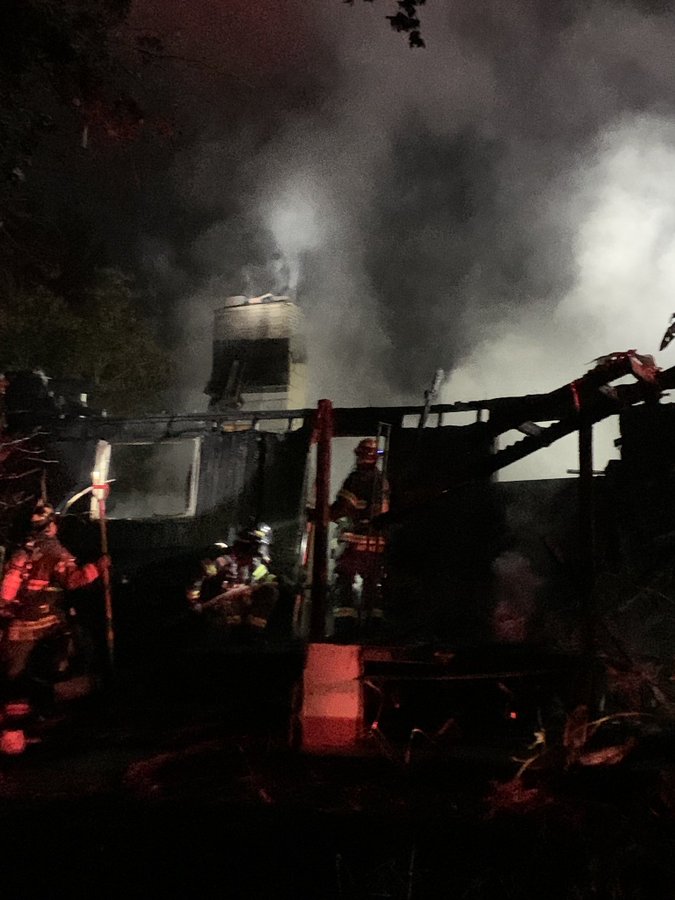 0015 | E317 is now Division Bravo. To reposition their apparatus to 108th. Water supply has been established by E377. Fire attack to be made on the Charlie side.  L311 in position for aerial operations, ready for water flow.
0016 | E313 is on the east side and A313 on the south side. Everyone is clear of the Delta side. E377 driver releasing water.
0017 | M7 arrived and stages on 109th Avenue, remaining in their rig.
0018 | E313 Requests utilities to be secured.  There is a long drop on 108th.  They are operating underneath a power line. Dispatch states called them already but will call for an update.
0019 | 450-500 feet hose lay needs to be laid down the street.
0020 | L311 is ready for master stream operations.  E377 holding their lines. Master stream operations to begin shortly. E313 verified there are 3 lines around the structure.
0021 | 3 lines are being managed by E313, E317, E314.
0023 | MSO establishes REHAB with Medic 7 in group. Division Charles to reposition master stream so that it focuses towards the Charlie Division.
0025 | Structure appears to have been vacant.
0026| Good knock down on Charlie side. To continue with exposure lines.
0027| L311 Shutting down their master stream line.
0028 | In Division Charlie – shutting down 2 1/2″ and transitioning over to a 1-3/4″.   E377 also using the same.
0034 | More portable lightning needed around structure. Aerial ladder to remain vertical as light source.  33 minutes on the incident timer. Command advises still in defensive operations. Ok to stop timer.
0045 | Fire under control.  E313 changes over to a flat load 2.5″.
0047 | E377 shuts down their line and picks up hoses.
0056 | Power secured to building on Division Charlie.
0058 | E313 to switch over to foam.
0115 | Fire Investigator on-scene, searching for a determined cause while firefighters are assisting with overhaul operations. The house was vacant at the time when the fire ignited.
0124 | E377 released. E317 still attached to incident.
0127 | MSO1 released from this call. Dispatched to another call.
(c) 2020 NW Fire Blog – Updated 8/16/2020 0150 PT