SARASOTA COUNTY, Florida
Sarasota County Firefighters were dispatched just after 1800 EST (1500 PST) to a commercial structure fire in the area of 19th Street and North East Avenue.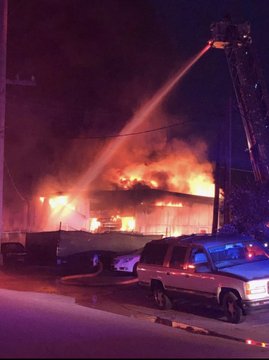 Upon first due arriving companies, flames and heavy smoke were visible from the large commercial building that would turn into a 2nd-alarm response. Explosions were reported during the initial fire attack as well.
The fire was knocked down around 1930 hours EST from the exterior. Interior operations would continue with flow of foam to snuff out any chance of a rekindle.
The red iron steel beam was said to be holding in place in the center of structure but a bow was present on the Bravo side. Exposures were protected.
Around 1937 hours EST, Command advised all members on the fire ground, that they were going to continue operations with two-hand lines from the exterior and not from the interior. The IC strongly encouraged them to get their air bottles filled as well.
Crews will be on-scene for a long duration of time.
A State FIU Investigator was en route to the scene with an unknown ETA.
No known reports to citizens or firefighters being injured at the time of this post. The cause will be determined by the Investigator.
This is a developing story.
(c) 2021 NW Fire Blog – Updated 1/2/2021 1939 EST / 1639 PST