FINAL | UPDATE 2 – 1235 PT
SD Fire resources have been successful in stopping the forward progression of today's fire and holding it at 18 acres. It may not seem like a lot of acres but with the increased fire danger from low RH and high winds, this could have been way worse than in reality.
Media reports some damage to power and phone poles. All aircraft were released with the exception of Copter 12.
Resources 4104, B2, BR1, BR4, COP12, E19, E205, E4, E5, M4, MVUB3, OE6310, TIM1, WT27, AA330, AT70, AT71, B3, C11, C12, 6440A, B6, E2, E3, E6, E7, RE12.
---
UPDATE 1 – November 25, 2021 – Thursday – 1225 PT
SANTEE, CALIFORNIA — A brush fire has ignited near Ramsgate Way and Ramsgate Drive; on Hwy 52 x Riverford Road, in the eleven o'clock hour and has been really ramping up since it had been reported and setting fire watchers Social Media pages ablaze.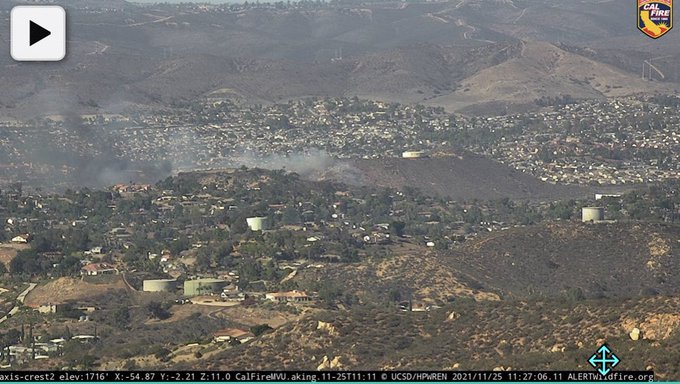 Evacuations –> A warning has been issued for the Santee area near Hill Creek/Rams Gate. The San Diego County Sheriff is asking residents and visitors to evacuate through Jeremy Street to N. Magnolia (around the Hill Creek School).
Evacuation Center –> Pathways Church at 9638 Carlton Hills Blvd. (SD Sheriff/alertsd.org)
Resources Include –> Tankers 70, 71, AA310 (from Hemet airport), an Erickson S64 HT (out of SEE airport), 2 Copters and Tanker131 are assigned to this incident along with Fire personnel from Santee FD, CAL FIRE-San Diego, and law enforcement from the San Diego Sheriff's Office. At 1148 PT, there were two additional engine strike teams requested.
Size Up–> Approximately 10 acres with active fire behavior with a moderate rate of spread. into the river bottom.
Hashtags –> #SanteeCAFire #MagnoliaFire #CAwildfires2021
(c) 2021 NW Fire Blog