UPDATE 1 – November 25, 2021 – Thursday – 1225 PT
SANTEE, CALIFORNIA — A brush fire has ignited near Ramsgate Way and Ramsgate Drive; on Hwy 52 x Riverford Road, in the eleven o'clock hour and has been really ramping up since it had been reported and setting fire watchers Social Media pages ablaze.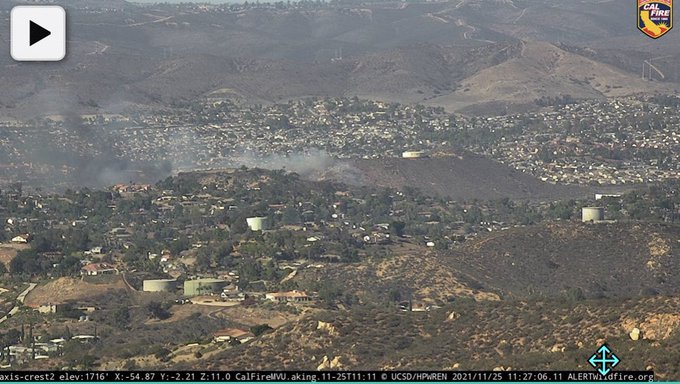 Evacuations –> A warning has been issued for the Santee area near Hill Creek/Rams Gate. The San Diego County Sheriff is asking residents and visitors to evacuate through Jeremy Street to N. Magnolia (around the Hill Creek School).
Evacuation Center –> Pathways Church at 9638 Carlton Hills Blvd. (SD Sheriff/alertsd.org)
Resources Include –> Tankers 70, 71, AA310 (from Hemet airport), an Erickson S64 HT (out of SEE airport), 2 Copters and Tanker131 are assigned to this incident along with Fire personnel from Santee FD, CAL FIRE-San Diego, and law enforcement from the San Diego Sheriff's Office. At 1148 PT, there were two additional engine strike teams requested.
Size Up–> Approximately 10 acres with active fire behavior with a moderate rate of spread. into the river bottom.
Hashtags –> #SanteeCAFire #MagnoliaFire #CAwildfires2021
(c) 2021 NW Fire Blog