Updated 1 AM EST / 10 PM PST
MASSIVE FIRE PROMPTS LARGE-SCALE RESPONSE
Fire Summary
A massive fire ripped through a City block of structures that included a former church on Berkshire and Vandine Streets in Cambridge, MA, an area that is home to almost 110,000 residents.
Fire Intensity Creates 10-Alarms
Firefighters were called around 2:52 PM EST (or 11:52 AM PST Seattle time) to a structure fire.  A second alarm was requested at 2:57 PM EST then at 2:58 PM EST struck a 3rd alarm. Then a 4th alarm was requested at 3:03 PM EST. 5th Alarm was called immediately for more manpower and resources at 3:05 PM EST.
We picked up Scanner Feed when the alarm had already reached 10.  We have never seen such a high alarm number but when you are dealing with multiples numbers of people in grave danger, a densely populated area, an inferno of flames and several cars and structures involved, you need to draw from every resource available possible.  All in all, there were about 140 Firefighters working at the peak of the fire from 17 Fire communities.
Casualties
There were 2 Police Officer, 1 Firefighter and 1 Civilian injuries reported.  There were no fatalities. 120 people were rescued.
Damage Assessment
8 buildings were severely damaged including a former church.
Cause
The cause is unknown at this time.
Continued Operations Thru Night
Firefighters are still on-scene and will be working throughout the night.  (Photo Credit: CFD)
FIRE VICTIMS RESOURCES
Red Cross Shelter
War Memorial Center, 1640 Cambridge Street, Cambridge, MA.
Fire Relief Fund
The City of Cambridge Mayor, E. Denise Simmons set-up a GoFundMe account to raise $200,000  for victims and those impacted by today's massive fire.  So far the fund has raised $50,000 by 847 donors in just five (5) hours.  They still need your help.
You can still help by going to the (Cambridge MA)  Mayor's Relief Fund on Go Fund Me at https://www.gofundme.com/cambridge-mayors-fire-relief-fund and donate to help those impacted by this fire.
LOOKING THROUGH THE EYES OF SOCIAL MEDIA
Here is what those in the Fire Service, Media, Social Media users and others in general are saying via Social Media sources.
First Due Engine Company
Cambridge Fire's Engine 5 was first due at today's 10-alarm fire. (Photo Credit: Cambridge Fire)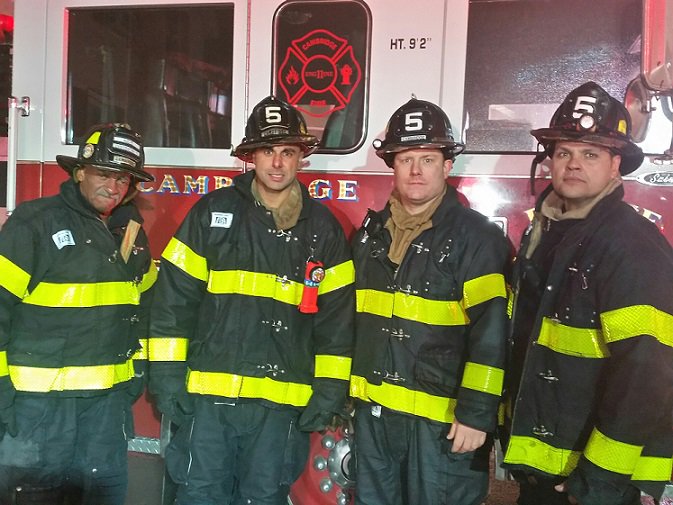 As Seen on the Fire Ground
"Rapidly extending fire in this highly congested neighborhood."  – Cambridge Fire Department
Safety Check App
Facebook activated its Safety Check app for those involved or impacted by today's fire.
Hashtags
#CambMA  #CambridgeFire  #MAFire
REMEMBERING FALLEN HEROES IN ACTION
As this intense fire raced from house to house in a densely populated area, we were reminded by 6 Worcester firefighters who lost their lives today back in 1999 during firefighting efforts in the Worcester Cold Storage Warehouse.
NEVER FORGET.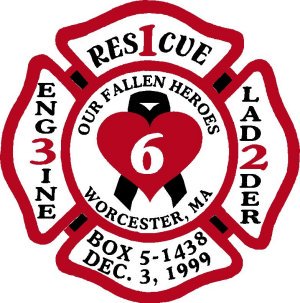 About Cambridge, Massachusetts
Cambridge, Massachusetts is home to two major colleges Harvard and MIT and a place where those come to work/live and play. As of 2014, there were approximately 109,694 people who live in this beautiful City located directly North of Boston and across from the Charles River.
As with any large City, they are a self-sufficient metropolitan area with Police, Fire, City Hall, Utilities and additional fun entertainment in the area.
Follow Us!
You can find us here on our Blog, Twitter (@nwfireblog) or on Facebook.  We'd love to have you join and follow us.
May you have a Safe day/evening wherever your journey make take you.
(c) 2016 The #NWFireBlog