Updated 2300 Hours PST
INCIDENT SUMMARY
The torrential rains have stopped but not the ill-will effects from the over abundance of it over the once drought-ridden State.
Too much of a good thing has this State reeling from the damage from flash flooding, land and mudslides to today where the secondary spillway at the Lake Oroville Dam has created a much bigger problem.  Too much water flowing quickly over the dam causing management to allow water to flow to a secondary spillway.
That does not sound all that too bad, does it?  It is actually frightening to know that the California Department of Water Resources is using the secondary spillway the first time in its 49-year history.  Due to the extreme fast rising water, it has exposed a breach in its construction and now it is about to fail.  This could spell catastrophic for those downriver, therefore we are today covering news about a mass evacuation in the City of Oroville and Palermo, California.
HAPPENING NOW….
Here is a compiled list of what is happening in each City and County in California.
Biggs (City of)
Butte (County of)
Evacuation Info (for residents):  Butte County Sheriff Office, 530-872-5951.
Hospital:  Oroville Hospital is NOT evacuating.
Shelter:  Alliance Church on Clark Road. For people and small animals.
Shelter:  Camelot Equestrian Park,1985 Clark Road. For people and large animals.
Staging:  Butte County college for both Fire/PD.
Update:  ButteSheriff: Not clear when residents will be allowed to return. Lake level still needs to be lowered to make area safe. (2214 PST)
Schools:  Due to the situation in Oroville, all Butte College Facilities will be closed tomorrow, 2-13. All classes are canceled. All Butte College Facilities are closed to students and employees. The Butte College bus service will not be running. The Butte County colleges will send out updates as they receive more information. Please call the Butte College Police Department if you have any questions at 530-895-2351
FACT:  "A spillway is a structure used to provide the controlled release of flows from a dam or levee  into a downstream area, typically being the river that was dammed. "
Chico (City of)
Red Cross Shelter:  Silver Dollar Fairgrounds, 2357 Fair Street, (small animals accepted).
Large Animal Shelter:  Silver Dollar Fairgrounds, 2357 Fair Street, Chico
Shelter:  Neighborhood Church of Chico, 2801 Notre Dame Blvd. (no animals inside).
Shelter:  St. Johns Episcopal Church, 2341 Floral Avenue, Chico (small animals accepted if leashed and crated).
Colusa (County of)
Shelter:  Colusa County Fairgrounds.  1303 10th Street.
Corning (City of)
Shelter:  Rolling Hils RV Park. (10 spaces left, can take large animals at equestrian center).
FACT:  "The Oroville Dam is the tallest and largest dam in the United States."
Feather River
Fish Hatchery:  Massive water flows on the Feather River. Hatchery fish rescued and secure .
Glenn (County of)
Shelter:  Glenn County Fairgrounds, 221 E. Yolo St. Orland, CA (accepting livestock, no small animals, 40 RV sites).
Nevada (County of)
Shelter:  Nevada County Fairgrounds is currently sheltering 143 people. 150 people are waiting for a cot.
Orland (City of)
Shelter:  Glenn County Fairgrounds.  221 E Yolo Street.
FACT:    "Spillways release floods so that the water does not overtop and damage or even destroy the dam. Except during flood periods, water does not normally flow over a spillway."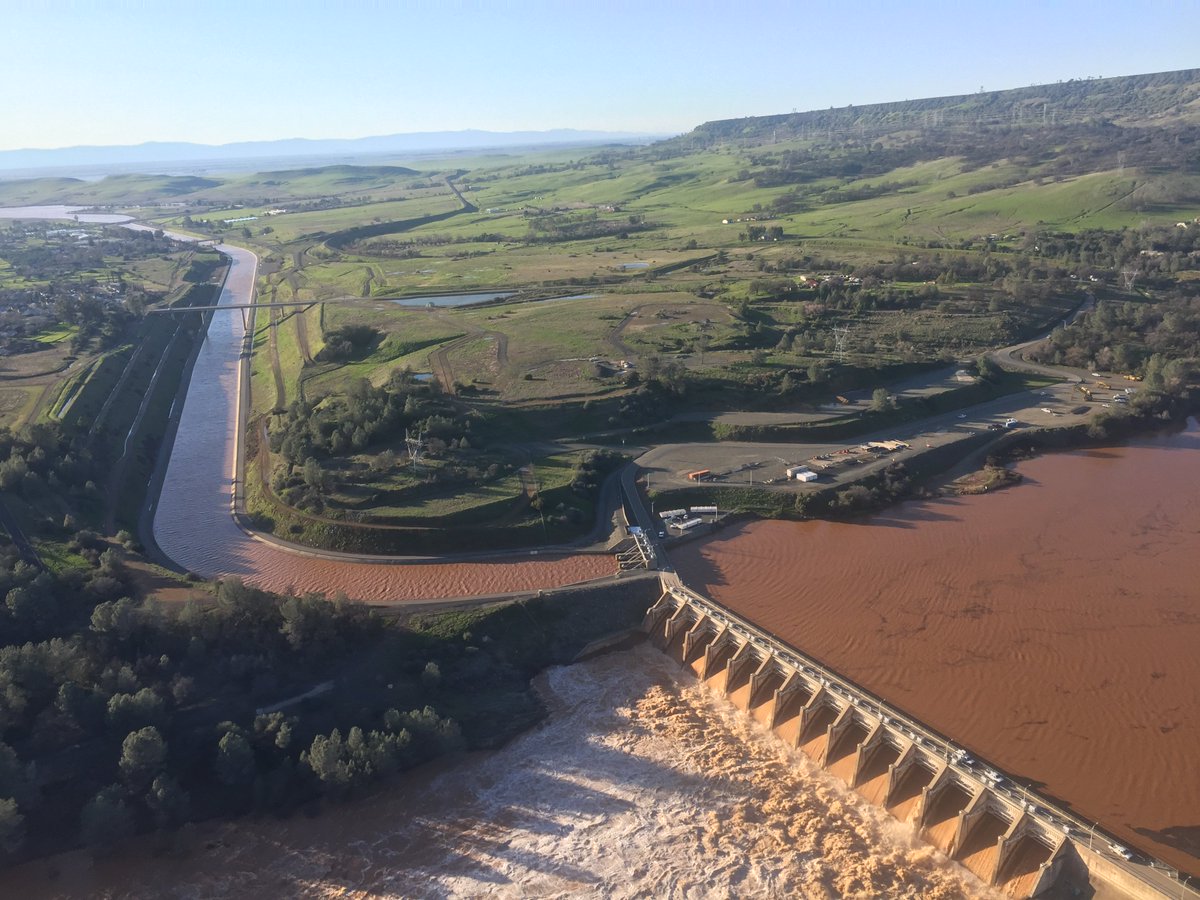 Oroville
Hospital:  Oroville Hospital is open for emergency patients only. No one has been evacuated from the hospital. If not an emergency, go to another hospital.
(Emergency Peer Accommodation Matching Page):   http://opendoors.site/oroville-emergency-peer-accommodation-matching (

NOTE: you will need to vet source before visiting/staying at another location. We are unfamiliar with this board

.)
Road Closures:  SB 149 at 99, SB 70 at 149, EB 162 at 99, & 149 at Openshaw Rd. are all CLOSED. (CHP)
 Sheriff Office:  Assisting with mandatory evacuations.
Paradise (City of)
Shelter:  Elks Lodge  1100 Elks Lane – (no small animals accepted, RVs allowed in Parking Lot).
San Diego (City of)
Mutual Aid:  SD Swift Water Rescue team activated. Waiting for orders from state and will deploy to Butte Cty when directed to do so.
State
CA Dept. of Water Resources (DWR):  @ 1650 PST. Alert given to residents for mandatory evacuations Northward due to structure integrity of secondary spillway has some erosion and it was due to have an epic failure, cause mass flooding downstream.
CA OES:  EOC operations.
CA Dept. of Corrections (CA DOC):  Evacuation/transport of inmates to nearby other jail facilities.  (normally @ daily 548 inmates)
Manpower:  CA National Guard
State of Emergency:  Governor Brown Issues Emergency Order to Help Response.
Task Force:  Sacramento Fire personnel staffing swift water rescue equipment have departed for Oroville area, will be ready if needed.
FACT:  "Completed in 1968, it stands 770 feet (230 m) high with a crest length (top of the dam) 6,920 feet (2,110 m) long. "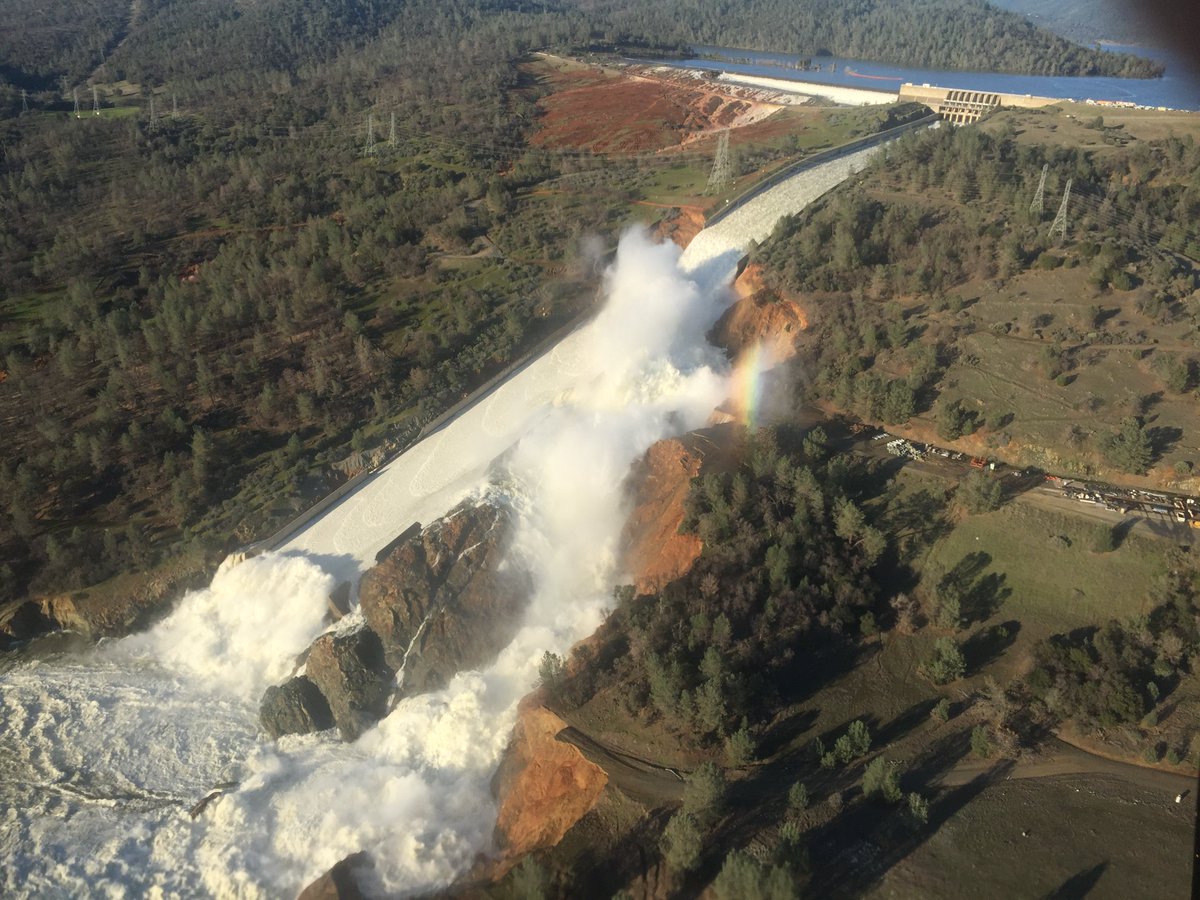 Ventura (County of)
Task Force (OES Swiftwater):  VCFD currently mobilizing for a deployment to #OrovilleEvacuations
ALERTS
Driving Instructions
Spillway due to fail any given time. Stay to the North towards Chico, California. (via DWR)
Southbound Highway 70 is being shutdown. PLEASE HEAD NORTH.
Flash Flood Warning
In effect until 1600 hours (4pm) on Monday, 2/13/2017
DWR needs to lower the lake level by another 50 feet to prepare for the incoming storms.
FOR EVACUEES
Willingness to Help
Assistance Offered:  If anyone knows of animal rescues or shelters needing help w/ evacuation, msg me.I can help rescue, feed, transport.I'm n Chico. (Twitter user:  Becki Brunelli @junglerat8)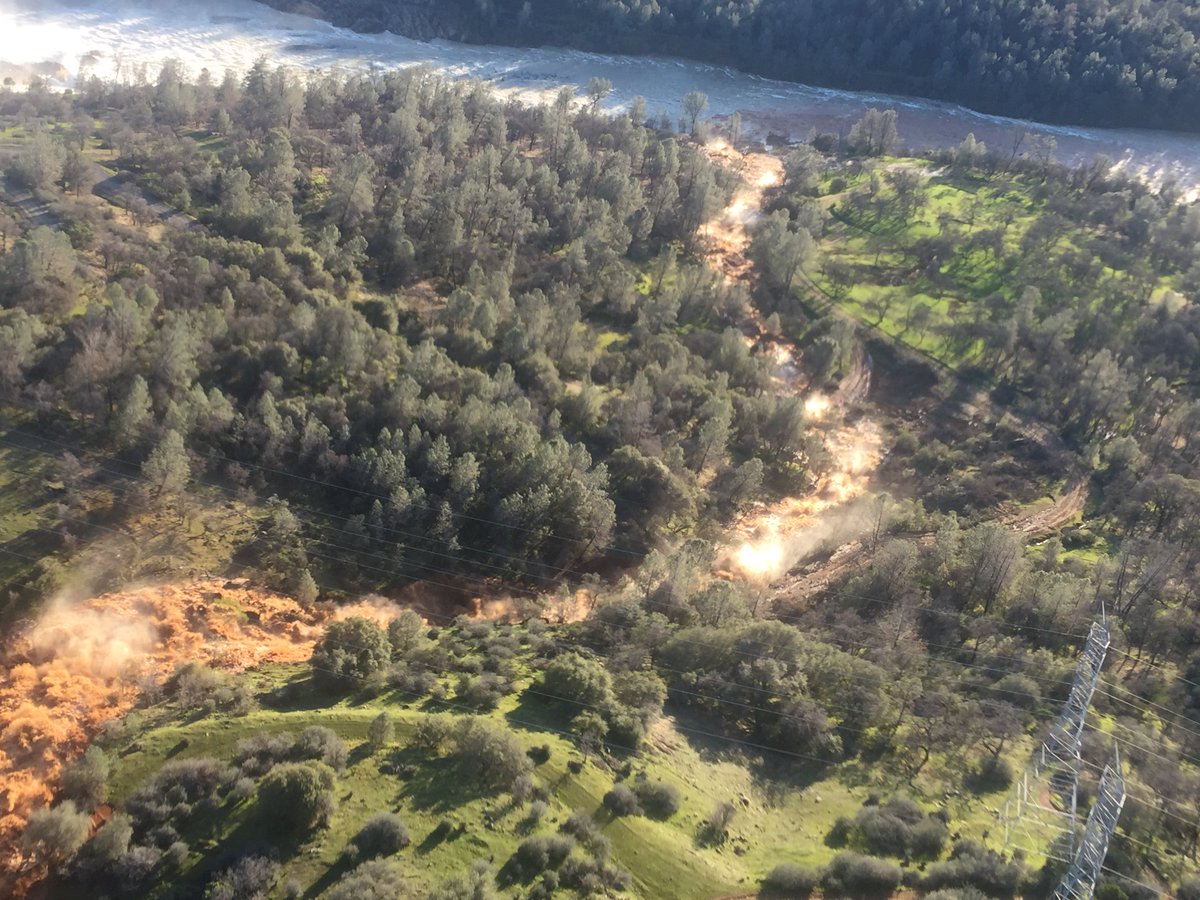 SOCIAL MEDIA
What is being Said:
Media:  Lake has gone down more than 4 inches in last hour, a foot in last three hours. (2200 hours Update)
Evacuations:  Unknown when mandatory evacuations will be lifted.
DWR:  Flows over the auxiliary spillway have ceased. 100,000 cfs continue down the main spillway. (2219 hours Update)
More updates will come as information is received. Another update is due to be published tomorrow evening.
#OrovilleDam #OrovilleEvacuations #SpillwayEvacuations #CA
(c) 2017 The #NWFireBlog