INCIDENT SUMMARY
A destructive tornado hit the north side of the City of Dallas in Texas on Sunday evening and with more storm raising activities in early part of Monday morning.
Reports of roofs being blown off houses and structures, as well as collapsed structures and to infrastructure, the City of Dallas has a lot to be thankful for today.
Its First Responders took the bull by the horns and kept its citizens safe from being further harmed by the Fall destructive weather storms.
INCIDENT COOPERATORS
City of Dallas
There are currently no needs at this time.
If you wish to help those impacted by this storm, consider donating to the City of Dallas Emergency Assistance Fund. https://dallemerasstfund.kimbia.com/dallemerasstfund
Emergency Management staff will continue to monitor the respite center for those who sought shelter at the Bachman Rec Center. There are currently 12 evacuees in the shelter.
Sanitation Services is using 311 data to identify high-volume call areas for contractor pick-up. We encourage residents to dial 3-1-1 or use the Our Dallas app to report damage or downed trees.
Missing Pets | If you are missing your pet in the wake of the storm last night, please call 3-1-1 to report file a missing pet report.
Dallas (City) Fire & Rescue
The City of Dallas Fire & Rescue Station 41 suffered extensive damage to its building but no firefighters inside were injured or killed.
Firefighters will continue to assess damage across the City.  There were three persons transported to the hospital with non-life threatening injuries.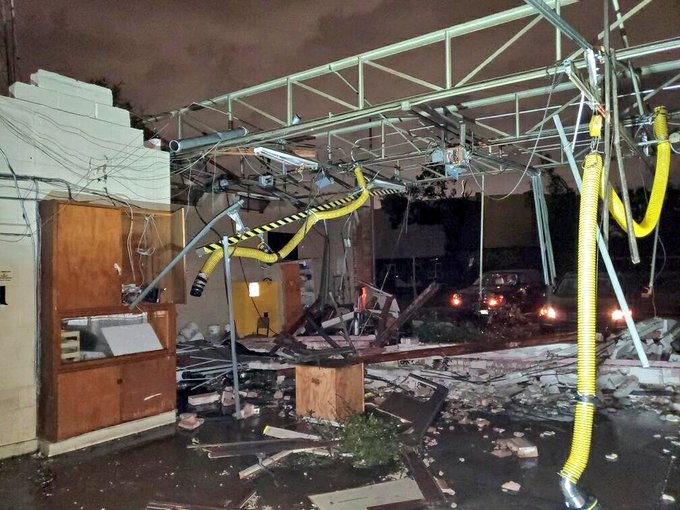 Dallas Police
Police were going to neighbors homes in various areas doing doorknocks to check on residents.  They were also seen in busy intersections without traffic signals doing traffic control.  It was a very busy and dangerous time for all First Responders out in the storm and aftermath.
Oron Power
There were about 65,000 customers without power.  Some media outlets were reporting power out to about 140,000 – 150,000 customers in variations of storm coverage.
(c) NW Fire Blog- Updated 10/21/2019 @ 1145 PDT / 1345 CDT.