THE DIRTY DEED
Today, we remember the four lives that were stolen from us back on January 5, 1995, when an arson fire set by Martin Pang, the son of the owners of the Mary Pang Chinese Food Company in hopes of collecting a  large insurance sum of money.
A man described by his ex-wifes and former girlfriends, say his threats of violence came in the form of setting fires and they reported his intentions to the Seattle Police and Fire Departments prior to the deadly incident.
The determined cause of the fire was ruled as arson and Martin Pang, the son was charged.  He would flee to Brazil knowing they have no extridite policy.  After three years of diplomatic delays, he would come back to the United States and make a plea deal instead of fighting to be extridited.
In the end, he was charged with 35 years but would only serve 20 years for "good behavior".  Challenges to allow him to be released sooner than his sentence, all efforts failed and angered many.
CALL DETAILS
At 1902 hours, Seattle Fire Dispatch initially received a 9-1-1 call from a reporting party, a band member who occupied one of the rooms within an adjacent building to the Mary Pang Chinese Food Company warehouse.  They reported smoke seeping into their practice room.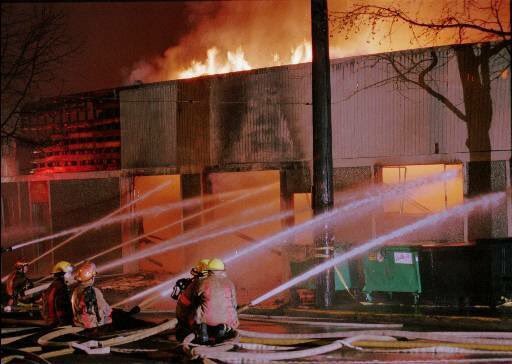 A 1st alarm or full response, as it is known today, was dispatched by the Seattle Fire Alarm Center (FAC).  Five engines, two ladder trucks, one aid unit (BLS), one Medic unit (ALS), Air Support and two Command Staff were immediately deployed at 1903 PST.
They would respond to the 800 block of 7th Avenue in Seattle, Washington on January 5, 1995.  This was known as the Mary Pang Chinese Food warehouse, a food-processing plant that prepared  pre-made food that was distributed to area grocery stores.
This building had been operating successfully in this location for 20 years prior to this incident.  It was located in the busy portion of the International District of Seattle and only a few blocks from the former Kingdome.
FIRE OPERATIONS
First due units reported a well-involved building fire and pulled a pre-connect to a nearby hydrant.  Some reported fire at the rear of the structure and from a small shed, this was later identified as an employee lunchroom that had been "added on" to the structure.  One of the crews initiated a forcible entry, then were tasked with raising ground ladders to proceed with Roof Operations and to cut a hole in the roof for vertical ventilation.
Fire crews were working on opposite sides of the building.   Once inside, they found a few spot fires and immediately knocked them down.  These were mostly near the ground floor level. Crews were working in adverse conditions that included zero visibility, having to move around equipment and stored materials blindly and very slowly.  Some interior temps were reported hot enough to keep them in crouched positions but they did not distinguish as being abnormal.
Fire in some parts of the building were cool, while crews found a small fire burning in the basement of the building.  Initials reports indicate they thought there were only two floors and were unaware of a basement in this building.
At some point during fire operations, the building was said to have rumbled and flames erupted from the basement as the floor began to collapse.  An unanticipated flaw (one of many key issues raised by the Fire Investigative report) in the structure, caused the "pony wall" to fail which dropped the ends of the floor joists and sending sections of wood and concrete floor down into the basement.   Flames then began to spread across the underside of the roof and what was on  the ground floor began to catch on fire in a rapid flashover sequence.
Two Fire Lieutenants and two Firefighters also disappeared into the fire, while seven  firefighters and one Lieutenant  bailed out of windows and doors suffering burns to their necks, ears, wrists and one hand.  No one on the outside knew what was happening on the inside.
Hot and heavy smoke began billowing out of doors and through a small hole in the roof where they ventialated the smoke.  Smoking Firefighters' PPE (Firefighters protection personal equipment) were visible as those on the outside watched the rapid events unfolding before their eyes.
1st Alarm units were aware of the arson threat but they were unaware of the multiple rennovations done on this building over its 85-year history.  There were several crucial failures on this day.
THE WORST NIGHTMARE EVER
Abandon the Building tones were broadcasted over radio transmissions. The FAC notifified command that they received an emergency activation alert.  It was determined that it was not coming from one but two firefighter radios.   Later learned, four firefighters were found to be missing.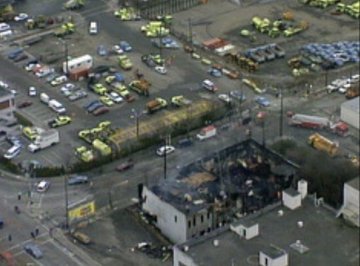 Search-and-rescue missions were immediately coordinated by crews to look for the missing four and tracking their last-known-locations. Rescue efforts continued but then the risk to the rescuers would be far greater to them.
All efforts were ceased due to the amount of time missing and extreme risk to rescuers themselves.  This would weigh on many firefighters then, now and most likely, in the future.
Firefighters were forced to abandon the building and return to firefighting suppression efforts, including using masterstreams to control the fire.
All four firefighters were rescued from the demolished building but it would take a total of three sombering days.
LESSONS LEARNED
A lot has changed within the City of Seattle and around the country, since this incident happened in 1995, but we can tell you that this event and what transpired still affects firefighters, both active and retired to this day.  It brings tears to many and anger to others as they say this could have been easily prevented.
Since, this date – a lot has happened in the wake of this terrible tragedy.
Survivors (Firefighters Families) were awarded $450,000 – $5.6 Million in damage lawsuits against the City of Seattle. SFD, 75% liable. Martin Pang, 25% liable.
Seattle Fire has made great strides to changing their accountability, risk-management, pre-fire planning, 360* size ups of their buildings, progress reports to name just a few.
THE SEATTLE FIRE FOUR  – Through the Eyes of the World
We would like to dedicate this post to the Seattle Fire Four, who lost their lives on this day in 1995.  We will continue to remember your accomplishments in the living, the impacts you had on your communities and the Legacies you left us all to behold.
Today, we remember those Lost and their Legacies left behind.  It is what we can only do in the present.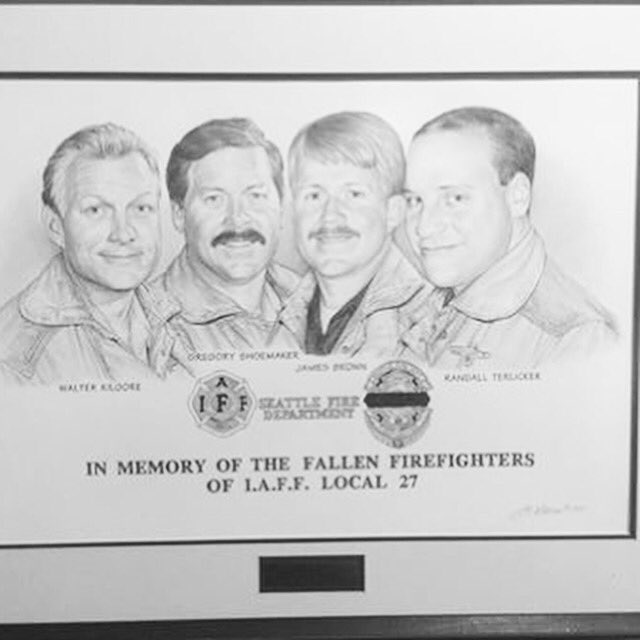 SEATTLE FIRE DEATHS – Always Remember, Never Forgotten
1891 | Firefighter Herman Larson.
1899 | Fire Engineer Charles E Brabon.
1910 | Captain JN Longfellow.
1914 | Firefighter Patrick Cooper.
1917 | Battalion Chief Fred G. Gilham and Firefighter Ole G. Rust.
1920 | Firefighter Charles F. Lacasse.
1923 | Captain Horace E. Roberts.
1924 | Firefighter William E. Shuberg.
1925 | Firefighter Cecil McKenzie.
1927 | Firefighter Darwin T. Lund.
1928 | Firefighter Charles E. Wheeler.
1937 | Fire Captain Albert S. Wolpert.
1938 | Firefighter Theodore R. Cousland.
1943 | Firefighter Luther D. Bonner.
1945 | Captain Andrew G. Beattie.
1947 | Firefighter Fred O. Larson.
1949 | Firefighters Jack W. McGee and Glen S. Murphy.
1957 | Firefighter James Willey.
1964 | Firefighter John F. Herron.
1966 | Captain Harold W. Webb.
1968 | Firefighter Henry C. Gronnerud.
1976 | Firefighter Gerald Miller.
1983 | Firefighter Lisa J. LOng.
1984 | Firefighter Mary R. Mathews.
1987 | Firefighter Robert d. Earhart.
1989  | Lieutenant Mathew W. Johnson.
1991 | Firefighter Donald L. Perry.
1995 | Firefighters James T. Brown and Randall R. Terlicker. Lieutenants Walter D. Kilgore and Gregory A. Shoemaker.
1996 | Firefighter Gary V. Medica.
2004 | Deputy Chief Gerald N. Moberg.
2005 | Firefighter Nathaniel Ford.
2008 | Firefighter Timothy J. Heelan and Battalion Chief James H. Scragg.
2009 | Battalion Chief David H. Jacobs and Firefighter Stephen Lohr.
2010 | Deputy Chief Jesse F. Youngs.
2011 | Firefighter Jeffrey Brit.
2013 | Firefighter Jess Hernandez.
2014 | Firefighters Keith I. Johnson and Wallace F. Goulet.
2015 | Firefighter Joshua Milton.
2016 | Firefighters Tristan Smith, Scott Steed and Captain Craig Aman.
2018 | Firefighter Marvin Larry.
Sources:  FEMA/Homeland Security, Seattle Fire, IAFF Local 27, Social Media, news media.
(c) 2020 NW Fire Blog – 1/5/2020 @ 1835 hours PST