UPDATE 2 – Sunday, May 31,st
A wildfire named the 9TH STREET FIRE  is burning above Ogden in Weber County.
Firefighters were able to establish an anchor point** and constructing a line around the fire to attempt to contain it. Strong winds were predicted to last from 0400 to 1200 hours. This will be a challenge for firefighters. (0059 hours MDT)
Photo Credit | UT Fire Info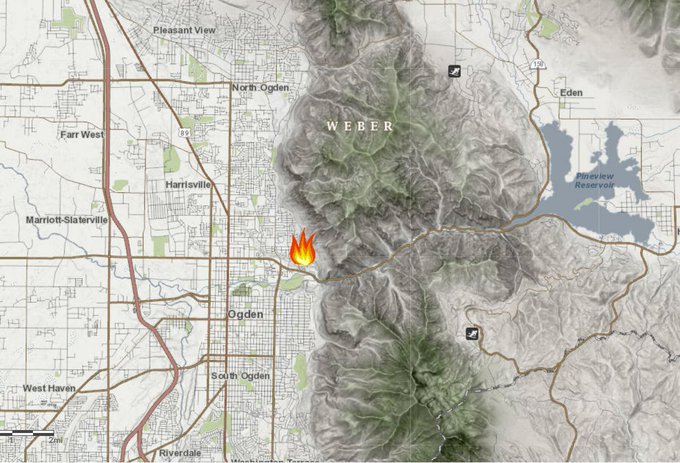 Earlier this morning (0547 hours MDT), after better light and mapping, the fire was determined to be at 15 acres with a 0% containment status. Firefighters successfully saved all threatened structures.
Mop-up operations are in effect for the fire perimeter and efforts will continue aruond homes. There are still 10 engines and 1 rew assigned to the incident (0552 MDT)
No Evacuations are in progress at this time (0547).
There are reports of Rocky Mountain Power UT power lines down and their utility crews are out investigating.
Cause of the actual fire is under investigation.
Resources include:
**An advantageous location, usually a barrier to fire spread, from which to start constructing a fireline. The anchor point is used to minimize the chance of being flanked (or outflanked) by the fire while the line is being constructed. (Source: Wikipedia)
(c) 2020 NW Fire Blog – Updated 1115 PT