Everett, Washington State  | Firefighters were dispatched around 1750 hours to a large residential structure under construction in the 1700 block of West Marine Drive in  Snohomish County, where first due crews reported a well-estabished fire was observed.
This took place on Thursday evening, July 16, 2020.
The Fire Department then changed it to the 1300 block of West Marine Drive.
This is listed to the Waterfront Place Apartments, which are under construction.  Fire units went into an immediate defensive strategy.
A PIO was immediately dispatched to respond to the fire ground.
=============== About Structure ===============
Photo Credit | Everett FD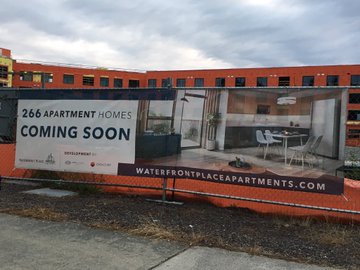 Per Apartments.com, these apartments were scheduled to come online in 2021 with 266 units and a total of four-stories.  These buildings 1300 and 1400 blocks of Marine View Drive in Everett, WA 98201.  These were scheduled to be studio to three bedroom units. They are located in the norwestern portion of the City.
=========================================
The structure fire was so intense that it was now wind-driven and spotting.  The wind had picked up some hot burning embers blowing them across West Marine Drive to the east towards Grand Avenue Bluff.
This caused a brush fire and caused minor damage to a home down the street.  Firefighters were able to save the home.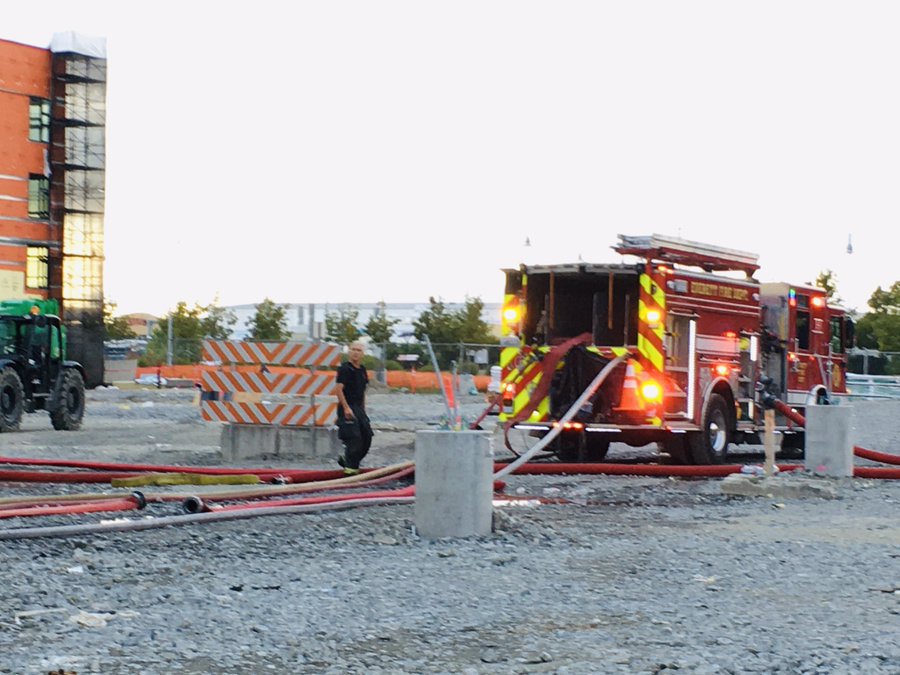 Additionally, the fire was escalated to a 4-alarm over time throughout the incident prompting the deployment of all available Snohomish County units as mutual aid to respond.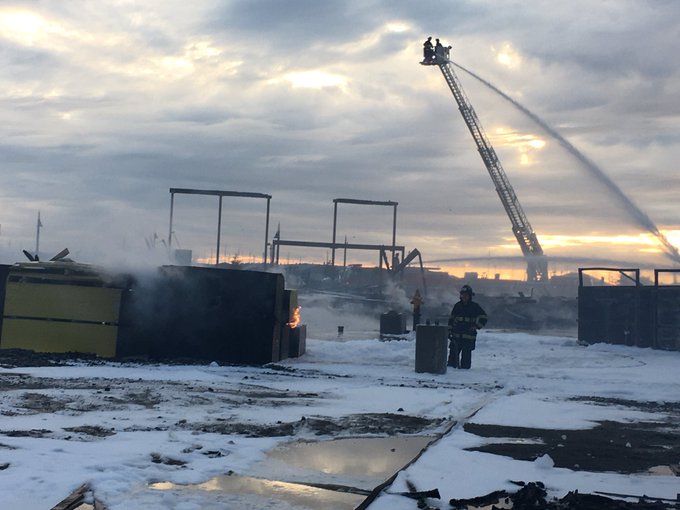 Fire officials say it is too early to determine the cause but it is under investigation.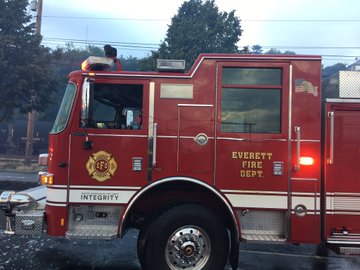 After the fire was brought under control, it was assessed as two 4-story units under construction burned and one burned to the ground. It's intensity scorched and blew out the windows of a ladder truck and damaged a nearby parked aid unit.
One firefighter suffered minor burns as he was trying to move the aid unit to a more safer distance away. Both of the rigs have burns and melted components.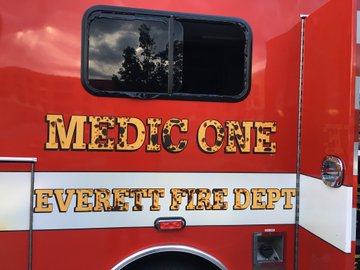 A total of 73 fire personnel along with 53 pieces of apparatus were assigned to this incident along with mutual aid from all over Snohomish, North and South King Counties.
Personnel represented the Everett FD, City of Everett, Renton RFA, Renton Firefighters, Tukwila Fire Department, Puget Sound Fire and King County Medic One (Paramedics).
Several Task Forces such as Bothell Fire, Woodinville Fire and Shoreline Fire helped staff Everett Fire Stations.
A Zone 3 Urban Task Force from the  Seattle Fire Department arrived within the City limits as mutual aid and responding to 9-1-1 calls for service.
Most of the units have returned back into service (2145PT).  Some units will remain on-scene for fire watch and addressing leftover spot fires.
Fire Images of the 4-Alarm Everett structure fire this evening: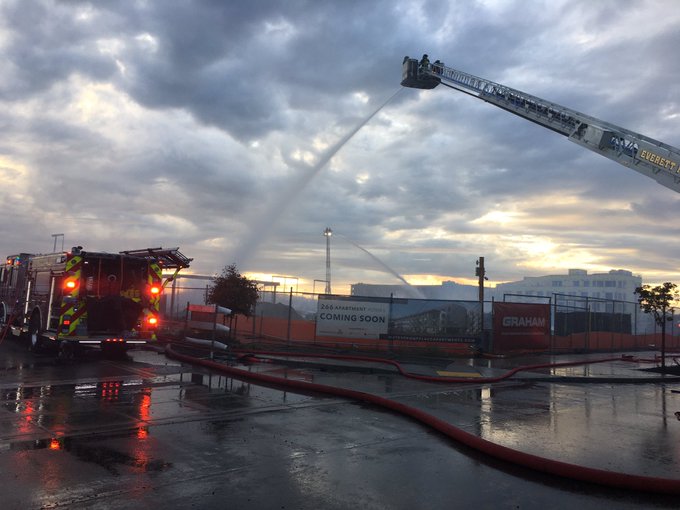 Photo Credits | Everett FD
Through The Eyes of Social Media
"Large fire on Everett's waterfront. Burning debris found as far as 18th and Colby. Ash covering roads, yards and home." 
"Power out all over North Everett."
"Some of those who keep their boats at the Everett Marina were close enough to the fire to having to spray down their boat to keep it cool.  The Marina is up river from this fire scene."
"Fire could be seen fro Howarth Park."
(c) 2020 NW Fire Blog – 2300 PT – 7/16/2020