UPDATE 5 – 7/15/2020 2345 PT
INCIDENT SUMMARY
Reports of an explosion occurred on July 12th and still continue to burn on Day 3 on the USS Bohomme Richard (LHD-6), a 40,000 ton Wasp class U.S. Navy amphibious assault ship.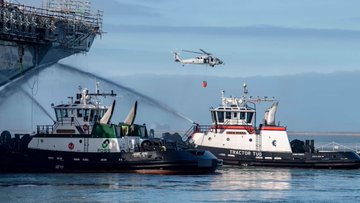 Scheduled  routine maintenance in between deployments has brought the large ship to port and remains while Navy fire crews continue to contain the heavy smoke and blaze.
The US Navy said those assigned to the ship were either in local or base housing and all crew were off the ship at the time of the fire when started on Sunday, July 12th at 0830 PT.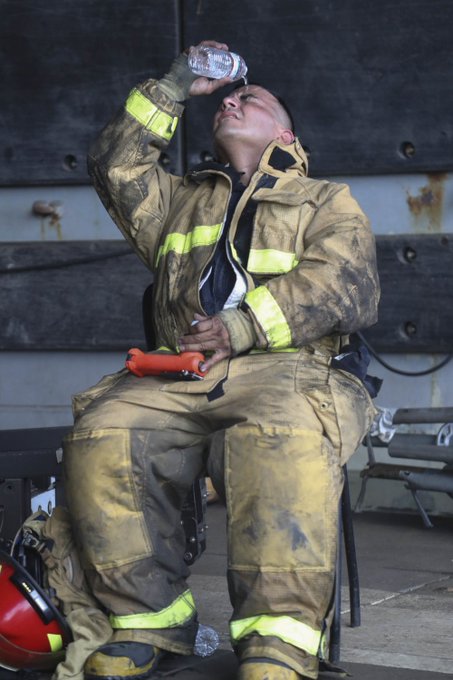 CURRENT STATUS
The ship's settling caused an immediate evacuation of personnel from the pier and vessel as a precaution.
Naval firefighters continue firefighting efforts.
SIGNIFICANT EVENTS
July 14, 2020
There were personnel from Federal Fire  and over 400 sailors from 12 San Diego-based ships that are part of the marine firefighting units.
July 15, 2020
The Helicopter Sea Combat Squadron 3 has dropped more than 1,500 water bucket drops over the fire.  It has been cooling the very large vessel and flight deck at one time enabling crews to enter the ship.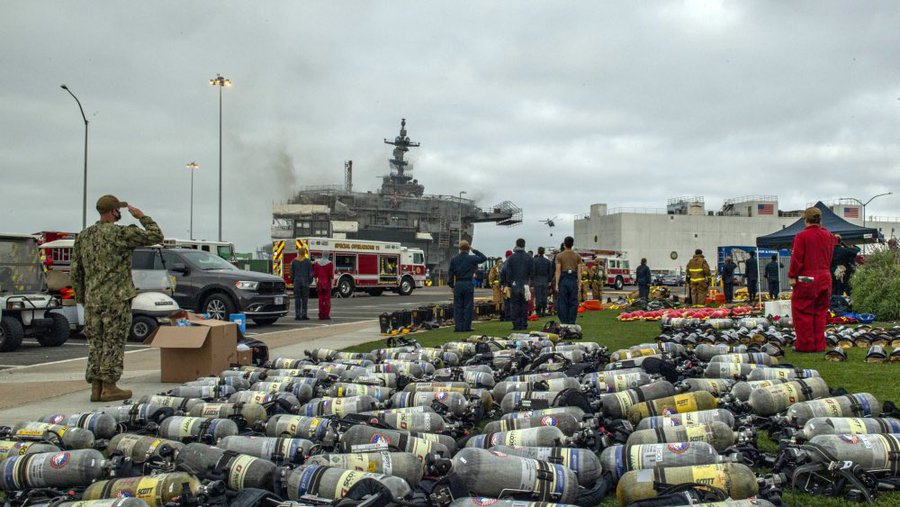 CAUSE
The cause of the fire is still unknown and is under investigation.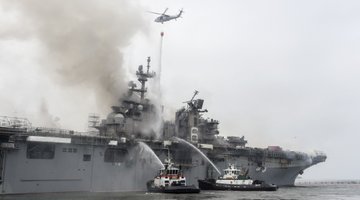 INJURIES
63 personnel have been treated which includes 40 sailors and 23 civilians have been treated for minor injuries, including some with heat exhaustion and smoke inhalation.
There are no personnel currently hospitalized.
There were no deaths reported.
OUR SOCIAL MEDIA CHANNELS
Facebook & Twitter –

@

nwfireblog
Instagram – nw fire blog
Photo Credit to Images | Naval Suface Forces, US Pacific Fleet unless otherwise noted.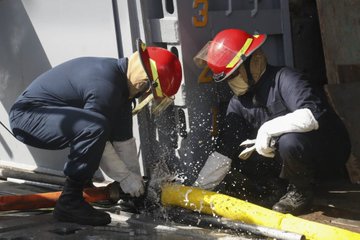 SCAM ALERT!
NCIS urges the DON family and community members to remain vigilant of fraudulent GoFundMe pages and other fraudulent charities soliciting for donations in response to the fire aboard the USS Bonhomme Richard.  Check out more important details regarding this potential scam the Navy wants you to be aware.  Check out their Facebook page here —>
https://www.facebook.com/USNavy
HASHTAGS
#USSBonhommeRichard #USNavy #ShipFire #SDShipFire
(c) 2020 NW Fire Blog