GOLD FIRE
Update 2
INCIDENT SUMMARY |  A CAL Trans unit reported two separate fires, one in the north and the second in south, about 4-5 miles south of Adin, California on the  Lassen County side on the afternoon of Monday, July 20, 2020.
It is also reportedly burning north of nearby HOG FIRE.  Both Commands are separate from one another.
Photo Credit of Nick/Merri Espinoza Facebook (Used with written permission)
CAUSE | Cause is unknown and under investigation.
RESOURCES – INCIDENT COOPERATORS | CAL FIRE, CEDR, Lassen County Sheriff Office, NWS Reno, USFS – Modoc.
Command | An IMT Type 4 has been requested.
Personnel | 400 firefighters w/overhead team assigned. IC has says they have a shortage of personnel but those on this fire line are doing a really good job. (2215)
LNF |  Sent a full wildland response to an LMU incident, Hwy 139 at County Road A2, plus AA06, 2 seats and 3 S2's, C202 and 2nd rotor.
LNU | Charlie Strike Team plus 2 crews from Konocti Camp with immediate needs. (1636)
TGU | 9111 C is dispatched .
Air Support | 4 Tankers  T-93 T-94 T-01 + T-911.  4 Tankers on No Divert due to life safety (1645).  Released No Divert. (1730)    T-161 out of Oregon and T-101 out of Nevada are now assisting. (1818)
On Order | 5 charlie strike teams, 5 crews, 5 dozers, 6 water tenders, and hose modules. (1523)
Arriving Units | Utility 24 dispatched to fire. To tie in with the Gold IC. (2114)
Photo Credit | USFS – Modoc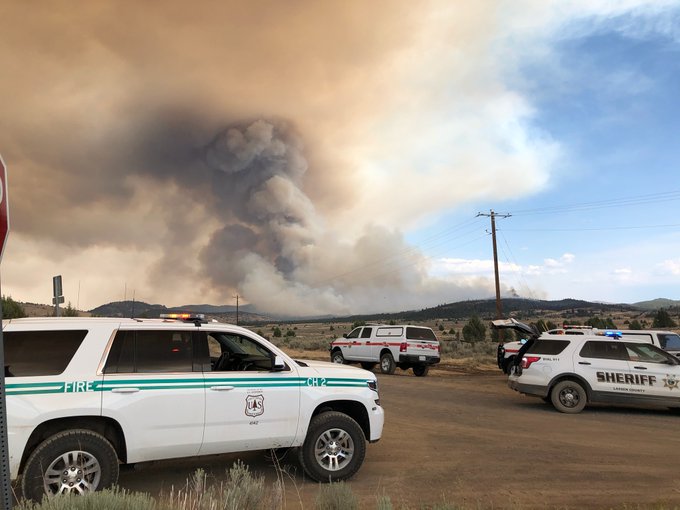 CURRENT STATUS |   CAL FIRE released size as 2,500 acres (2145 PDT) with some resources reporting AA listing it at 4,000 acres. There is a 0% containment.
FIRE WEATHER REPORT | 80*F temps with clear skies. Precip is 0% with Relative humdity at 29%.
Winds are at a low 9 mph on Monday evening. Increased temps to 101*F are expected on Tuesday around 0100 PDT with a low of 60*F in the evening.
Tomorrow will be the hottest day this week dropping into the mid 90's by Wednesday and into next week. (2140 PDT)
=== MANDATORY EVACUATIONS IN EFFECT ===
Modoc County Sheriffs Office issued a Mandatory evacuation alert for those along the Butte Creek Road area on the Lassen County side.
Dan Ryan and Ash Creek Campgrounds.
=== EVACUATION SHELTER ===
Adin Community Center, 605 CA-299, Adin, CA 96006.
INJURIES | 2 Firefighters were injured when they had to deloy their shelters during a burnover.  Their conditions are unknown, however it was stated they were both airlifted at a nearby LZ. (1624-1635)
ROAD CLOSURES |  Lassen County Sheriff Office has Highway 139 closed from Termo Grasshopper Road to County Road A2, due to the Gold Fire. (1914)
UPDATED | 7/20/2020  2230 PT | (c) 2020 NW Fire Blog