UPDATE 1
INCIDENT SUMMARY
The LAFD is battling a large commercial structure fire when they were dispatched on Friday morning around 1132 PT to the 9000 block of West Pico Boulevard in the Pico-Robertson area.
The structure is a 50×100 commercial building was taking on heavy smoke when first due units arrived on-scene.
Photo Credit | LAFD PIO/Capt Wereter @WeireterC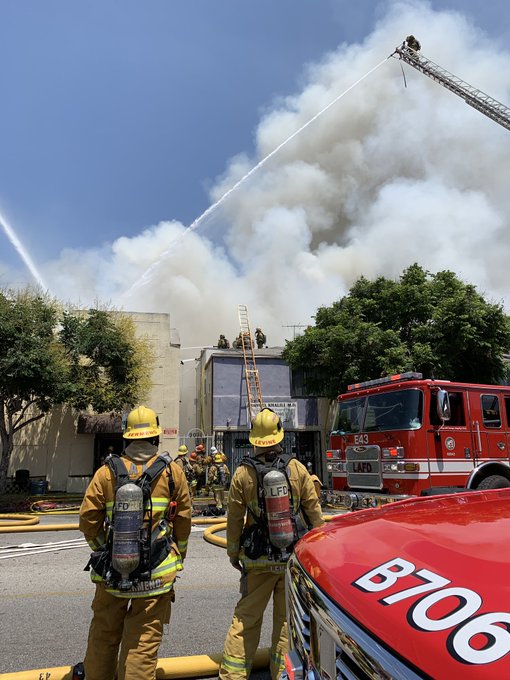 This is a Greater Alarm status fire.
FIRE OPERATIONS
1240 PT
Fire burning  mostly in the middle to rear of the building.
1225 PT
Master streams now in place with additional firefighters staffing large-diameter handlines both from the ground and from exposure building's roof. Partial roof collapse on the fire building has occurred.
No further needs at this time.  No  injuries reported.
1203 PT
Heavy fire and difficult to reach the seat of the fire. Now, in defensive operations. All firefighters were pulled from the roof and exiting the building.
Master streams and large-diameter hand lines are being repositioned.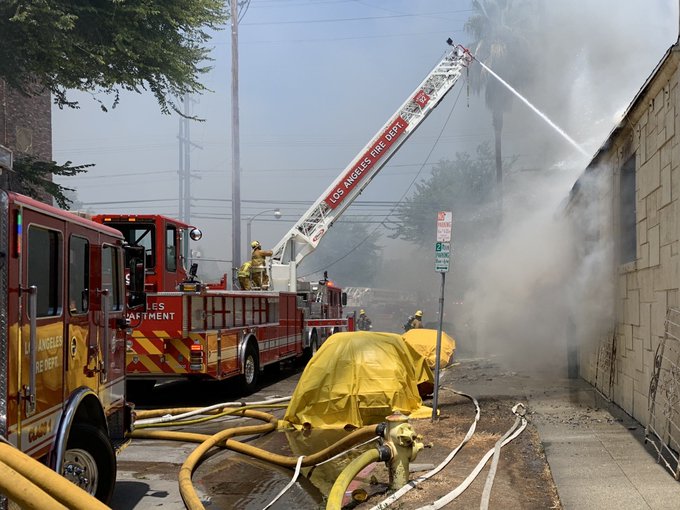 1132 PT
Reported commercial structure fire. 50 x 100 foot building. Heavy smoke showing.  2 additional Task Forces requested.  Escalated to a Greater Alarm fire.
Firefighters are working to find the seat of the fire, ewhile others are working to breach entry on the exterior.
RESOURCES
FS58
BC2, 4, 5, 9, 10, 18, 706
CM42
E3, 43, 58, 59, 61, 62, 68, 94, 227, 233, 237, 261, 292, 294
EM 9, 18
HR3
JT4
PI3
RA27, 41, 58, 92, 892
SQ21
T27, 33, 37, 61, 92, 94
UR27, 88
CH9, 13, 15
SOCIAL MEDIA
@nwfireblog – Twitter & Facebook —- NW Fire Blog – Instagram
HASHTAGS
#LAFD #PicoRobertsonFire #CaliforniaFire2020
(c) 2020 NW Fire Blog – 1- 7/24/2020 1311 PT