BADGER CANYON FIRE
UPDATE 1
INCIDENT SUMMARY
Badger Canyon Road and 99 Private Road. Southwest Benton County, west of Kennewick and in south of Wenatchee.
"Fire is south of West Richland in Badger Canyon. We are not ordering evacuations in the City at this time and do not believe the fire will be a threat to us." – Benton Co. FD #4
CAUSE
Fire started from target shooting near homes on Wednesday, July 24, 2020.
Photo Credit | Franklin Co District #3 | Badger Canyon Fire on 7/6/2014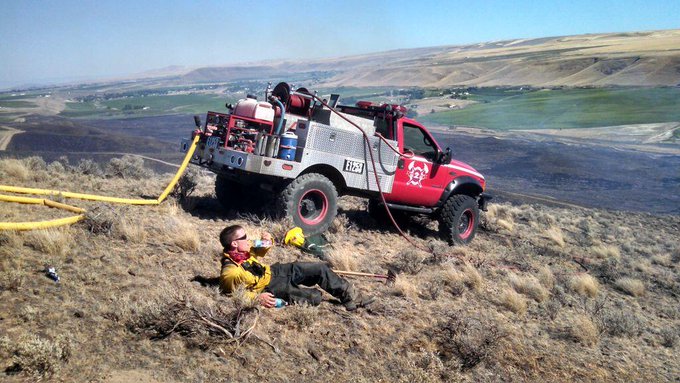 RESOURCES
Dispatched 1755 PT. DIV-602, E841 on-scene
Benton County FPD2
BCFPD4 (3 wildland engines and Duty Chief)
Franklin County FD3
FCFD5
Kennewick FD
Pasco FD
Richland Fire and Emergency Services
West Benton Fire Rescue
CURRENT STATUS
80 acres and growing. Grass and brush.
Area closures due to traffic control under local Law Enforcement.
There is a north-south dozer line in the Canyon.
Structure protection in effect due to threats to homes.
South end of the fire has been contained.
Fire is south of PR 99.
Crews have been able to hold the fire.
"Losing light this evening. Structure protection to remain in place. To mop-up up to 100-feet of the structures." – Badger Canyon IC
(c) 2020 NW Fire Blog | 1 | 7-24-2020 2100 PT