Seattle Firefighters are currently battling a multi-alarm structure fire in the 1000 block of Sturgus Avenue South on Thursday.  Command requested a 2-alarm at 0549 hours PT.    This is near Sturgus Park in the Beacon Hill area of I-90 and I-5 interchange.
It can be seen on the WSDOT camera located at I-90 and Corwin Place South.
Traffic has been shutdown in both directions due to many embers making their way across the freeway but have been stopped.  WSDOT is currently opening 2 eastbound lanes.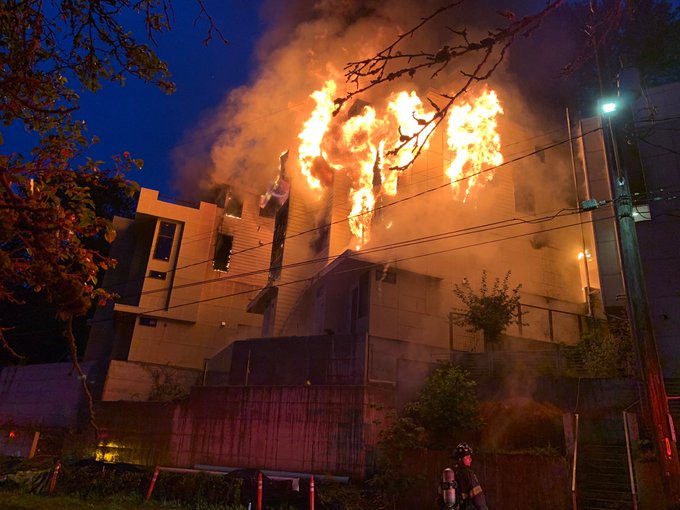 Firefighters were working to get water on the fire torching the three-story building under construction.  At this time, the building was fully engulfed with another building also being impacted by fire. (exposure building).
Another exposure building in the area was evacuated for precautionary measures. At 0628 PT, multiple structures were burning.
Resources dispatched to this structure fire were A10 AIR10 B2 B5 DEP1 E10 E25 E30 E5 E6 L1 L10 L3 M1 M44 MAR5 REHAB1 SAFT2 STAF10 AIR240-260 B6 E2 E28 E34 E36 L4 PIO R1 E16 E22 E9 E26 E13 L13
Fire originally was dispatched at 0542 PT.
This is a developing story and we will post an update when more details come to light.
Nice egress by Seattle Fire Department and all those who support them: Dispatchers, Support, Air Support, PIO, etc.
(c) 2020 NW Fire Blog – Updated 8/20/2020 0650 PT