June 15, 2021 — 2030 hours PT
BEAR FIRE (UT) — Started 6/8/2021 1730 hours. Lightning caused. 3 miles northwest of Helper, Utah. IC: Daren Dalrymple with the CA IMT 10. 394 total personnel. 11,061 acres of Timber, brush and grass. 19% contained.
Significant Events
RED FLAG WARNING in effect.
COLD CREEK FIRE (ID) — Started June 14, 2021 around 1330 hours. Located 5 miles south of American Falls. Estimated size is 2500 acres. Both Federal and Local resources are in Unified Command and working together in reinforcing containment lines. Fire behavior is moderate. No estimated date of containment known. Air assets include 1 air attack, 4 SEATs, 3 Heavy AT's, 1 VLAT and 1 lead plane.
Evacuation Update Line
208-226-2319 (Power County Sheriff's Office)
Evacuation Shelter
American Falls High School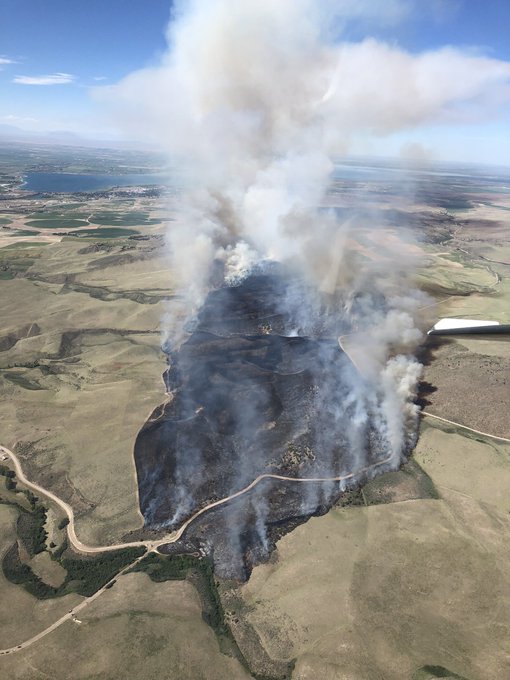 CORNVILLE FIRE (AZ) — Started 6/13/2021 around 1230. 2 miles east of Cornville on the Coconino National Forest. 100 total personnel. 1,240 acres of grass, brush and pinon juniper. 74% contained. Cause is unknown, under investigation. IC USFS Ryan Barela.
COTTONWOOD VALLEY FIRE (NV). Located 8 miles west of Las Vegas.
DAIRY FIRE (CA) — Burning on East Canal Road, south of Red Bluff in Tehama County.
DEEP CREEK FIRE (MT) — Smoke was reported on 6/13/2021 Sunday around 1545 hours. North of Hwy 12, east of Townsend. Type 1 team is on order. Unified Command with MT DNRC and Helena-Lewis and Clark NF. Local resources: Broadwater County Rural FD, Broadwater County SO, MT Hwy Patrol, MT DNR. 70 total personnel. 180 acres of timber and grasses destroyed.
Significant Events
A MT DNRC Helo has crashed (1752 PT). All souls onboard have been evacuated, said to be okay.
Possible cause determined: Fallen tree onto a power line. Still under investigation.
RED FLAG fire weather in effect.
FLATS FIRE (CA) — Started 6/13/2021 around 1115 hours PT. Off of Hwy 74 near the communities of Pinyon Crest, Pinyon and Alpine Villages in the Santa Rosa Mountains. 400 acres. 80% contained. Unified Command: USFS, CAL FIRE, Riverside Co SO
Significant Events
1 Firefighter injury
2 homes destroyed
3 homes and 3 outbuildings damaged
All evacuation orders, warnings have been lifted
MESCAL FIRE (AZ) — 12 miles southeast of Globe, 7 miles northeast of Dripping Springs; 12 miles northeast of Hayden. Started 6/1/2021 around 1100 hours MT. Gila District Office. 72,250 acres of short grass, chaparral and brush. 88% contained. Fire behavior is minimal with flanking, backing, smoldering. IC: Mark Bernal. 285 total personnel with 6 engines 2 tenders, 2-Type 2 IA crews.
PACK CREEK FIRE (UT) — Started 6/9/2021 at 1545 hours. Caused by an abandoned campfire. Located 14 miles southeast of Moab. IC: Great Basin Team 4 (Type2). 8,435 acres of closed timber litter and chaparral. 26% contained. Total of 535 personnel.
Significant Events
Structure protection — east of Geyser Pass
Structure protection ended — Pack Creek, along the ridges on west flank
Containment expected on western perimeter near Pack Creek and Brumley Creek
Threats to homes, Bald mesa (internet, radio and add'l communication services) throughout southeast Utah, powerlines
Threatened: Castle Valley community
Investigators: Looking for fire tips can be called into the tip line: 775-355-5337.
Public Information
TRICARE has authorized emergency prescription refills in Garfield County. Website: go.usa.gov/x6RpB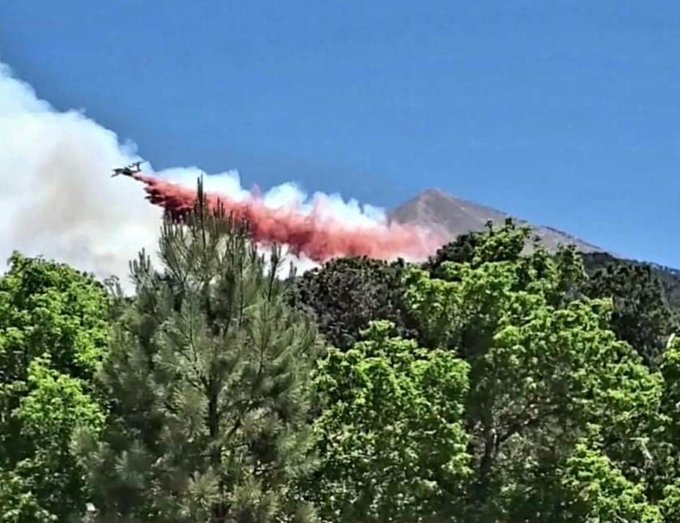 RINCON FIRE (NM) — Started 6/11/2021 by lightning. Burning within the Pecos Wilderness area. Steep, rock terrain at 11,000 feet elevation. Insect infestation has killed off a lot of trees in the area, mainly by the spruce beetle. IC: SW Area IMT4. Commander: Carl Schwope assumed command 6/15/2021 at 0600 hours. 113 total personnel. 516 acres of spruce and fir.
ROBERTSON DRAW FIRE (MT) — Started 6/13/2021 1500. Burning south of Red Lodge, MT near Clark, Wyoming. Cause unknown, under investigation. 80 total personnel. IC Bob Culbreth, Type 3. 2,000 acres of sage, grass and timber. RED FLAG WARNING is in effect. Fire behavior is active .
Evacuations in effect
The Gold and Ruby Creek areas
Grove Creek area
Evacuation Warnings in effect
West of Meeteetse Trail Road
East side of Hwy 212 from Meeteetse Trail Road to Westminister Spires Church Camp
USDA Forest Service Rec homes in Corral Creek, Spring Creek, Snow Creek and Sheep Creek
Closures
South of Hwy 212
East to the area along the Beartooth Front
South to the Wyoming border.
Shoshone Line Creek
ROBINSON FIRE (WY) — 20 miles south of Buffalo. Lightning caused. Started on 6/8/2021. High winds pushed fire into Robinson Canyon, where its currently burning. Type 3 transitioned to the Rocky Mtn Area Type 2 Blue Team IC Michael Haydon, IC on 6/12/2021. More crews, engines and aerial asses arrived. Total 348 personnel. 1,038 acres of Timber with grass understory. 29% contained. Fire behavior is moderate with flanking, backing and short-range spotting. Primarily in timber with heavy dead and down in very steep and rugged terrain.
ROCK FIRE (CA) — East of Whiskeytown in Shasta County.
SANDY VALLEY FIRE (NV) — Started 6/10/2021 1330. 10 miles southwest of Las Vegas. BLM Southern Nevada District Office and USFS lands. 7 total personnel with BLM IC Anderson. 1,380 acres of grass, brush and pinyon juniper. 94% contained. Fire behavior is minimal and smoldering.
SANTA FE FIRE (CA) — Burning near Irwindale/Santa Fe Dam in Los Angeles.
SKYLINE FIRE (CA) — 300 block of Skyline Drive, Vallejo in Solano County. 4th Alarm brush and structure fire. Forward progression has been stopped. Appears fire started at bottom of hillside and had uphill runs impacting multiple homes. There are unknown number of structures damaged or destroyed. Vallejo FD (Lead Agency), Benecia FD, Am Can Firefighters, Crockett Fire (Mutual Aid).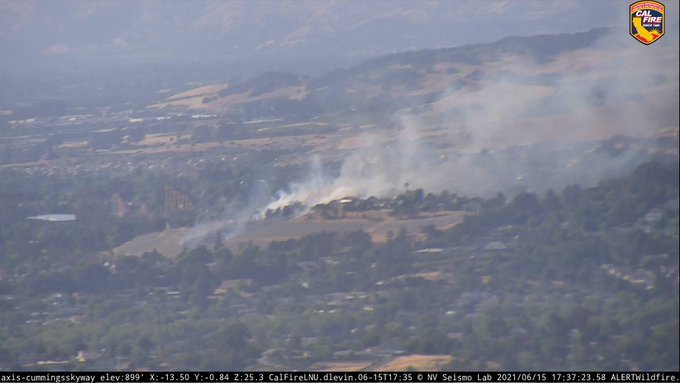 SPRING FIRE (UT) — Fire progression has been stopped with ground and air resources. No expected fire growth this evening. Cause is under investigation.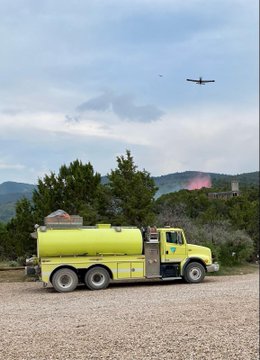 SLATE FIRE (AZ) — Started 6/7/2021 around 0300 hours MST/PT; reported by a Coconino County SO Deputy. 23 miles northwest of Flagstaff, originating on Slate Mountain. IC: Jesse Causer. 188 total personnel. 11,000 acres of pine, juniper, grass and brush. 16% contained. Cause is unknown, under investigation.
YANKEE FIRE (CA) — Detected 6/15/2021 around 1526 hours PT. Local firefighters respond to wildfire between Paradise Cove and Yankee Canyon, along Hwy 178. Isabella, CA. Yankee Fire is a series of multiple fires burning in an easterly direction, south side of the highway. 30 acres of grass, brush and scattered pine with most of it burning on BLM lands. 40% containment. In Unified Command. 150 total personnel. Incident Cooperators: CalTrans, CHP, Kern County SO and Southern California Edison. 1 Air Attack, 3 Air Tankers, 1 helicopter, 5 crews, 9 engines, 3 Law Enforcement Investigators and assorted overhead responded.  Additional crews were ordered for the night shift.
Update || 30 acres. 30% contained. Forward progression stopped. No structures damaged/lost. || 2028 PT
Closed
East end of Mountain Mesa
West end in Yankee Canyon
Significant Events
7 starts
Combined as 15-20 acres in size
Multiply spots along Highway 178, from Paradise Cove to Yankee Canyon. South side of the Highway. (Lake Isabella Area).
Threatened: Yankee Canyon community, adjacent rec areas, power lines and restaurant/motel.
Appears that may have been caused by a trailer throwing spark.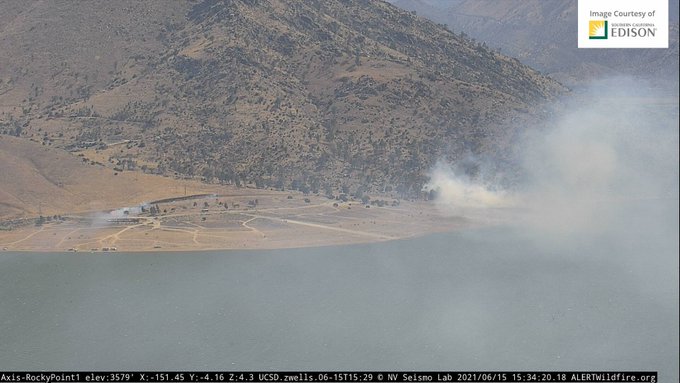 We are working tirelessly to pull all of the wildfires together. Due to time constraints, we were unable to add additional information to this post. We will adding more incidents and updates to each daily post.
Be safe everyone!
(c) 2021 NW Fire Blog