SUMMARY:   Some of you have asked for maps and we are working on a single map listing all wildfires. Maps are provided for each fire that are currently available.
The Holt (should be "Hult") Butte Fire in Boardman has been moved to the Oregon wildfires post. The source reporting has it listed as Washington and should be Oregon.
Here is our recap for Wednesday, August 16, 2017.
# # #
NORSE PEAK FIRE – 11 miles W of Cliffdell (Okanogan – Wenatchee NF)
Previously reported. This fire is located just NW of Highway 410 that was ignited by lightning.  The fire remains at 500 acres and has been holding since reported on Tuesday, August 15th.  There are 30 personnel assigned. There is no containment being reported on this incident.
EAST SADDLE MTN FIRE – 10 miles W of Othello (Mid-Columbia NWR)
Mid-Columbia National Wildlife Refuge 
This wildfire started on the afternoon of August 12th from presumably lightning but that is an unconfirmed cause report.  There have been 17,465 acres burned. There has been a 95% containment reached.  Fire behavior is minimal. Crews are working to get power back on for residents (0730 hours PDT)  There are 136 personnel assigned with 37 engines.  2 structures have been lost.  CTD is $397,000.
JOLLY MTN FIRE- 13 miles NW of Cle Elum (Okanogan – Wenatchee NF)
The Jolly Mountain Fire is made up of five wildfires burning in a remote part of the forest about 5 miles NE at the North end of Lake Cle Elum.  There has been 378 acres burned.  Fire crews have gained a 44% contained.  Fire behavior is minimal with backing and isolated torching.  Structures are still being threatened.  There are 197 personnel with 3 crews, 10 engines and 3 helos.  $558,000 CTD…
NOISY CREEK FIRE – 6 miles SE of Metaline Falls (Colville NF)
The Noisy Creek fire behavior is moderate with backing, flanking and single-tree torching.  There has been 4,000 acres destroyed with 64% containment.  Command changed from a NV Type 3 team to a SW IMT Team 5 on August 15, 2017.  There are 178 personnel.  4 crews, 3 engines and 1 helicopter.  $5 Million CTD…
BRIDGE CREEK FIRE – 13 miles NNE of Keller (Colville Agency/BIA)
The Bridge Creek Fire started on Thursday, August 10, 2017.  Today (Wednesday) has a moderate fire behavior with isolated torching, backing and flanking.  There has been 1,343 acres burned.  Fire crews have reached a 22% containment status.  There are 350 personnel assigned with 6 crews, 13 engines and 1 helo.  CTD $2 Million…
HEAD WATER FIRE – 25 miles West of Goldendale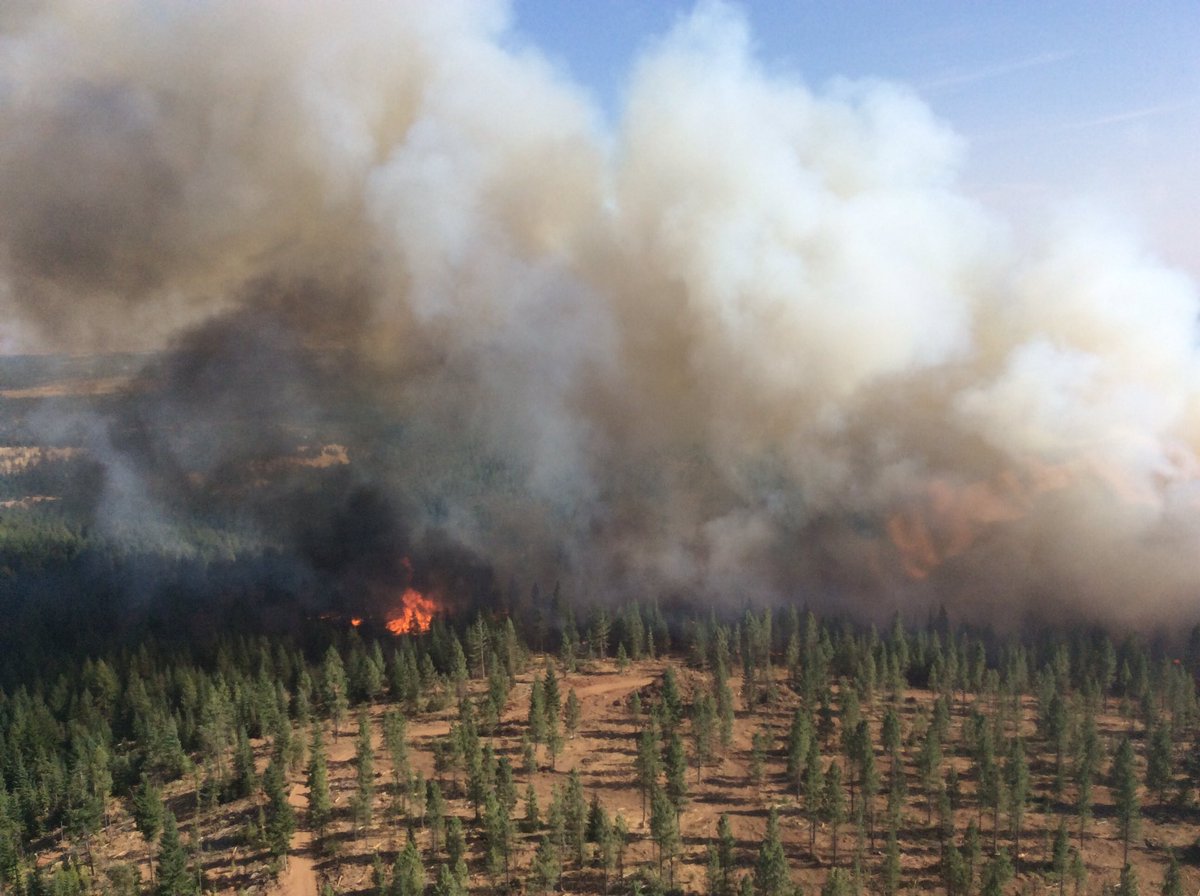 The wildfire located in Goldendale started on Sunday, August 13, 2017.  The biggest overnight news from this wildfire were two DOC convicts had escaped from the DNR fire work camp. Law Enforcement reported they were serving time for assault and another for stolen property.  As of 0500 hours today due to the keen eye of a witness, one is back in custody.   Police are searching for the second DOC convict.  Some wildland firefighters say this is the most sought out opportunity to serve and they have nothing but good things to say about these DOC firefighters who work super hard.  They say this rarely happens!
There have been 100 acres burned with a 60% containment status reached…
DIAMOND CREEK FIRE – 27 miles NNW of Winthrop (Paysaten Wilderness)
The Diamond Creek Fire started on July 23rd from an unknown human-caused ignition. Fire behavior is still active with group torching, flanking and backing. Structures are under threat. No evacuations in effect at the time of this posting.  There has been 27,210 acres but crews have reached an 8% containment. There are 301 personnel assigned along with 7 crews, 18 engines and 3 helos.  CTD is $4.2 Million…
(c) 2017 The NW Fire Blog – Updated 8/16/2017 0800 Hours PDT