MANHATTAN, NY | A 4-Alarm fire from an unknown cause ripped through the 50th story of the Trump Tower this afternoon killing one civilian and injuring four firefighters.  Onlookers shot video and photos spreading like wildfire all over Social Media.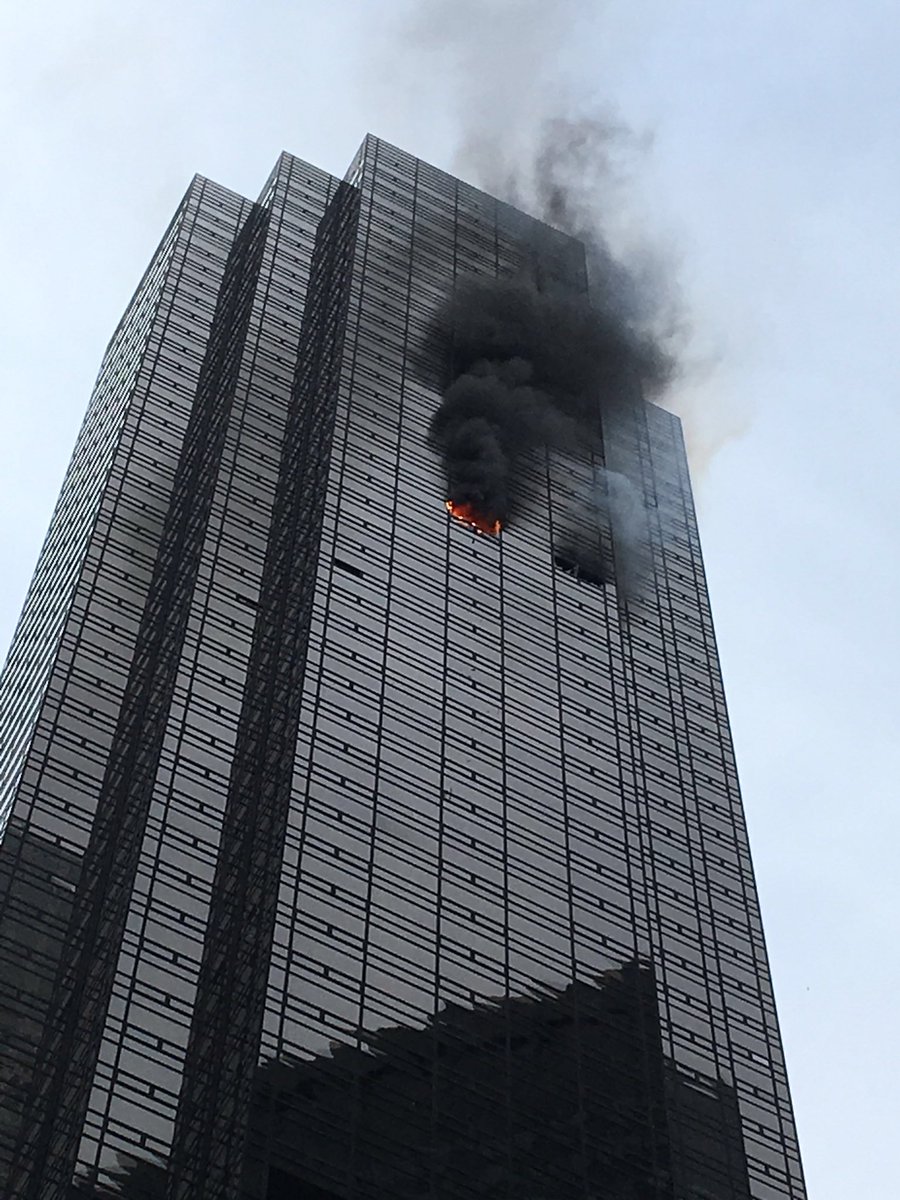 FIRE TIMELINE 
1427 PDT – MAN 2-ALARM 721 5 AVE, HIGH RISE (TRUMP TOWER) FIRE ON 50TH FLR.
1524 PDT – Due to a fire at Trump Tower in Manhattan, expect police and FDNY in the area of 5th Ave/W.57 St. Expect traffic and street closures nearby by due to emergency vehicles.
1527 PDT – Members are on scene of a 3-alarm fire at 721 5th Ave Manhattan. There are currently no injuries reported.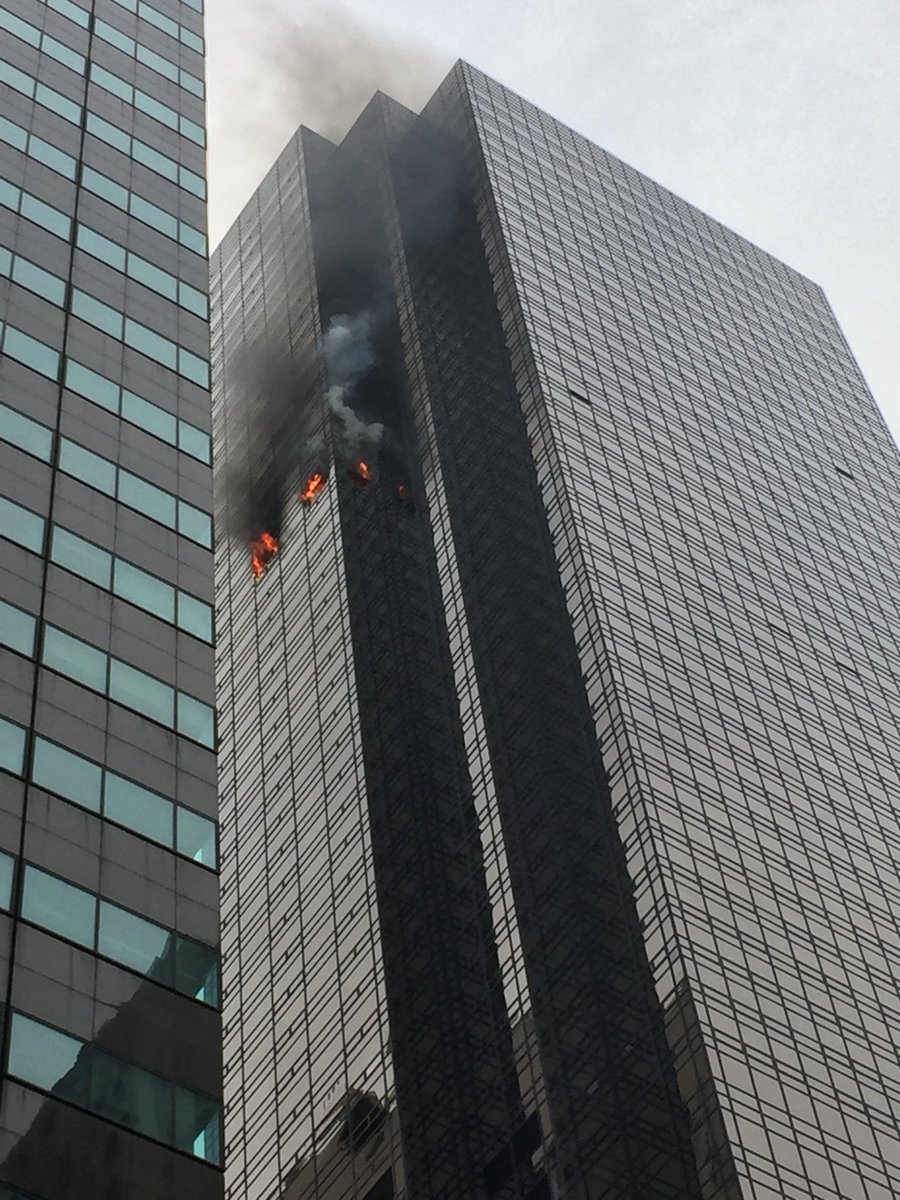 1530 PDT – Current street closures due to the fire at Trump Tower.   5th Ave between W. 55 St to W. 57 St and W. 56 St between Madison Ave to 5th Ave.
1556 PDT – Members remain on scene of a 4-alarm fire, 721 5th Ave in Manhattan. There is currently one serious injury to a civilian reported.
1628 PDT – 
1657 PDT –  Fire brought under control.
1658 PDT – We found fire on the 50th floor of the building. The apartment was entirely on fire. Members pushed in heroically, they were knocking down the fire and found one occupant of the apartment who is in critical condition.
1659 PDT – We had many floors to search, and stairways, and right now the only civilian injury is to the occupant of that apartment. There are four Firefighters with non-life-threatening injuries.
1659 PDT (2) – This was a very difficult fire. As you can imagine, the apartment is quite large, we are 50 stories up. The rest of the building had a considerable amount of smoke. 200 Firefighters and EMS members are on scene.
1700 PDT – The fire is still not considered to be under control because of the smoke conditions on all the floors above, says FDNY Fire Commissioner Nigro gives update on 4th alarm, 721 5th Ave Manhattan.
INCIDENT SUMMARY | 1 person has succumbed to his injuries, 4 firefighters were injured and have non-life threatening injuries.
FIRE BUILDING HISTORY 
January 8, 2018 | A fire in the building's HVAC system injuring two civilians and one firefighter (non-life threatening injuries) and caused smoke to billow from the room.  It reportedly started around 0700 on Monday morning.  It was stated that some debris fell on to a firefighter and an engineer breathed in some smoke.  This fire took about one hour to put out.
PHOTO CREDIT | FDNY unless credits given otherwise to photos.
SOCIAL MEDIA | #TrumpTowerFire #NYFire
Senator Chuck Schumer (NY):  "Thinking tonight of those lost and injured in the fire that broke out in Trump Tower today, and incredibly thankful to the FDNY for their work that kept more NYers from harm."
Editor's Comments:  "While there are very hateful things said on Social Media, we don't always agree to agree with things going on in this world either but this is fire related and this is what we report on.  There was one person who was reportedly killed from their fire related injuries and four FDNY firefighters injured. We need to rally around the civilian's life and family, as well as the firefighters, their family and our Fire Family.
When everyone runs out of a building or are trapped, these amazing and highly trained firefighters run in with a cache of personnel supporting them.  We need to recognize them for stopping this fire from spreading and extending beyond its current position." LR Swenson, Editor
SOURCES | FDNY, FDNY Alerts, NYPD, Social Media
2018 NW Fire Blog