UPDATE 3 – JULY 7, 2019 – SUNDAY
INCIDENT SUMMARY
What appeared as an isolated incident of a single quake with multiple aftershocks, turned out to be nothing more than a fore shock and something we don't hear much about – until today.  The original large quake that would shake near the Ridgecrest area of Kern County, California was measured at 6.4M This occurred on Thursday, July 4, 2019.  It was being called a foreshock (prior to the actual quake).
A 7.1M rocked the Ridgecrest area on July 5th causing widespread power outages, gas leaks, structure fires and many EMS calls, with most of them being for short of breath incidents.  Roads were reported buckling and separating roadways, all the way across.
DAMAGE ASSESSMENTS
Epicenter | Naval Air Weapons Station China Lake | 150 miles N of Los Angeles
The NAWS China Lake Station is about 150 miles north of Los Angeles and at the epicenter. No casualties or injuries were reported. All buildings were found to be structurally sound and still standing.
Kern County | Commercial Structural Damage 
On July 6th, the Governor of California was out to businesses and areas to view the hardest hit areas.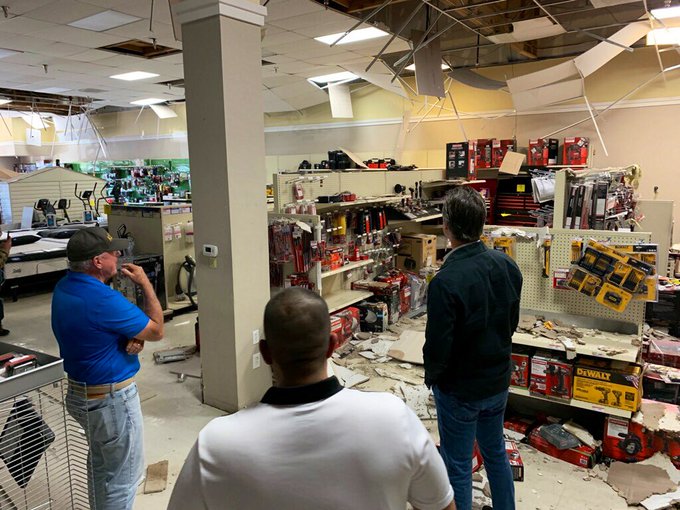 Kern Co Damage | GOP Leader Visit
On the afternoon of July 5th, GOP Leader Kevin McCarthy met with local Officials and 1st Responders to discuss post-earthquake efforts and tour some of the damaged areas firsthand in Kern County.
Kern County | Mobile Home Park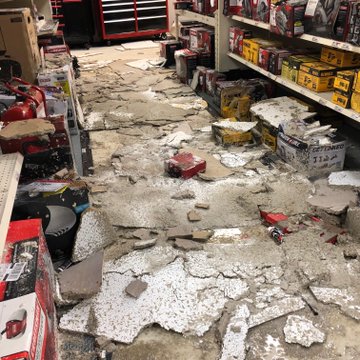 City of Trona | 20 miles E of Ridgecrest
The City of Trona's one and only water pipeline has been reported to have several cracks.  Repairs are currently ongoing and they are working to fix their main water resources.  On July 6, 2019, after the quake hit – there were reports of being extremely hit hard and had no power or water.
Between Trona & Ridgecrest | SR 178
CHP and CALtrans District 9 assess one of the major roadways at night of a serious large fracture.  This is on SR 178 between Trona and Ridgecrest.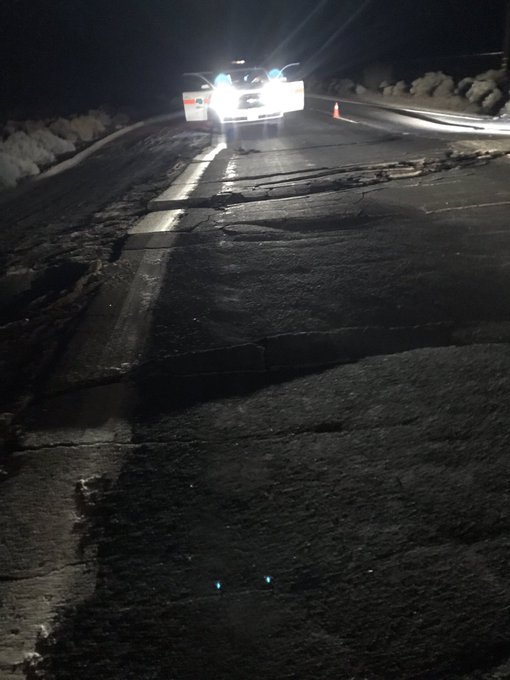 Kern County | Ridgecrest Regional Hospital
After the 6.4M quake on Thursday, July 4th, the hospital began evacuating some patients due to reported structural damage inside the building. No word on any further damage after the 7.1M quake on Friday or if additional patients were moved from the facilities.   An ambulance strike team from Bakersfield was due to assist with evacuations.
INCIDENT COOPERATORS:
CAL OES | Local Leaders giving briefings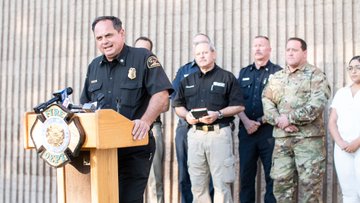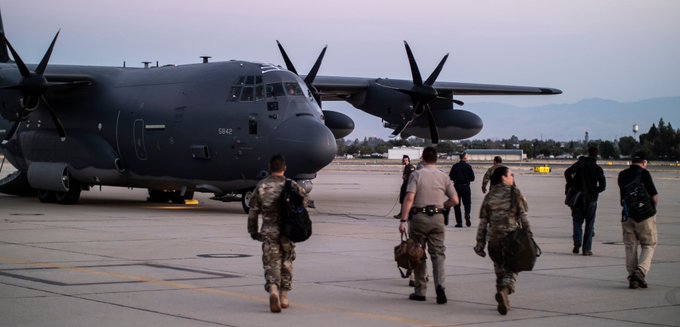 Los Angeles County FD | OES Haz-Mat 811 is surveying the damage.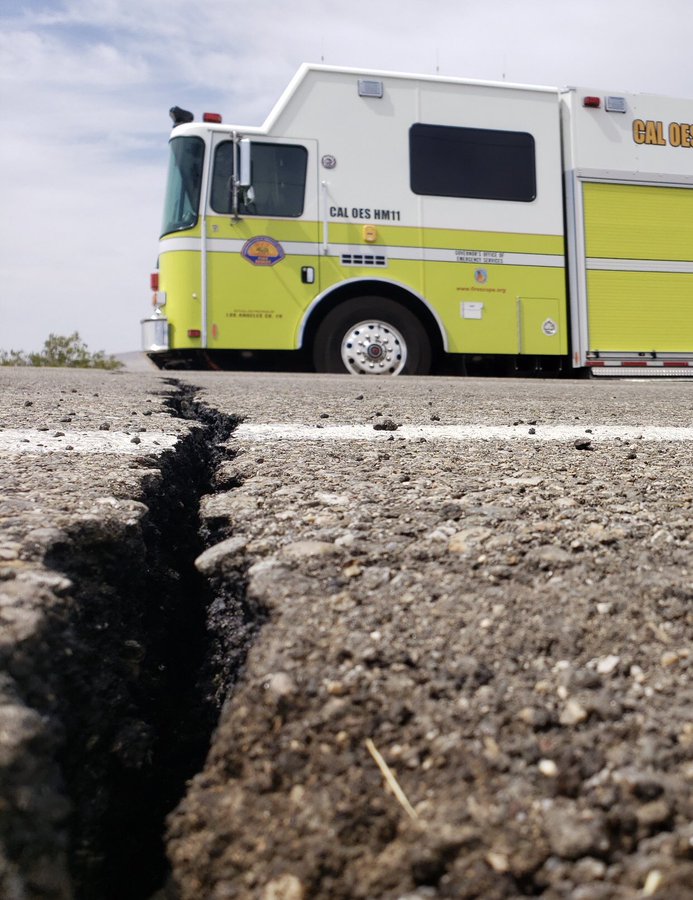 Orange County Fire Authority | OCFA Heavy Rescue 6 out at the China Lake Naval Weapons Center conducting a damage assessment at the facility.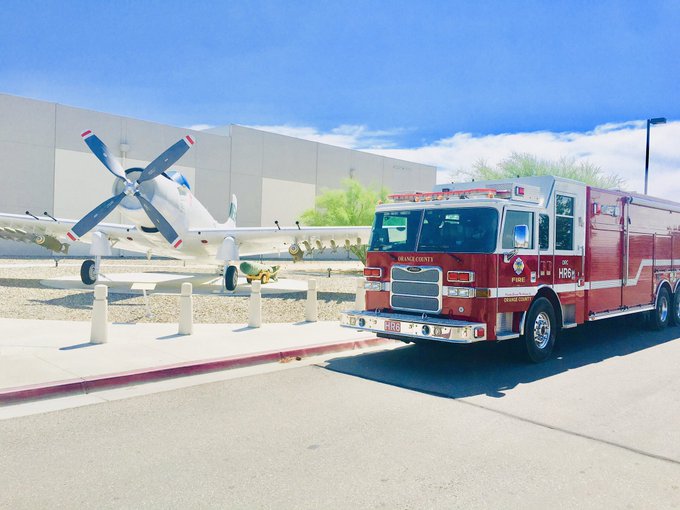 DISASTER FACT | The Searles and Little Areas are being touched by many Aftershocks in the last 24-48 hours.
Public Health Deployed | Kern Co FD – OES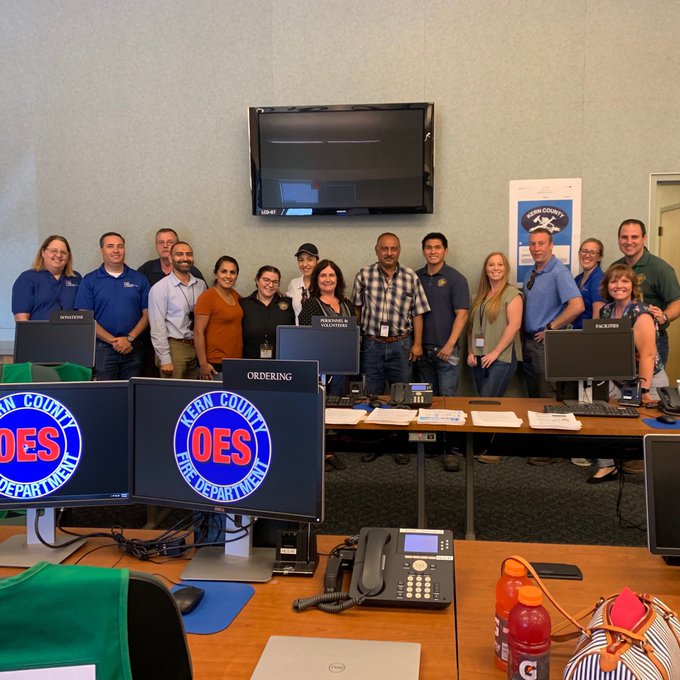 SHELTER 
An American Red Cross shelter has been opened at the Kerr McGee Community Center located at 100 W California Avenue, Ridgecrest, CA.
 PUBLIC SERVICE ANNOUNCEMENTS
Closures | Ridgecrest DMV * CLOSED * Monday, July 8th.  Appointments will be honored at nearby field offices. This location is being inspected for structural damage and making repairs. (dmv.ca.gov)
Free Transportation | Trona area residents can receive FREE transportation at the high school to the Ridgecrest Shelter located at the Kerr McGee Center.
Red Cross Services | The Red Cross is currently distributing water, food, clean up kits in the communities of Trona and Ridgecrest.  These are FREE services.
Natural Gas Service | PGE reminds its customers that if you have HAD your gas turned off, not to turn it back on yourselves but to call 800-743-5000 to have service resumed.
Crisis Support | Quakes can be stressful, for Mental Health Crisis Support, contact the Behavioral Health Crisis Hotline at 800-991-5272 or the local Crisis Support Center at 760-463-2880.
How to Prepare for Emergencies | https://www.redcross.org/get-help/how-to-prepare-for-emergencies/mobile-apps.html
When to Do When the Shaking Starts | https://www.redcross.org/get-help/how-to-prepare-for-emergencies/types-of-emergencies/earthquake.html
How to Prep for Aftershocks | https://www.redcross.org/get-help/how-to-prepare-for-emergencies/types-of-emergencies/earthquake.html
Report Structural Damage |  Kern County/Ridgecrest residents only by calling 760-499-5083 or contact by email:  quakedamage@ridgecrest-ca.gov
Donations for Quake Victims | Red Cross | 800-RED-CROSS or go to redcross.org
SOCIAL MEDIA | Taken from Eyewitness Accounts Reported on Social Media
"It was like violent shaking, things breaking."
"No damage in Anaheim reported. Keep 9-1-1 lines open for emergencies." – Anheim PD
"The strongest quake to hit Southern CAL in 20 years." – Media
Multiple tweets sent to President, asking for assistance. – Multiple Users
"San Bernardino County reported no injuries, but significant instrastructure damage." – Media user.
"I could feel the quake all the way down here." – Las Vegas (NV) resident.
"Ridgecrest is far from LA. It felt small compared to aftershocks of Northridge in 1994.  They (Ridgecrest) does not have the population or infrastructure LA has. There is no damage here (LA)." – Media poster.
"There's quite a bit of damage that needs to be fixed. We have red tags everywhere and the assessment isn't even done yet. There's a lot not being showing on the news." – Media user.
(c) 2019 NW Fire Blog – Updated @ 2111 Hours PDT