SCOTLAND — It has been at least thirty days since rain has fallen in various regions and provinces in the Country and they are starting to feel the real pain of wildfires breaking out everywhere.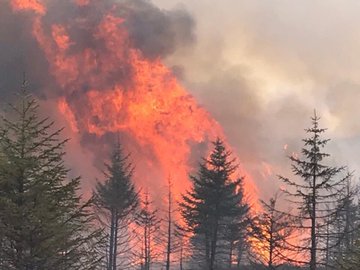 Social distancing and people staying home more due to the global pandemic may also be reasons why fires are increasing more than usual Fire Officials are reporting.
A massive firestorm is burning in Galloway Forest Park.
The cause of this fire is unknown but the Fire Service states there have been a high number of arson fires, which they say are unacceptable.
Community support for their firefighters has been overwhelming and most appreciative with loads of replenishing foods and beverages.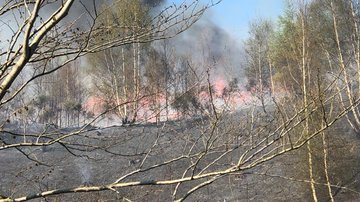 Other Countries such as AUSTRALIA, POLAND, RUSSIA, SIBERIA, and UKRAINE are also seeing increased perfect conditions making it more than too obvious fires are going to be sparking.  Warm temps, dry conditions and no rain in some parts are a very bad combination.  Others have seen an uptick in arson fires, more so than ever before the Coronavirus hit their Countries and around the Globe.
More notable wildfires such as the one burning in the area or were burning in the  Exclusion Zone of the Chernobyl NPP in Ukraine .  Fires have been breaking out all across the area, making it difficult to breathe and causing more harm than ever before.
Photo Credit:  Magicrush Lorien, Katuzhanka village, taken 80km (49 miles) from the Exclusion Zone.  (Photo Courtesy Greenpeace Russia)
#GlobalWildfires #FireSeason2020
(c) 2020 NW Fire Blog – Updated 4/25/2020 2300 PT