UPDATE 1 – 1400 PT
Photo Credit | San Diego FD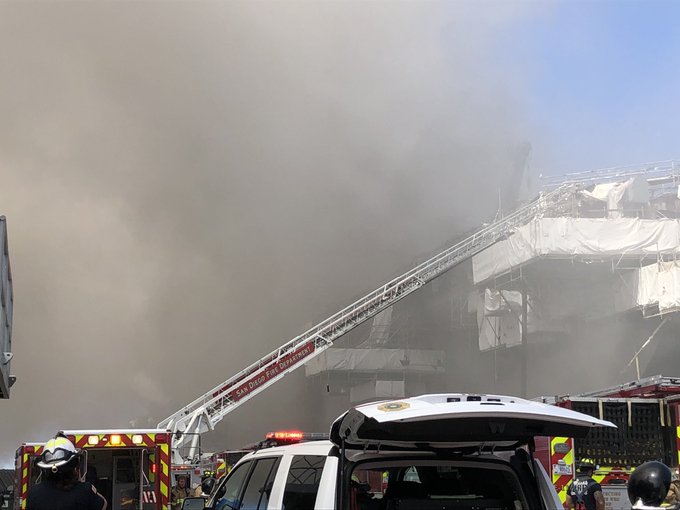 INCIDENT SUMMARY
Reports of an explosion have occurred on the USS Bohomme Richard (LHD-6), a 40,000 ton Wasp class U.S. Navy amphibious assault ship at the San Diego Naval Base/port.
This ship can carrying up to 1700+ personnel and/or 20 F-35B stealth fighters.
Incident is in Unified Command with Federal Fire, San Diego FD and the US Navy.
Photo Credit | San Diego FD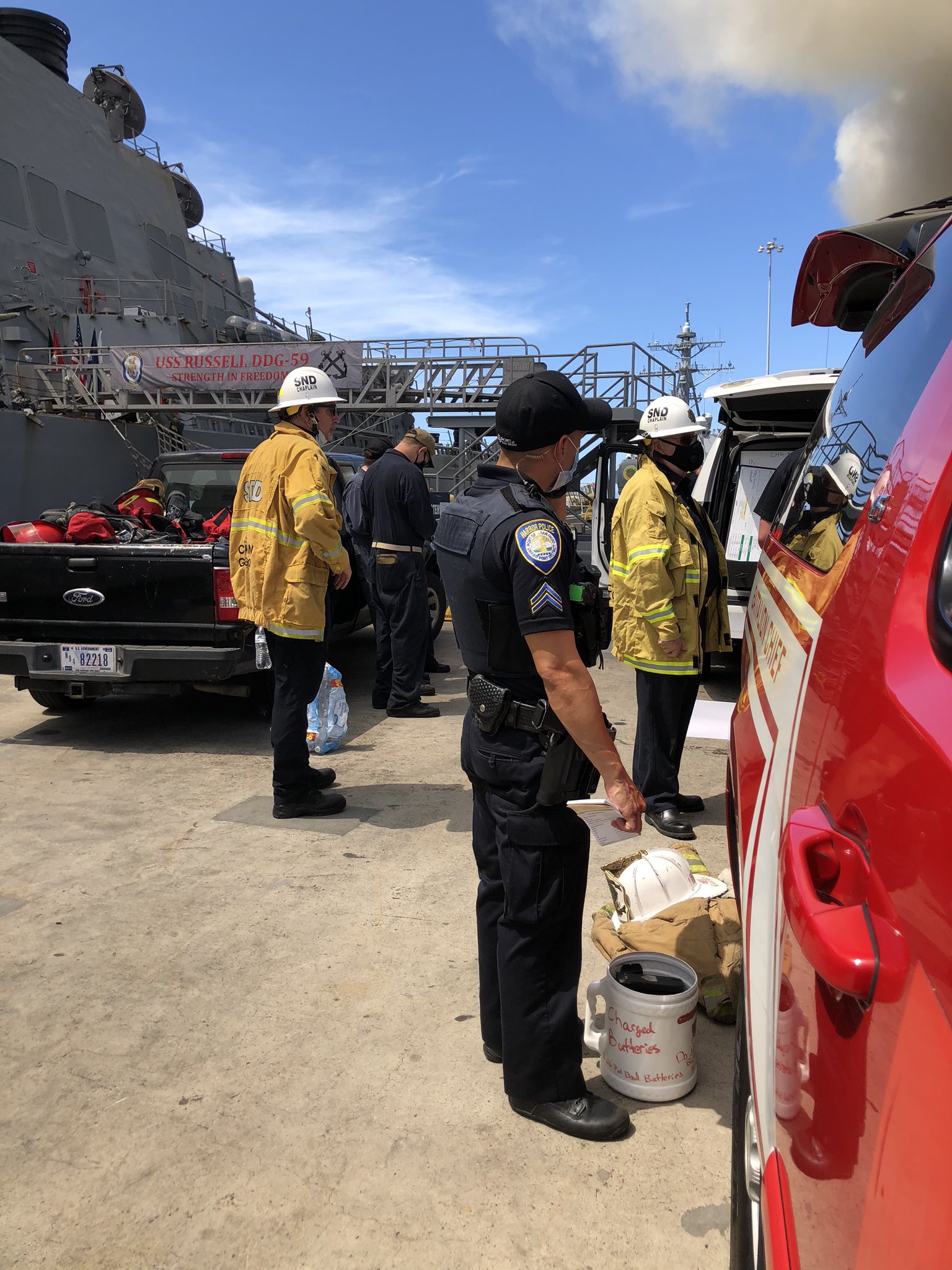 FIRE CONDITIONS 
Firefighters immediately found the active fire burning and where it was located but conditions would worsen, prompting Command to pull all firefighters from the ship and off the pier.  A PAR was immediately ordered by Command and all have been accounted for.
Fire has been burning throughout the ship where it was moving up towards the bow and displaying ugly heavy smoke out of its hatches.
Engine 1 crew reported a massive amount of Navy sailors fleeing from the ship and running past the firefighters saying that the fire has reached their ship's fuel tanks.  This happened after a large plume of black smoke leaked out of the naval vessel.
There is also an exposure nearby which is another ship but it has been deemed safe and no fire has reached it.
Most units have been released from the incident with them going back into service.
Photo Credit | San Diego FD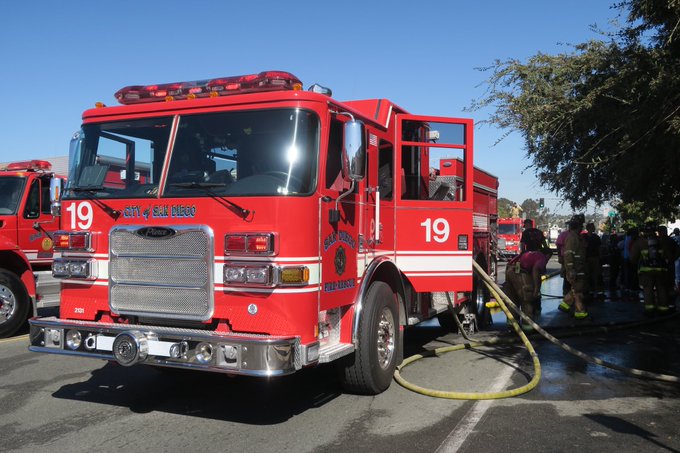 MEDICAL GROUP
One firefighter from Truck 11 was reported injured and was being assessed by the Medical Group. There were reports of 10 patients that were either transported or will be transported. Their conditions were unknown at the time of this reporting.
Five more ALS ambulances were requested in addition to the 3 they already had on-scene.
The Navy reported they had 11 Sailors were transported to the hospital for minor injuries. The entire crew is off the ship and all accounted for.
Photo Credit | San Diego FD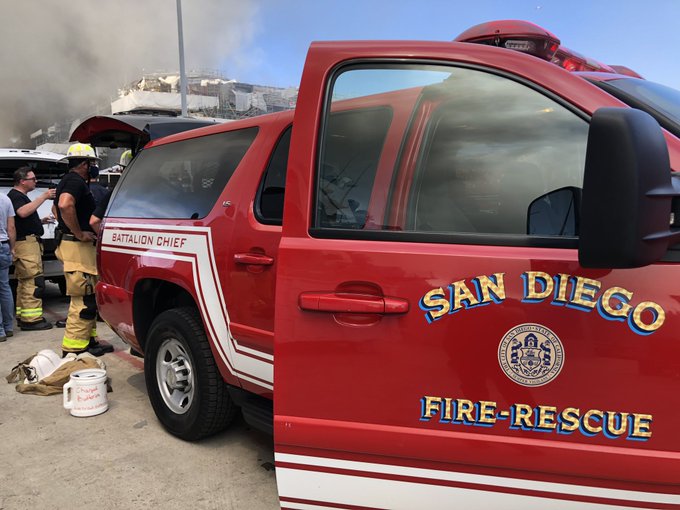 RESOURCES
Resources Dispatched:  T11, LA1, LA40, T44, T1, E17, E4, T12, E1, E201, E27, E7, E11, USAR2, E51, E20, E26, E12, E19, E2, E3, B1, B6, SC1, B3, B2, AM414, AM416, AM418, AM417, B33, B53, B57, BLS5, CHAP6, CPTR2, CRDT36, CVB51, FEDLA110, Fm28, LOGS2, LOGS4, M1, M10, M12, M39, M4, M43, M6, MC1, MD1, MS71, MS84, NCE34, NCT34, OS10, SOP3, USAR53.
INCIDENT TIMELINE
The ship in pre-fire days.  Photo Credit | Naval Base San Diego
1239 PT | Copter 2 is down being refueled. Copter 3 is en route to the fire.
1236 PT | Engine 1 reports to Command: A massive number of Navy sailors run past San Diego engine company after the smoke from the original ship fire turns black.  The sailors say that the fire has reached their fuel tanks.  Engine company asks if more evacuations are in effect.   Command asks if this is the exposure ship or the original Ship. It is determined to be the oringial ship.
1230 PT | Copter 2 leaving fire ground to refuel at nearby airport.
1224 PT | Some firefighters were still on the pier after Command requested all of them to urgently evacuate and pull all of their firefighter gear.  They were told to give Command PAR after they were off the pier.  Shortly after, they gave a PAR with no injuries.
1218 PT | Winds increasing. Smoke coming out of open hatches on starboard sides.
1214 PT | Lots of smoke from the ship fire is now laying down in the Valley. Smoke check calls are starting to flow into 9-1-1 Dispatch.
1208 PT | PAR completed, all San Diego members are accounted for.
1204 PT | Heavy smoke starting to billowing out. Foaming operations to commence. Members will decide what locations to put foam into the ship; either hull or inside openings.
1201 PT | Command requesting foam flowing operations. Unit states only has 100-gallons of foam per vessel. May need Logistics to help with refilling.
1159 PT | Command conducting PAR.   Medical Group reports E20 is Transport Sup and E27 is the Triage Sup. 10 patients are currently either being transported or have been transported. Sufficient number of ambulances are good for now.
1155 PT | Command conducted PAR of units. Units have all been accounted for.
1153 PT | 3 ALS/BLS are currently loading up patients.. Command states 5 more are inbound. They will report to Base. Will be used as needed.
1149 PT | Medical Group receives E27 as their newest unit to group.
1143 PT | Command requests 5 additional ALS ambulances.
1142 PT | 1 Truck 11 Firefighter injured. Heading to medical Group for medical eval.  Operations reportings all firefighters being moved to the end of the pier.  A large explosion has occurred on the ship.  2 more ALS units requested. Evacuations were being conducted with clearing the piers.
1138 PT | An explosion was reporting. All Firefighters were in the middle of removing all of their gear from the pier. No injuries were reporting. Command was requesting PAR of all members.
1131 PT | Foam / sprinkler system onboard ship to come online in 30 minutes.
1130 PT | Fire conditions growing worse. Puling firefighters out of the ship. Going defensive operations. Requesting all units to evacuate the ship and give PAR. Command Post is where the American Flag is located.
"Please say a little prayer for these men and women in the military." – Ed.
Photo Credit | Naval Base San Diego
1124 PT | Fire conditions growing worse, ready to go defensive. Pulling all firefighters out. Abandon the building tone to be sounded to get people out as soon as possible.
1123 PT | The beginning of our coverage begins. Incident summary is of a 3-alarm navy ship, USS Bohomme Richard, an amphibious assault ship at the San Diego Naval Base has broken out. An explosion and fire is reported onboard just before 1100 hours PT.
1050 PT | Federal Fire San Diego Firefighters treat several Navy sailors.
Photo Credit | San Diego FD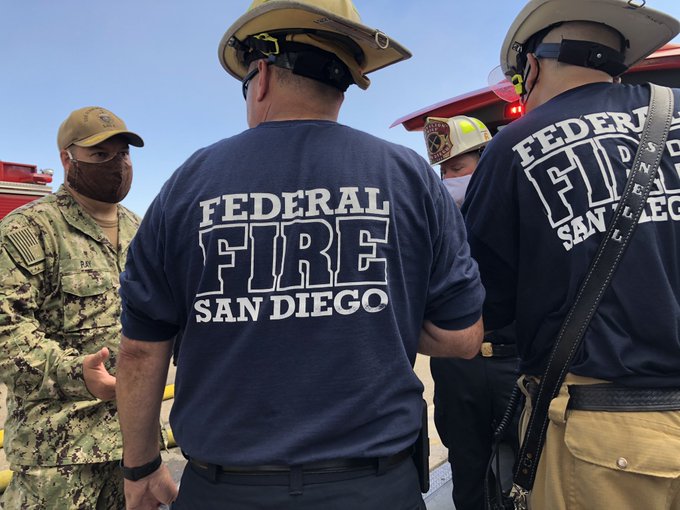 1049 PT | The Naval Base San Diego issues an alert that they are responding to a fire onboard the USS Bonhomme Richard. All personnel are told to stay clear of the West side of the Base.
0951 PT | 3rd Alarm struck.
0909 PT | 2nd Alarm struck.
UPDATES
This is our first and final update unless something significantly changes.
Updates will then be provided every hour until the incident has been demobed.
(c) 2020 NW Fire Blog – Updated 7/12/2020 1300 PT