Pacific | Just after 1300 hours PT on Saturday, July 18, 2020, Firefighters from VRFA, Valley Fire Department, South King Fire and Rescue and Puget Sound Fire were dispatched to a house fire.
The incident took place in the 100 block of 4th Avenue S.W. in King County, Washington State.
FIRE OPERATIONS
First due units reported  heavy fire showing from the Bravo, Charlie and Delta sides. Water supply was immediately established, while a 360* was in effect and completed showing no basement was found to be present. Offensive then Defensive and back to Offensive fire attack took place.  1st alarm.  (1333 PT)
Due to a large amount of debris, firefighters could only search the front half of the house.  Good knock down on the fire was achieved within 20 minutes on the incident clock.(1340 PT)
Firefighters could not access the structure from the Charlie side, so they had to enter through the Alpha side. Heavy smoke would pour out from the Bravo gable side where firefighters reported a hot spot above the kitchen.  (1346 PT)
Photo Credit | King County M1 (stock photo)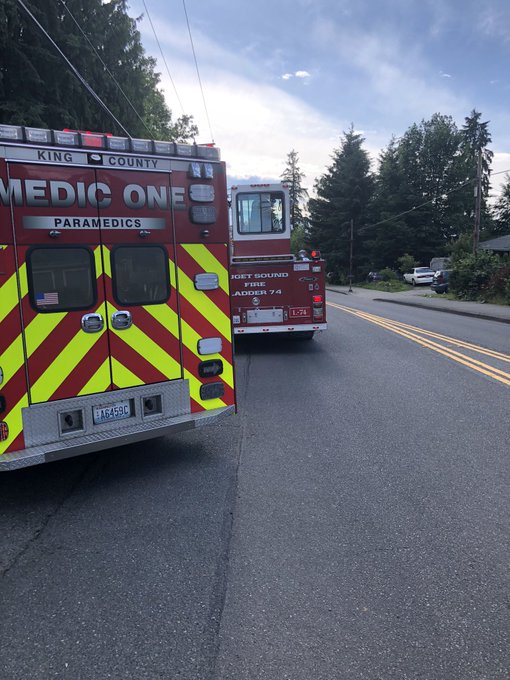 Fire crews were sent up to the roof to vent the roof and try to reach the seat of the fire. (1350 PT)
Light smoke was reported at (1402 PT) from the attic. No visible fire was seen.  Firefighters were continuing to mop up on the Alpha side.
Fire was tapped at 1349 hours PT.
A preliminary cause of the fire is unknown at the time of this fire.  A Fire Investigation was requested and was in the process of responding to the scene.
SEARCH AND RESCUE
A primary and secondary search of the structure were completed. Nothing was found. (1345 PT)
MEDICAL GROUP
The Medical group was established with MSO, Medic 6 and REHAB units 303 and 302 as assigned units within this Division. (1340 PT)
RESOURCES
Resources included firefighters from VRFA_members, Valley Fire Department, South King Fire & Rescue and Puget Sound Fire.  Zone 3's REHAB 302 and 303 also responded to the incident.
ABOUT PACIFIC, WASHINGTON
Pacific is a City in Washington State that is located in both southern King and  northern Pierce Counties. It is often confused with the City of Auburn.  The city is approximately 2.44 square miles with 2.42 of it as land and 0.02 is water inside its borders.
In 2018, it was estimated their total population was listed at 7,219 residents.
The City was built in the mid-1800's with hops becoming a major crop but soon being lost due to a disastrous epidemic of hop lice, followed by the depression of the 1890's and the American Panic of 1803. Farmers would turn to dairies, berries, vegetables and bulbs.
The Railroad entered the picture in 1902.
A major disaster in 1906, a major flood in Puyallup and Sumner would soon become a news headliner among other things.
Pacific City was originally platted and advertised as "an addition to Seattle". The name was picked by its founder, a California land developer for its meaning of being "peaceful".
The City contracts their 9-1-1, Police and Fire Services through the Valley Regional Fire Authority, which provides contract services to nearby neighbor Algona and Auburn, Washington.
(c) 2020 NW Fire Blog- Updated 7/18/2020 1530 PT