BADGER CANYON FIRE
UPDATE 3 | FINAL
Photo Credit | Richard Olson (used with written permission)
Fire caused by individuals target shooting then fleeing the scene after the fire started. The BCSO office is investigating. A tip line has been set-up. BCSO non-emergency line #509-628-0333. Case #BCSO #20-11999.
UPDATE 2
7/24/2020 2300 PT | 250 acres unknown containment status. Fire burned both sides of Badger Canyon Road on both 99 and 95 Private Roads. No structure were damaged or destroyed.
UPDATE 1
7/24/2020 2100 PT
A wildfire is burning on Badger Canyon Road x 99 Private Road, southwest of Benton County; west of Kennewick and south of Wenatchee.
Fire started on July 24, 2020, around 1730 PT. Cause is said to be target shooting near homes in the area.
Resources en route or on-scene represent the following Fire Departments :  Benton County FPD2, BCFPD4 (3 wildland engines and Duty Chief), Franklin County FD3, FCFD5, Kennewick FD, Pasco FD, Richland Fire and Emergency Services and West Benton Fire Rescue.
80 acres and growing.  Fire fuels include grass and brush. Area closures due to traffic control by local enforcement.  Structure protection around homes are in effect.  South end of the fire has been contained.
FIRE HISTORY
BADGER CANYON has had its share of wildfire incidents under this command name . Over the years, here are some of the incidents that have occurred.
Do you notice a pattern of when wildfires are happening in this area? We do.  They seem to be mostly occurring in July each year. Must be just a coincidence.
7/21/2018 | Fire above Badger Canyon.
10/17/2017 | Badger Canyon Fire possibly started by a residential burn that was not fully put out.  Fire off of Dallas Road and Badger Canyon.
7/6/2014 | Brush fire in Badger Canyon closes WB at Dallas Road, near Benton City.  Fire burns 500 acres.  Started by ATVs.
Photo Credit | Franklin Co. Fire District #3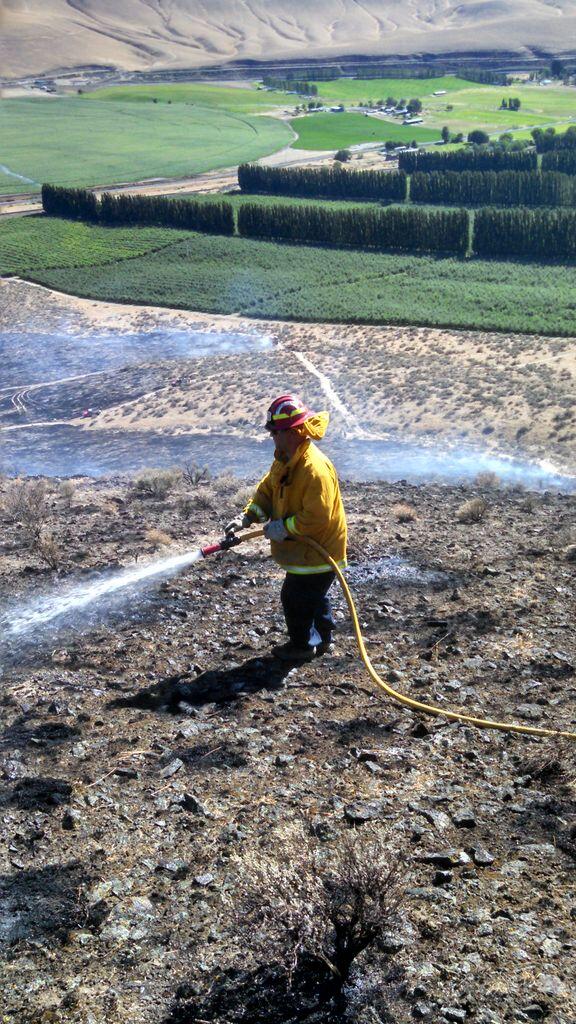 7/23/2013 | 2-acre fire on Badger Canyon and Dallas Roads.
7/4/2013 | Brush fire along Webber Canyon Road in Badger Canyon near Benton City. Cause was undetermined.
6/11/2013 | Fire threatens home near Badger Canyon. Brush fire that has become wind-driven. Homes are threatened. Evacuatons were in effect.  A Red Cross shelter is set-up at the Highlands Middle School in Kennewick.  Fire burned 9 square miles.
7/24/2012 | Brush fire in Badger Canyon. Power outage in local areas.
6/29/2012 | National cover fire in Badger Canyon. Fire Danger is high and no burning is allowed.
Photo Credit | BCFD #1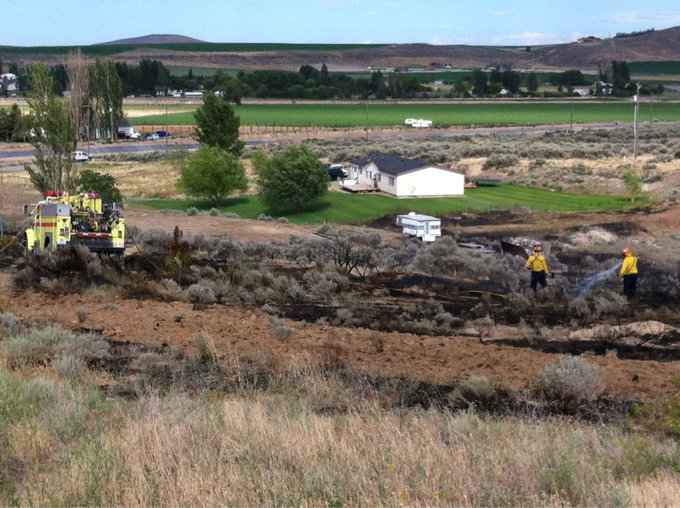 4/23/2012 | Natural cover fire on Badger Canyon Road and Cellars.
8/26/2010 | Brush fire called the Badger Canyon Fire is burning on Badger Road in Badger Canyon. This is near the Dallas Road exit.
7/22/2010 | Brush fire in Badger Canyon. Named the Badger Canyon fire near Dallas Road is contained after burning 80 acres.
# # #
(c) 2020 NW Fire Blog | 2 | 0000 PT – 7/25/2020 1200 PT