COLOCKUM FIRE
UPDATE 2 – JULY 25, 2020
The fire started on private land 10 miles southeast of Wenatchee and 3 miles south of Malaga (Chelan County)  in  Washington State.  It started on 7/24/2020 around 1430 PT.  It was quickly escalated to a 2-alarm brush fire.
The cause is currently unknown and under investigation. Sources are reporting the fire from 1,000 – 1,300 acres variation. 15% contained. Brush and grass. Active fire behavior with running.
WA DNR – SE WA IMT took command of the fire management at 0700 hours today. 282 total personnel with 7 crews, 32 engines, 3 dozers, 4 water tenders and aircraft on order. Agencies include:  Chelan County Fire District #1, BLM, DNR. Chelan Co SO, Chelan Co Emergency Management, WA State Patrol.
Field camp is located at Wenatchee School District's Lincoln Elementary School.
Current Weather Report (1210 PT). 79*F temps with 0% precip, winds are at 6 mph and RH at 27% with sunny skies. Tomorrow's temp are forecasted to increase to a high of 94*F temps and a low of 66*F.  The weather will remain in the mid-90's until Thursday when it will drop back down in the 80's.
An unknown number of structures have been damaged. No word on if there are any that have been destroyed.  60 homes are still under threat, as well as high value assets such as several orchards and crops within the fire perimeter.
LEVEL 3 (Go Now!) Evacuations – Colockum and Kingsbury and Jumpoff Roads.
LEVEL 2 (Get Ready) Evacuations – Tarpiscan Road.
Road Closures | Kingsbury and Colockum Roads.  All south and east of the intersection of Colockum and Tarpiscan.
Cost-to-date of fire suppression and containment efforts have reached $200,000.
UPDATE 1 – JULY 24, 2020
A wildfire ignited in Malaga (Chelan County), Washington on July 24, 2020 from an unknown cause. Resources WA DNR BATT-22 BATT-602 BATT-71 BRANCH-3 CHIEF-601 CREW-22 CREW-52 CREW-74 DIV-601 E-332 E-4103 E-4104 E-4107 E-4202 E-6695 E-6696 PATROL-2 PATROL-603 SE-BREWER SE-ESCOBAR (IC) SE-LAPOINT SE-TSUBOTA was dispatched at 1414 PT.
State Mobe was approved on 1900 by the WA Fire Marshal's Office.
Incident Cooperators include:
Wenatchee School District. Red Cross.  Chelan County Emergency Management. WA Fire Marshal's Office. Zone 3 Fire Rehab (2 members).
The Incident Command Post or ICP as more commonly known as will be in the field of the Lincoln Elementary, a Wenatchee School District property.   The School District sent out a presser to all to advise of additional personnel on school property.
Photo Credit | Zone 3 Fire REHAB's 2 members en route to the fire as part of the State Mobilization.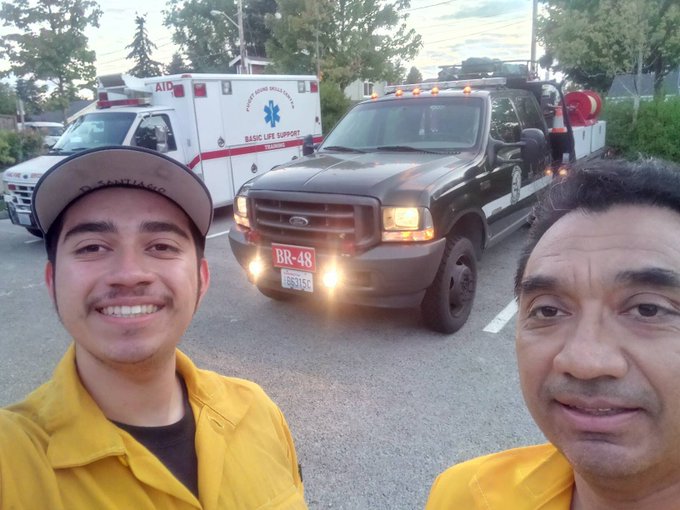 Fire had burned 1,300 acres of grass and brush with an unknown containment status.  Level 3 and 2 evacuations were in effect on Tarpiscan and Kingsbury Way roadways.  60 structures were under direct threat.
Due to the COVID, the Red Cross was unable to set-up a shelter which all evacuees seeking shelter but make an appointment by calling the organization at 509-670-5331.
(c) 2020 NW Fire Blog – 2 – 7/25/2020 – 1230 PT