We appreciate you and hope you stay safe out there.
Thank you for reading our post about this California wildfire.
Follow us for some more great wildfire news and other important updates!
Photo Credit | USFS
STAGECOACH FIRE | Kern County FD
About 9 miles South of Lake Isabella, near Havilah Community
UPDATE 2 | MONDAY (8/10/2020)
INCIDENT SUMMARY
Reported – 8/3/2020, 1529 PT
Cause – Unknown, under investigation
Response – Wildfire
Fuels – Tall brush, tall grass
Area – Havilah and Piute communities in Kern County. 9 miles south of Lake Isabella.
Command – Kern  County FD (Lead), BLM Fire and Sequoia Forest
IMT – IMT 2 – CA Team 15
Incident Cooperators – Kern Co SO, CAL FIRE, Kern HS District, CHP, Liberty Ambulance, CAL OES, Red Cross, CA DOC, San Joaquin and East Kern APCD, Joseph Elft (@MappingSupport)
Photo Credit | Kern FD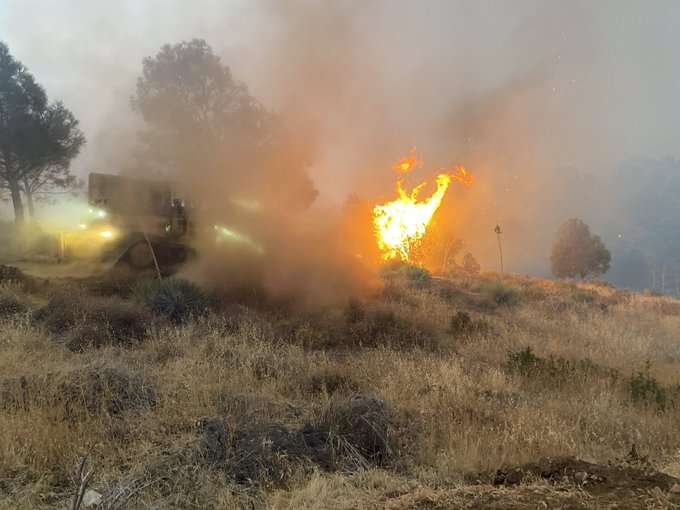 CURRENT STATUS
Size/Containment – 7,760 acres
Containment Status – 77%
Personnel – 974 total personnel including 30 crews, 33 engines, 9 helicopters.
Fire Behavior – Min with flanking, creeping and smoldering
Operations – Firefighters making good press, increased containment achieved daily, construction and reinforcement of fire line in continually progress on eastern and northern edges.
Mop-up operations in progress to address hot spots.
Fire Weather – expected high winds on Tuesday afternoon, may increase fire behavior
Evacuations in progress
Photo Credit | Kern County FD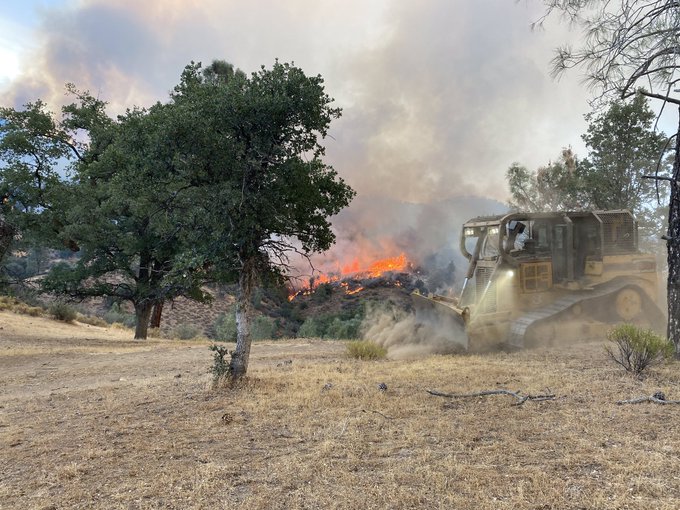 EVACUATIONS
Thompson Canyon Area – Includes Caliente Bodfish Rd east to Piute Mtn Rd, from area South of School Street to South of Heritage Way
Valley Area – Saddles Springs Road/Piute Mtn Road as it goes near Burton Mill, Clear Creek, Cold Spring, Liebel Peak, Piute Peak, Piute Spring, Rocky Point and Saddle Spring
Photo Credit | City of Tehachapi | Photo taken of a helo on August 5th that was seen staged/flying out of the Tehachapi Municipal Airport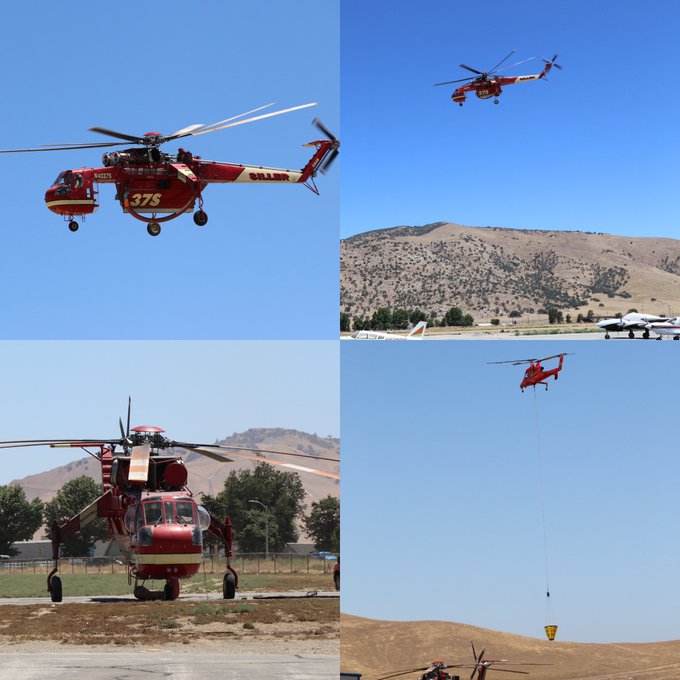 CLOSURES
Roads – Thompson Canyon Road east of the cattle guard, approximately .25 mile East of Gossip Rock
DAMAGE ASSESSMENT
$9 Million Cost-to-date (Fire Suppression/Containment efforts)
Damages – 5 structures
Destroyed – 15 structures (habitable), 25 (outbuildings)
Injuries – 1
Photo Credit | Alert Wildfire | Photo taken on August 4, 2020 as seen from Breckenridge.  This is showing a wind shift from NV fire cameras. Amazing….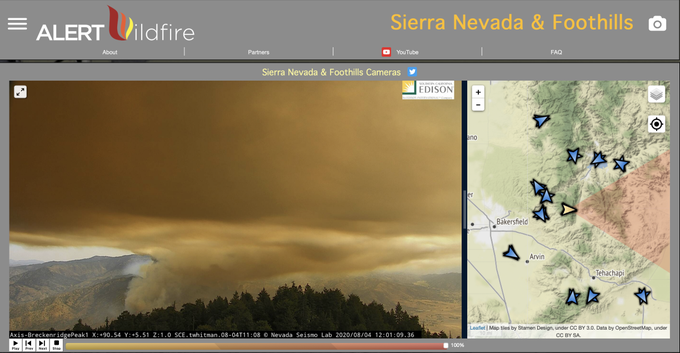 RESOURCES
Engines – 25
Helos – 9
Dozers – 1
Water Tenders – 14
Air Tankers – 0
Crews  – 21
Overhead Personnel – 139
Total Personnel – 754
HASHTAGS
#StagecoachFire
#CAwildfires
#FireSeason2020
PHOTO(S) CREDIT
Central CA District – BLM
SOCIAL MEDIA
Follow US!
Twitter & Facebook –

@

nwfireblog
Instagram – nw fire blog
(c) 2020 NW Fire Blog – Updated 8/10/2020 2055 PT