HOLSER FIRE
SIT REP 1 | AUGUST 17, 2020
INCIDENT SUMMARY
A wildfire is burning in the area of Holser Canyon Rd which is near the shooting range in unicorporated area of Piru (Ventura County) but it is headed towards Los Angeles County.  It is burning in a remote area.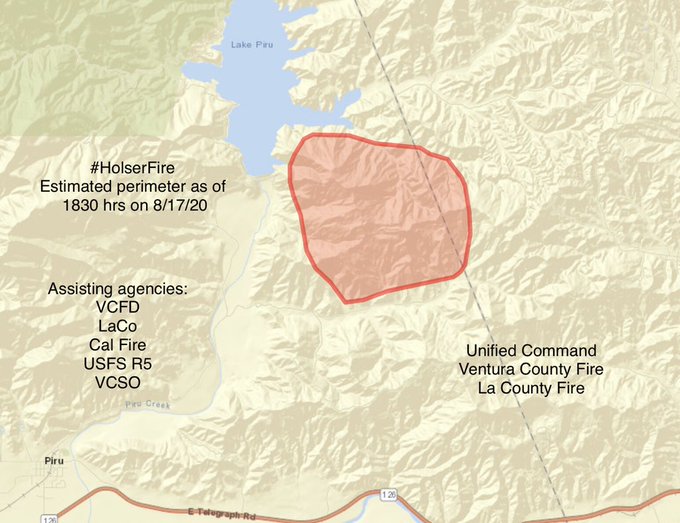 SIZE, CONTAINMENT
  There has been 4,000 + acres that have been destroyed.  There is a 0% containment status.
FIRE BEHAVIOR
Extreme behavior in light to medium fire fuels with a rapid rate of spread.  Fire crossed over into Lechler Canyon with structures now being impacted. (1748)  Reports of too much fire activity for structure defense (1748).
FIRE OPERATIONS  
COMMAND
Unified Command between LA Co FD and VCFD. A5 is the Agency Rep.
DIVISIONS
Echo, Foxtrot and Gulft recently added.
FIRE ATTACK
Direct attack will continue overnight.
RESOURCES
AIR RESOURCES
Numerous aircraft being diverted from the Lake and Ranch Fires to respond to this one.
According to sources, there are S-2: T78, T73.  LATs:  T101, T107, T15, T131. VLATs: T944. Copters:  C16, C7, C2 and C21.
Tuesday's Order: AA340 | Helco 51, 4 tankers, 3 tankers, 2 copters. AA, fixed-wing and rotarwing will all be up and ready at 0800 hours PT.
AGENCY DEPLOYMENTS
CEDR Digital Corps
Gleaning information and updating it on Social Media. Great resource for evacuations and other important Public Service Announcements.
CHP Moorpark
Road closures: Piru Canyon Road x Main Street at Orchard St in Piru.  Access limited to emergency vehicles only. No access to Lake Piru
Fillmore SO
Flightradar 24
Flight radar mapper
Kern Co FD
Sending 1 Type 3 strike team, hand crew and ground resources (mutual aid).
LA Co  Fire Ops
Aircraft dipping out of a nearby lake.
LA Co FD
1 Type 1 Strike Team (ST1135A) en route. A second one is on order.  Staging set-up at LA Co Fire Station 143 in Castaic. Has not arrived but to arrive any minute.
American Red Cross
Temporary Evacuation point has been opened at Fillmore Middle School in Fillmore.
Ventura Co FD
VLAT (structure protection)
Ventura Co SO
EVACUATIONS
 —> Oak Canyon, Piru Canyon Rd, North to Lake Piru, Southto Hwy 126, East to the LA County line and West to Piru Canyon Road <—- (1850PT)
THREATS
  Structures are threatened on Lechler and Santa Felicia Roads.
DAMAGE ASSESSMENTS
INJURIES
2 Firefighters have suffered minor injuries. 1 resident also injured. They were evaluated and released.
FIRE FACT | Lake Fire (LA Co), Ranch 2 Fire (LA Co), Dome Fire (Mojave Natl Preserve) are now burning in the State of California as large incidents.
CLOSURES
Go to vemergency.com for specific details.  There is a lot of information.
THROUGH THE EYES OF SOCIAL MEDIA
Beautiful sunset can be seen through the smoke, just east of Hwy 126. – Local photographer
Even my dogs are sneezing from the smoke. – Local Resident
(c) 2020 NW Fire Blog – Updated 8/17/2020 2030 PT