Seattle Firefighters were dispatched to an early morning to a 3-alarm blaze that caused heavy fire damage to four buildings under construction in the 1000 block of Sturgus Avenue South on Thursday, August 20, 2020.
Dispatch sent resources at 0542 hours PT.
The Battalion Chief responding to the scene could see a black thermal cloud in the Beacon Hill area and immediately called for a 2nd alarm. At the height of the incident, it had reached a total of 3-alarms, emptying out half of the City's stations.  Other units from outside the area responded to CODE RED move-ups to back fill areas to continue with uninterrupted calls for service.
Two eastbound lanes in the interchange on I-90 and I-5 were ultimately shutdown by WSDOT and WSP on I-90 as large burning embers spotted from the top of the Beacon Hill side and raining on drivers down below.  One eyewitness said it was like driving in the middle of the forest on fire.
Traffic was held for about twenty minutes, then reopened again by the WSDOT Incident Response Team and Washington State Troopers.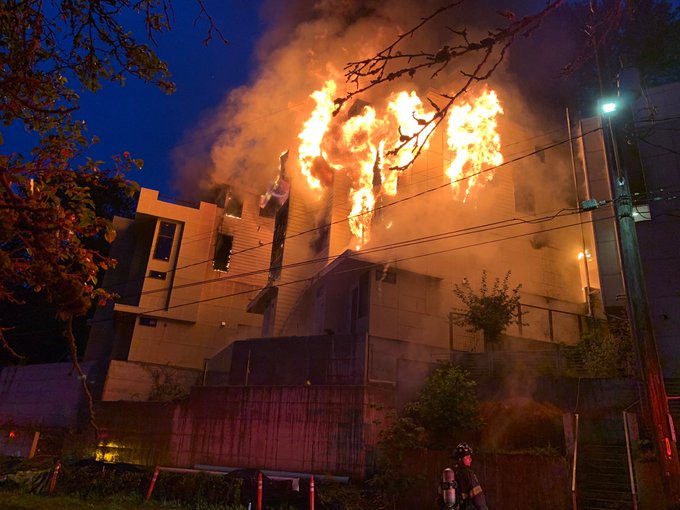 Photo Credit | Seattle FDIn all a total of four buildings were heavily damaged.  The cause is unknown and under investigation by the Fire Marshal's office.
There were no injuries to firefighters or civilians were reported.
Resources dispatched to this structure fire were A10 AIR10 B2 B5 DEP1 E10 E25 E30 E5 E6 L1 L10 L3 M1 M44 MAR5 REHAB1 SAFT2 STAF10 AIR240-260 B6 E2 E28 E34 E36 L4 PIO R1 E16 E22 E9 E26 E13 L13
Fire originally was dispatched at 0542 PT.
(c) 2020 NW Fire Blog – Updated 8/20/2020 2230 PT