MARTINDALE FIRE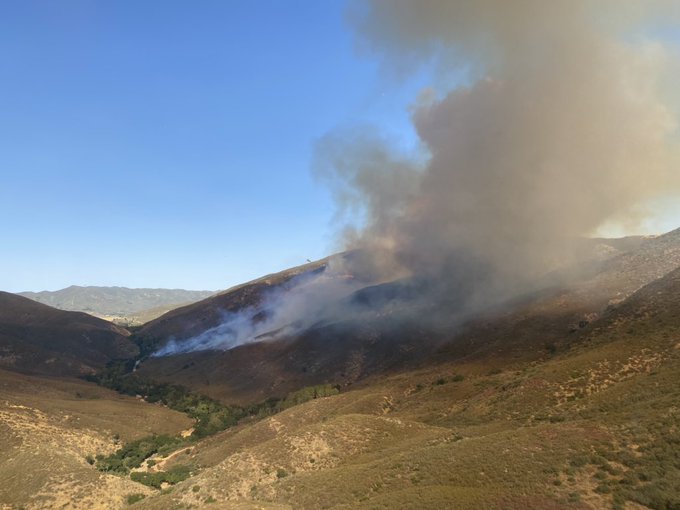 Sit Rep 1 | September 28, 2020 | Monday
INCIDENT SUMMARY |  Another large wildfire incident has sparked in California within the last few days. This incident has two various fire names, MARTINDALE FIRE and BOUQUET CANYON FIRE (by LA Co FD Scanner Feed).
It was reported as a first-alarm fire that broke out just before 3pm this afternoon in the 34000 block of Bouquet Canyon Road, near Santa Clarita, California.
Fire was deemed to be at 200 acres at 1621 PT hours. Fire behavior is extreme with a rapid rate of spread in medium brush.   Crews have held it to the Sierra Pelona Ridge.  F
FIRE RESPONSE |    Unified Command:  Angeles NF, LA Co FD. There are 15 helicopters, 2 scoopers and multiple other air assets that are currently working on the fire.
Divisions Alpha | In this division, there are Engines 312, 12, 34, 13. Crews 91, 12-2, 14-2. Hot Shots.
Division Charlie | Newly established. 3 TX Canyon Hot Shots and a Supervisor.
Division Zulu | Viola (?) Hot Shots, Engines 531, 32, 20, 311, 37. Crews 14-1, 22, 8-1 and H305.
Incident Cooperators | USFS-Angeles NF,  LA Co Fire Ops, LA Co FD
EVACUATIONS | The following are evacuations by the Fire Department and Sheriff's Office.
Mandatory | Bouquet Reservoir Dam
Warning | Mile Marker 11.5 to Texas Canyon Ranger Station
(c) 2020 NW Fire Blog – Updated 9/28/2020 1809 PT