GLASS FIRE | DEER PARK, CA
Photo Credit | Southern Marin Fire District FC Chris Tubbs
The faces behind some of the crews fighting this wildfire proudly rep SMFD's  Engine 9 and Battalion 1 units.
SIT REP 3 | SEPTEMBER 28, 2020 | MONDAY
INCIDENT SUMMARY:  A fast-moving brush fire-turned firestorm ignited on Sunday, September 28th  in the Deer Park community near the 3400 block of St. Helena Hwy., in Napa County, California.  The cause is unknown and under investigation.
CURRENT STATUS:  36,236 acres. 0% contained. 1,466 personnel with 26 crews,  5 helicopters, 200 engines, 57 dozers and 22 water tenders.
INCIDENT COOPERATORS | Napa Co Sheriff's Office, County of Sonoma, Napa Co OES, Napa County Sheriff's Office, CAL FIRE, City of Santa Rosa, Red Cross Northern California Coastal, San Francisco PD, Sonoma County Sheriff's Office, Sonoma County Fire Department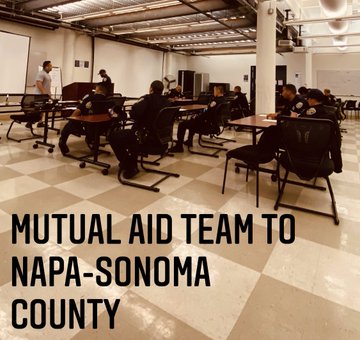 ALERTS
City of Calistoga – Entire City under Mandatory
The City of Calistoga in coordination with the County of Napa has issued a mandatory evacuation order for the entire City. Stay tuned to City and County Nixle alerts for additional information. Current open evacuation routes include Route 29 South and North, and 128 North.
If seeking shelter at a County Evacuation facility please proceed to Crosswalk Church at 2590 First Street, Napa or Napa Valley College at 2277 Napa Vallejo Highway, Napa. This shelter practices all Covid-19 mitigation measures so please bring/wear your mask and other appropriate materials (I.e. hand sanitizer)
At this time there has been no damage or loss within the City limits but significant damage has occurred in the surrounding area. CalFire, Napa County Fire, and the Calistoga Fire Department are working the fire situation closely. We will continue to update residents via Nixle on a regular basis.
This will continue to serve as the official communication tool for residents. Do not rely on nor forward any unverified social media posts for information. Stay safe and stay alert.
Evacuation map: https://arcg.is/05WKKK
This is now a Mandatory Evacuation Order for the entire City of Calistoga until further notice.
Evacuation Orders –> https://www.arcgis.com/apps/webappviewer/index.html?id=83d73b75423c4201aecd08e15fa8e6e7&extent=-13659550.3695%2C4639276.2578%2C-13602069.7242%2C4670156.8172%2C102100 (Source: City of Calistoga/NIXLE)
RESOURCES FOR EVACUEES
Facebook – Mark Yourself Safe – Crisis Response Page
Let your loved ones know that you are safe by visiting Facebook's Safety Check, The Wildfires in Napa and Sonoma Counties, USA 
https://www.facebook.com/crisisresponse/341468923832604/friends/?alias=341468923832604&source=notif_friend_safe&notif_id=1601342631082331&notif_t=crisis_status&ref=notif
Find a Red Cross Shelter
https://www.redcross.org/get-help/disaster-relief-and-recovery-services/find-an-open-shelter.html
Disaster Recovery
https://www.redcross.org/about-us/our-work/disaster-relief/wildfire-relief/2020-wildfires/california-wildfire-assistance.html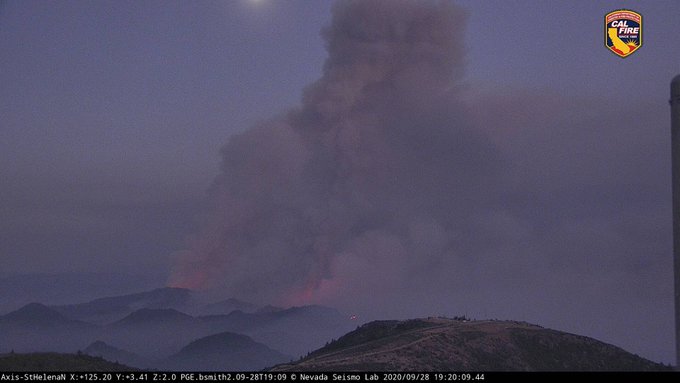 SIGNIFICANT EVENTS
3 Fires-in-1 | The SHADY FIRE and BOYSEN FIRE merged into the GLASS FIRE/INCIDENT creating one big firestorm.
Iconic – Historic Structures | 143 wineries are in the evacuation zone. Losses of the Calistoga Ranch, Meadowood Resort, Blackrock Inn, Chateau Boswell, Fairwinds Estate, Newton Vineyard, Castello di Amorosa (Castle survived) and Hourglass.
North of San Francisco | 68,420 homes have been evacuated. 13, 169 homes in the evacuation zone.
City of Calistoga | The whole City is under mandatory evacuations.  This City has about
5,247 residents as of the 2019 Census. The Calistoga economy is mostly made up of the Solage Resort, Calistoga Joint Unified School District, Indian Springs and the Calistoga Spa Hot Springs. Neighboring large vineyards are the Sterling Vineyards. Calistoga is said to be at the most northern portion of the Napa Valley.  It 's history is known for being California's Wine Country.  There are many wineries a short distance from one another, making it easy for tourists to visit. (Wikipedia)
Infrastructure | PG&E shuts down some power grids.
(c) 2020 NW Fire Blog – Updated 9/28/2020 2100 PT