GLASS FIRE | DEER PARK, CA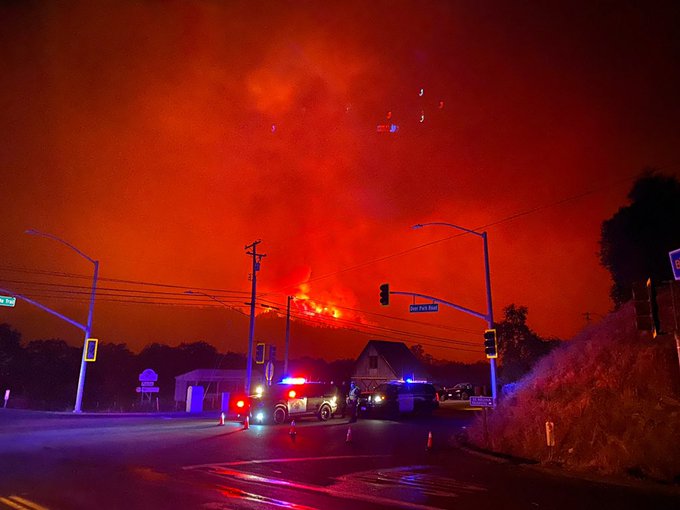 SIT REP 2 | SEPTEMBER 28, 2020 | MONDAY
INCIDENT SUMMARY:   A brush fire started on Sunday, September 27th just before 0500 hours PT in the 200 block of North Fork Crystal Spring Road in Deer Park (Napa County), California.  The cause is unknown and under investigation by local Fire and Law Enforcement authorities.
SIGNIFICANT EVENTS:  While the GLASS FIRE/INCIDENT was burning, two additional fires ignited and merged in with this one, making it for a super Firestorm. The fire has quadrupled in size overnight.
FIRE RESPONSE:   There are 1,070 total personnel with 26 crews, with 5 helicopters, 133 engines, 35 dozers and 22 water tenders.  CAL FIRE IMT2 has been activated.
CURRENT STATUS:  Fire has destroyed 11,000 acres. 0% contained. PG&E cut power to 65,000 homes as a precaution.
ST.  HELENA HOSPITAL:  55 patients were evacuated last night from the hospital. They are said to be safe.
EVACUATIONS – SHELTERS
Evacuations –> Napa County OES –>  https://local.nixle.com/napa-county-oes/
Evacuations –> City of Calistoga –>  https://local.nixle.com/city-of-calistoga/
Evacuations –> Sonoma County Sheriff's Office –> https://local.nixle.com/sonoma-county-sheriffs-office/l
Shelter –> Cross Walk Church: 2590 First Street, Napa, CA
Evacuation Point –> A Place to Play (Temporary Evacuation Point) 2375 West 3rd Street, Santa Rosa
Shelter –> Sonoma-Marin Fairgrounds (accepting sheltering in cars and RVs. Not ready for congregant sheltering at this point.) 175 Fairgrounds Drive, Sonoma.
Shelter –> Sonoma Raceway (Temporary Evacuation Point, car sheltering and camping) 29355 Arnold Dr, Sonoma.
Evacuation Point, Shelter –> Petaluma Veteran's Building (Temporary Evacuation Point and shelter) 1094 Petaluma Blvd. South, Petaluma.
LOOKING THROUGH THE EYES OF SOCIAL MEDIA | EYEWITNES ACCOUNTS
"Lots of ash, some of it quite large is falling in Santa Rosa." – News Media
"Foothills Elementary, Dorcas, Community Hall and surrounding homes have been destroyed." – Fire News Media.
"Fire approaches the outskirts of Santa Rosa." – Media
REPORTED LOSSES (UNCONFIRMED) VIA SOCIAL MEDIA
Deer Park
Foothills Elementary – Fire Reporter
Dorcas – Fire Reporter
Community Hall – Fire Reporter
St. Helena
Glass Mountain Inn – upscale bed and breakfast – Media
Calistoga
Calistoga Ranch- Media
Structures adjacent to Highway 29 between Calistoga and St. Helena. – Media
Chateau Boswell Winery
(c) 2020 NW Fire Blog – Updated 9/28/2020 1200 PT