UPDATE 1 – JULY 23, 2021 2235 PT – FRIDAY
Incident Summary
A brush fire broke out along Hwy 155, near milepost 18 and Northrup Canyon Road, from an unknown cause southwest of Grand Coulee near SR-155 in Grant County, Washington. The fire is named the NORTHRUP FIRE.
Initial Response
Prior to a call out for additional resources, initial attack was conducted by Grand Coulee FD, Electric City FD, Coulee Dam Fire, Grant County FD, Lincoln County and BLM. Initial fire response included five copters, four fire bosses, two air tankers and an air attack.
Resources
The Wildcad.net showed resources on Thursday, July 22, 2021, more personnel and assets being deployed that included the following: AA 4WA CH 6101 DIV 6101 E 6695 E 6696 FB 201 FB 202 FB 243 H 339 H 343 dispatched 7/22/2021 @ 1742 PT with the acreage around 150 acres. Friday's resources indicated there are two hand crews, three strike teams (engines), two copters and one available dozer.
Incident Cooperators: Grand Coulee FD, Electric City FD, Coulee Dam Fire, Grant County FD, Lincoln County, BLM, WA DNR, NIFC, Inciweb, Park Rangers, WSP Troopers.
Command is under the SE WA Type 3 IMT.
Cause
The cause is unknown and under investigation.
Current Status
The fire continued to spread overnight on Thursday into Friday morning. Currently, it is listed 442 acres with a zero-percent containment status.
Closures – Roads
Hwy 155 to all non-fire traffic between Steamboat Rock and Electric City
Evacuation Orders in Effect
Level 3 evacuation orders
One residence in the north portion of the fire
Steamboat Rock State Park
Level 2 evacuation orders
40 homes
Areas east of Hwy 155 between MP 18 and Osborn Bay Campground Road
Through the Eyes of Social Media
7/13/2021: (Twitter user) "way more hazy today, lots of ash in cars." – Twitter user.
8/4/2019: Smoke from the Williams Fire near Grand Coulee Dam impacts the Pendleton, Oregon areas. – NWS Pendleton
8/18/2018: Brett Read, Firefighter is severely burned during the Grass Valley Fire, near the (dam).
8/16/2018: Washington Flats Fire located seven miles north of the Grand Coulee Dam, was contained on July 13, 2018. Credit: Bureau of Reclamation. Works with partners to secure dams and facilities from wildfires. – Bureau of Reclamation.
9/12/2016: Fire crews stage at the Grand Coulee Dam Middle School for an incident. – Media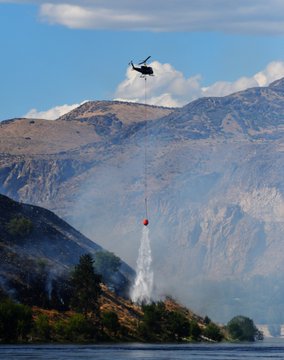 7/4/2016: No fireworks or lightshow this year. – Twitter user.
7/10/2015: In the last 4 hours, there was lightning, a wildfire, flash flood and visited the Grand Coulee Dam.
8/31/2015: A human-caused wildfire was sparked near Grand Coulee Dam. On this day, it was 200,000 acres.
11/19/2013: Worker hurt after electrical fire at Grand Coulee Dam Pump Generator Plant. – Media
3/22/2013: Bureau to probe fire at Grand Coulee. – Water District Agency
8/23/2011: About 250 firefighters assigned to fire incident. – Media
8/16/2012: The Elder Fire burns into another day. Colville Tribe says brush fire burned 12-square miles. 7,800 acres and growing. – News media
8/15/2012: Wildfire burning near the (dam). 4,100 acres. – News media.
8/23/2011: Crews work to contain fire near Grand Coulee Dam. 200 firefighters assigned. – Media.
Hashtags for this Incident
#WAwildfires #GrandCouleeDam #NorthrupFire
(c) 2021 NW Fire Blog