Coconino National Forest, Arizona | A drone crashed and caught fire as it was landing in the grasslands and spread to the wildland urban interface.  The fire is just southeast of Kendrick Park and located north of Flagstaff, Arizona around 1235 hours on Tuesday, March 6, 2018, prompting firefighters with the Coconino National Forest.
Location | The fire was sparked by the crash at the intersection of Forest Roads 514 and 524.
Resources | About 30 firefighters from the Summit Fire Department and CNF were dispatched along with several crews were assigned and tasked with ground fire suppression and containment efforts.  This included several Forest Service engines, patrol and a water tender being taken from the Summit Fire to this one.
Arizona DOT is currently assessing traffic needs in the area.
Size Up | When firefighters arrived, the fire had already burned 50 acres.  Forward progression has been stopped.  Back burning around the Chapel of the Holy Dove was conducted today to protect it from fire.  The current totals are 335 acres of grasslands destroyed.
Public Service Announcement | Drivers are being cautioned to drive according to conditions as there is reports of smoke, response vehicles and personnel working in the area.  Smoke mostly like be present which may limit visibility on US Highway 180 and local forest roadways.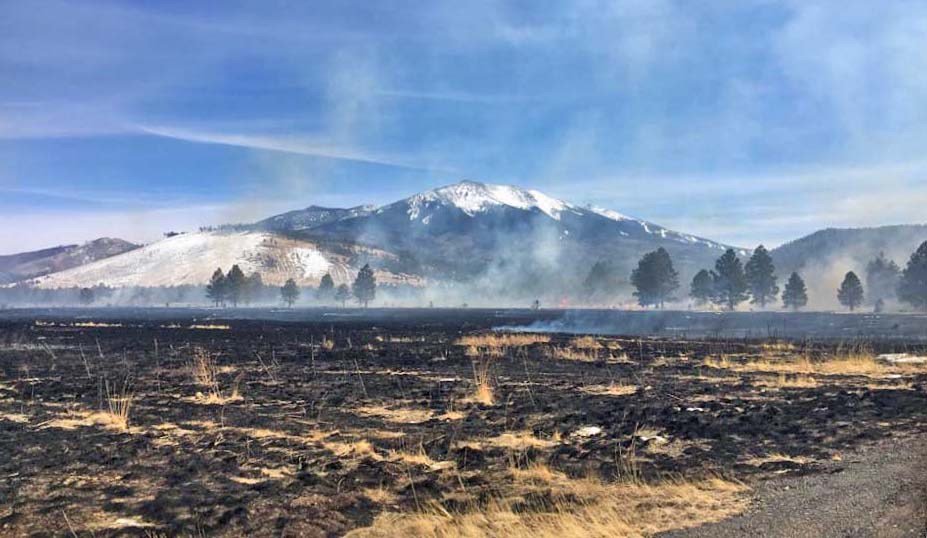 Photos Credit | Coconino National Forest (CNF), Inciweb
(c) 2018 NW Fire Blog