ROYAL CITY, WASHINGTON
UPDATE 2 – 6/5/2019 – WEDNESDAY
Incident Summary
A raging wildfire that started on Monday, June 3, 2019, near Hwy 243 and Wanapum Dam.  It would quickly spread and put Wanapum Village and the town of Beverly of being threatened, prompting various evacuation orders (Levels 1,2,3) by the Grant County Sheriff's Office.
The brush fire would turn into a firestorm burning anything in its pathway, including an unknown number of outbuildings that some have described possibly as shops or industrial type businesses.
Fire Fact | This wildfire is the first one ever, where the Grant County Sheriff PIO has sent out emergency messages in Spanish.
It would quickly be wind-driven and move easterly up through the Lower Crab Creek Canyon area and towards Red Rock Road.  Crews were able to stop the forward progression and contain it to the Canyon area.
The area has been mapped more closer to being west of Royal City than Beverly in Washington.
Fire Resources
There are about 266 total personnel assigned to this fire.
Current ICs are Tony Gilmer and Bob Gear.
Containment Status
Fire has reached a 25% containment status.
Donations
If you wish to DONATE, please donate cash directly to organizations, such as the American Red Cross or other known and verified groups that are helping the evacuees directly. This will best serve your Donation and you are saving so many lives and assisting with those who may have just lost everything!
Incident Cooperators
The SE Washington (State) IMT is currently the Fire Manager of this wildfire.  They are being supported by the following Incident Cooperators:
WA State EMD
Grant County Sheriff's Office
Ecology-Central Region
Grant PUD
WA DNR – sent 2 helicopters, 2 small planes (aka fire bosses), 20 firefighters and 2 strike teams of engines.  They are mutual aid for Bureau of Land Management or BLM.
Grant County Fire District 10
Grant County Fire District 13
Moses Lake Firefighters
Lake Stevens FD
Arlington FD
WA State Patrol
Fire Activities
Aviation resources were said to be dipping out of the upper pool (north) of the Wanapum Dam.
It was reported that conditions included high temps, dry fire fuels, steep terrain and high winds.
The fire was reported this morning around 1000 hours PDT, that the fire was heading east and being monitored by Fire Managers due to the thousands of people heading to and from the Gorge amphitheater. It was stated that it will not impact drivers heading to/from that venue.
Weather forecasts by several meterologists are predicting cool clouds and showers but winds will be gusty and there is a slim chance for lightning later this week.
Threatened
There have been many resources threatened as the wildfire swept through many commercial and residential areas that included:
Agriculture
Farms and agricultural lands
Protected Species
Migrating Monarch Butterflies
Ground Squirrels
Infrastructure
High voltage power line poles
Train trestles
Others as well
Evacuations
Evacuations are still in progress.  You can check for an updated list by visiting the Grant County Sheriff Office on Twitter @GrantCoSheriff for evacuation orders and shelter information. 
The Red Cross closed it shelter because they only had three evacuees show up over the last few days.  It has been reported that residents are sheltering-in-place as the fire has traveled past them in fire impacted areas.
Damage Assessments
All damaged and/or destroyed structures are unknown at the time of this posting.
Closures
Two closures to make a mental note of and avoid this area are at Beverly Burke Road between SR 26 and SR 243 and Lower Crab Creek Road from SR 243 to SR 26.
Donations
Firefighters are mobilized by the State and they are equipped with an abundant cache of drinking water, food and clothing, etc.  The best way to DONATE to these men and women is to show them your appreciation for their efforts.
OR, if you really want to donate on their behalf – the American Red Cross will be happy to accept your donation for those they are helping during this incident or any other wildfire impacted evacuee.
Donations of free drinks, sugary treats and other items may impact a firefighter's normal healthy routine and could harm their safety. Some ICs have complained that an over abundance of items such as clothing, donuts, cookies, drinks, etc have heeded their Fire Operations. They have to assign others on their team to move and go through the mounds of donations. They are grateful but overwhelmed while trying to run a Fire operation and get the fire out quickly.
Please…. DONATE to a verified organization like the American Red Cross or one of our favorites, Wildland Fallen Firefighter Foundation (WFFF).  And, please do your research – all non-profit organizations or those claiming to be collecting on behalf of fire victims are legal or created equally.
The Command Center does not and will get overwhelmed by all the donations the public donate through the outpouring of support that reign upon their incident. There have been many images showing vast amounts of clothing, stockpiled snacks and fluids that they either have to donate out or may go unused.
This WILL impact the Command as they will have to take unplanned fire resources to manage the donations and this is something that can be so overwhelming while they are working to put the fire out.
This is a disservice to them and the residents that have been impacted by the wildfire.
Social Media
Eyewitness Accounts
Here are some of the footage and photos being posted online.  NOTE: We are not on-scene and do not lie claim to any of the images that are being posted here.  Some of the statements here are also paraphrased unless it is a direct presser being released.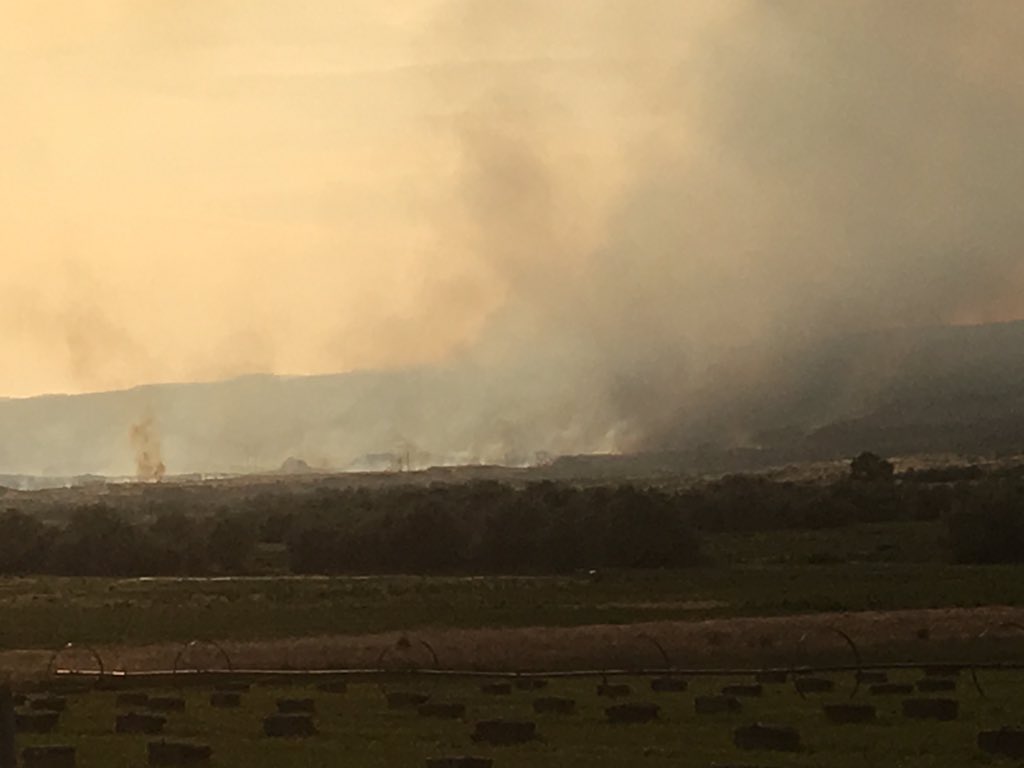 East head of the Fire | Credit:  SE_WA_IMT as of 1937 hours PDT on 6/4/2019
"Some residents are talking about a possible vehicle rollover as the possible cause of the fire but there is no official word yet released by Officials." – News Media | 1830 hours PDT
(c) 2019 NW Fire Blog – Updated 6/5/2019 @ 1940 hours PDT