INCIDENT SUMMARY
The KINCADE FIRE ignited on October 23, 2019, at 2127  hours PDT from an unknown cause. Fire investigators are currently reviewing information to determine the cause and will be under investigation until further notice.
FIRE FACT | 2 wildfires are burning, 1 in Vallejo and this one in Santa Rosa (Media)
The fire is located in steep terrain and in remote areas, where it was sparked on John Kincade Road and Burned Mountain Road, which is northeast of Geyersville, California.
CURRENT STATUS
Active fire behavior with flanking and spotting
14 structures damaged
79 structures destroyed
31,000 structures threatened
180,000 people under evacuations
25,955 acres
11% contained
$7.5 Million cost-to-date
EVACUATION ORDERS
Zone 21: City of Calistoga & Napa County N of Diamond Mountain Rd to Dunaweal Lane. East of the Sonoma County/Napa County Line. South of the Lake County/Napa County Line. West of Pickett Road. (1610 PDT)

1345 PDT | If you are in Windsor in the area of Hembree Lane at Vinecrest Road, leave NOW!! It is smoky and windy and there's an immediate threat of

fire

. (Sonoma County Sheriff's Office)

1445 PDT | Current adverse conditions in Windsor. Lots of peace officers and firefighters here to protect the town. (Sonoma County Sheriff's Office)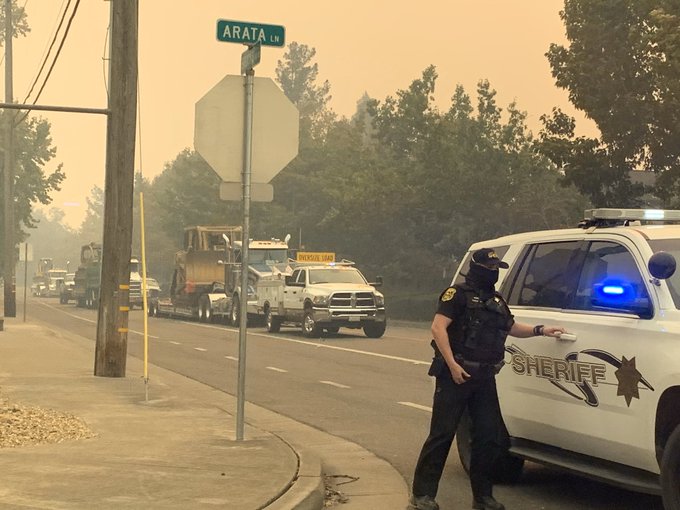 SHELTERS
Santa Rosa Fairgrounds | 1350 Bennett Valley Rd, Santa Rosa, CA. (Also can accomodate large animals)
Santa Rosa Veterans Memorial Bldg | 1351 Maple Avenue, Santa Rosa, CA.
Sonoa Marin Farirgrounds | 175 Fairgrounds Road, Petaluma, CA.
Petaluma Veterans Center | 1094 Petaluma Blvd, Petaluma, CA.
INCIDENT COOPERATORS
CAL FIRE – Sonoma-Lake-Napa Unit (Unified Command)
Sonoma County Sheriff's Office (Unified Command)
Geyersville Fire Protection
CDCR
CAL OES
CA Highway Patrol
CCC
BIA
BLM
CA National Guard
American Red Cross
World Central Kitchen
NWS Bay Area
SJSU Fire Weather Lab
OR firefighters (en route)
Pasadena Fire Department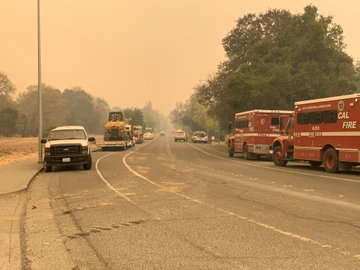 Significant Event | PG&E to shutoff power for 1 Million of its Northern CAL customers, making it the largest shutdown in history. (Media)
RESOURCES & EQUIPMENT
3,081 personnel
68 crews
299 engines
50 dozers
10 helicopters
23 water tender
ANNOUNCEMENTS
1129 PDT | CA Governor Newsom has declared a statewide emergency due to the effects of unprecedented high-wind events which have resulted in fires and evacuations across the state. (Governors office)
1302 PDT | "T

west of the 101 Freeway and north of Highway 12. The

fire

has burned more than 30,000 acres and was pushing south toward Highway 128. The 101 Freeway was closed." (Rep Jared Huffman)

1305 PDT | City of Calistoga and surrounding areas are under mandatory evaucation orders. (Media)
1425 PDT | Santa Rosa City Buses will not be operating service on Monday, October 28th but possibly partial service on Tuesday. Updates –> 707-543-3333. (City of Rosa)
1445 PDT | "

Due to the uncertain conditions of

fire

behavior and heavy smoke in the Windsor area, US-101 remains closed from from Airport Blvd to Dry Creek Rd. (CHP Santa Rosa)

1830 PDT | Presser to take place (CAL FIRE)
 

SECOND CHANCE CONURE RESCUE in Vacaville, Ca is offering FREE bird boarding to ALL

fire

Evacuees for as long as you need. We have cages, toys, food and lots of love for your bird til you can get back home.  707-898-3093. (Twitter user) NOTE: always vet before making a decision.

1044 hours PDT | NV College open  its doors for evacuees in Napa Valley.
1044 hours PDT | CrossWalk Church (2590 First St., (707) 226-1812)  open  as evacuation center
0933  hours PDT | Sutter and Kaiser hospitals evacuated in Santa Rosa, California
0603 PDT | Finley Community Center (2060 W College Ave.) has been evacuated. Those who are seeking shelter, go to the Marin Fairgrounds (10 Ave of the Flags, San Rafael, CA 94903). (City of Santa Rosa)
During an emergency please be water-wise. DO NOT leave your sprinklers running. To learn more about ways to save water. (City of Santa Rosa)
Emergency call boxes available at all City of Santa Rosa Fire Stations. List here —> https://srcity.org/598/Fire-Stations
PG&E Community Resource Center (CRC) at the Santa Rosa Veterans Memorial Building (1351 Maple Ave.) is open from 8am – 8pm, and will open daily until power is restored. (PG&E)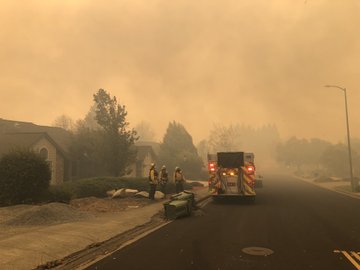 THROUGH THE EYES OF SOCIAL MEDIA
"With evacuation orders being issued to our north, the Santa Rosa Fire Department has recalled all our Department staff. All of our reserve fire engines are being staffed up & all our normally staffed engines & stations are having extra firefighters added to them." (Santa Rosa FD)
"The smoke from the fires is so bad, the air quality is Hazardous in Fresno and we are 6 hours south of Santa Rosa. It's bad, y'all." (Twitter user @ 1625 hours PDT)
"West of the 101 Freeway and north of Highway 12. The fire has burned more than 30,000 acres and was pushing south toward Highway 128. The 101 Freeway was closed." (Twitter User)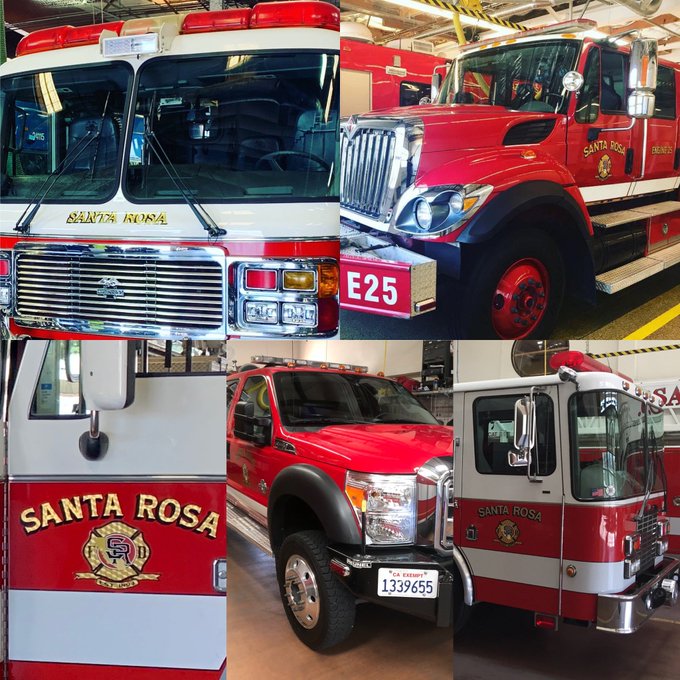 "Police urge residents to yield to emergency personnel and drive with caution. Dangerous wind event continues to impact the city. Emergency response to the Kincade Fire is based out of Santa Rosa and evacuations underway." (City of Santa Rosa)
"As day breaks in Healdsburg, Calif., devastation caused by Kincade Fire at historic Soda Rock Winery is revealed." (media)
"Fire is in the same place, caused by the same faulty equipment, as the Geyserville Fire two years ago. The state has neither forced PG&E to address the issues nor planned for another fire emergency." (Media)
"There are 180,000 people under evacuations. This is the largest evacuation that any of us at the Sheriff's Office can remember. Take care of each other." (Sonoma County Sheriff's Office)
"Fire encroaching the highway on 128, both sides, in Sonoma Co. in Healdsburg. Major wind gusts kicking up and and trees and power lines down everywhere. Updates to come." (10/27/2019 @ 0235 hours PDT. Media)
"The hard "get out" on just about every street in Healdsburg right now. Glow of fire visible beyond town. Last holdouts frantically leaving." (10/27/2019 @ 0334 hours PDT. Media)
"Santa Rosa Airport closed. Tried to cancel my flight but airline wanted to charge large cancellation fee. (Twitter User)
HASHTAGS
#CAwildfires #FireSeason2019 #KincadeFire
(c) 2019 NW Fire Blog – 10/27/2019 @ 1700 hours PDT