INCIDENT SUMMARY
The KINCADE FIRE ignited on October 23, 2019, at 2127  hours PDT from an unknown cause. Fire investigators are currently reviewing information to determine the cause and will be under investigation until further notice.
FIRE FACT | This is the largest evacuation in County History with more than 180,000 ressidents evacuated. (Sheriff's Office)
The fire is located in steep terrain and in remote areas, where it was sparked on John Kincade Road and Burned Mountain Road, which is northeast of Geyersville, California.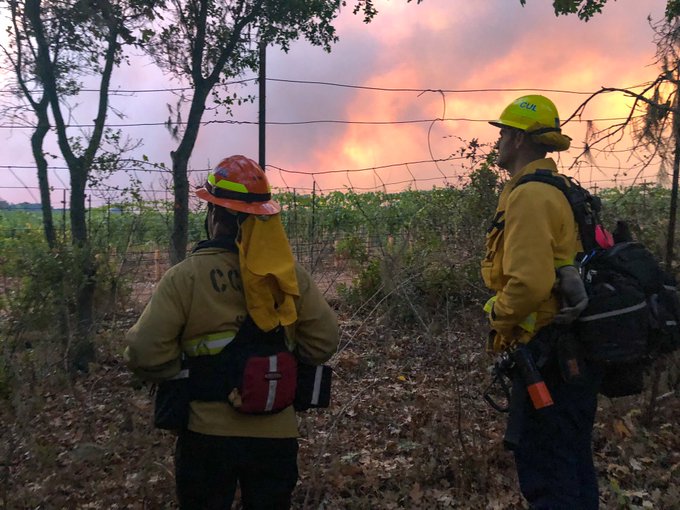 CURRENT STATUS
Active fire behavior with flanking and spotting
17 structures damaged
97 structures destroyed
79,575 structures threatened
180,000 people under evacuations
54,298 acres
5% contained
$7.5 Million cost-to-date
Evacuations  | In Effect for Zones 1-10, 21
 SHELTERS
Santa Rosa Fairgrounds | 1350 Bennett Valley Rd, Santa Rosa, CA. (Also can accomodate large animals)
Redwood Acres Fairgrounds | 3750 Harris Street, Eureka, CA.
Santa Rosa Veterans Memorial Bldg | 1351 Maple Avenue, Santa Rosa, CA. (FULL)
Sonoma Marin Farirgrounds | 175 Fairgrounds Road, Petaluma, CA.
Petaluma Veterans Center | 1094 Petaluma Blvd, Petaluma, CA.
INCIDENT COOPERATORS
CAL FIRE – Sonoma-Lake-Napa Unit (Unified Command)
Sonoma County Sheriff's Office (Unified Command)
Geyersville Fire Protection District
CDCR
CAL OES
CA Highway Patrol
Culver City FD
BIA
BLM
CA National Guard
American Red Cross
World Central Kitchen
NWS Bay Area
SJSU Fire Weather Lab
OR firefighters (en route)
Pasadena Fire Department
La Habra Heights FD
Santa Fe FD
Springs FD
Downey FD
Compton FD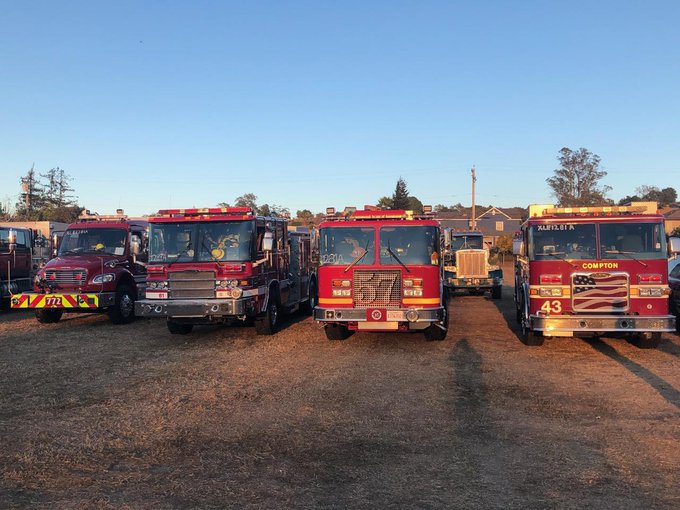 RESOURCES & EQUIPMENT
3,441 fire personnel
352 engines
28 water tenders
10 helicopters
76 hand crews
51 dozers
Fire Fact | The fire grew 24,298 acres over a ~12 hour period: from 30,000 to 54,298 acres.  (FD)
EVACUATIONS
Zone 1 | Ida Clayton Road; North to Highland Ranch Road at Campbell Road; East of 101 between Asti and Alexander Valley Roads to Mendocino and Lake County lines; Lakeview Road and extending south along the Lake and Sonoma County lines to Ida Clayton Road.
Zone 2 | Hwy 128, north Knights Valley area to the Napa County line.
Zone 3 | Hwy 101 corridor from Geyersville south through the town of Windsor and including the entire Cities of Healdsburg and Windsor along with all areas east of Chalk Hill Road area.
Zone 4 | Dry Creek Valley west to Forestville.
Zone 5 | Larkfield and Mark west drainages.
Zone 6 | Calistoga and Petrified Forest Roads to Sonoma and Napa County lines.
Zone 7 | All areas west of Healdsburg and Windsor; Trout Russian River Valley to Bodega Bay.
Zone 8 | West of Fulton and Graton; South to Hessel.
Zone 9 | City of Santa Rosa; East of Western City limits; North of Gruereville Road, Steele Lane, Lewis and Chanate Roads to Montecito Avenue; From Montecito  Blvd to Calistoga Road; North to City limits.
Zone 10 | All areas within the City north of Hwy 12; West of Hwy 101.
Zone 21 | City of Calistoga; Napa Counties; north of Diamond Mtn to Dunaweal Lane; East of Sonoma and Napa Counties; South of Lake and Napa Valley County lines; West of Pickett Road.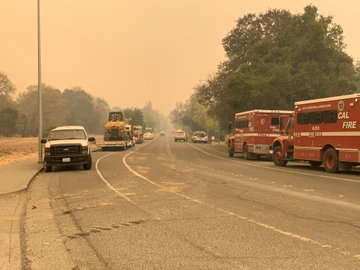 Fire Fact | Containment of the fire decreased by 5%, from 10% to 5%. (FD)
ROAD CLOSURES
Highway 101
NB @ Hopper Avenue
SB @ South Cloverdale Blvd
SR 128
At Geyersville Avenue
At Moody Lane
Geyers Road
Alexander Valley Road
Pine Flat Road
Railroad Avenue
Red Winery Road
Geyers Road
At Red Winery Road
At River Road
Other Roadways
Lytton Station Road at Lytton Springs Road
Healdsburg Avenue at Alexander Valley Road
All roads east of Hwy 101 in the Geyersville area
THROUGH THE EYES OF SOCIAL MEDIA
"2 Sonoma County wineries were damaged in Alexander Valley on Sunday, as the fire poured out of the hills to the valley floor, where fire crews worked to save other wineries along Highway 128." (Media)
"We are burning up here in northern California." (Humanitarian)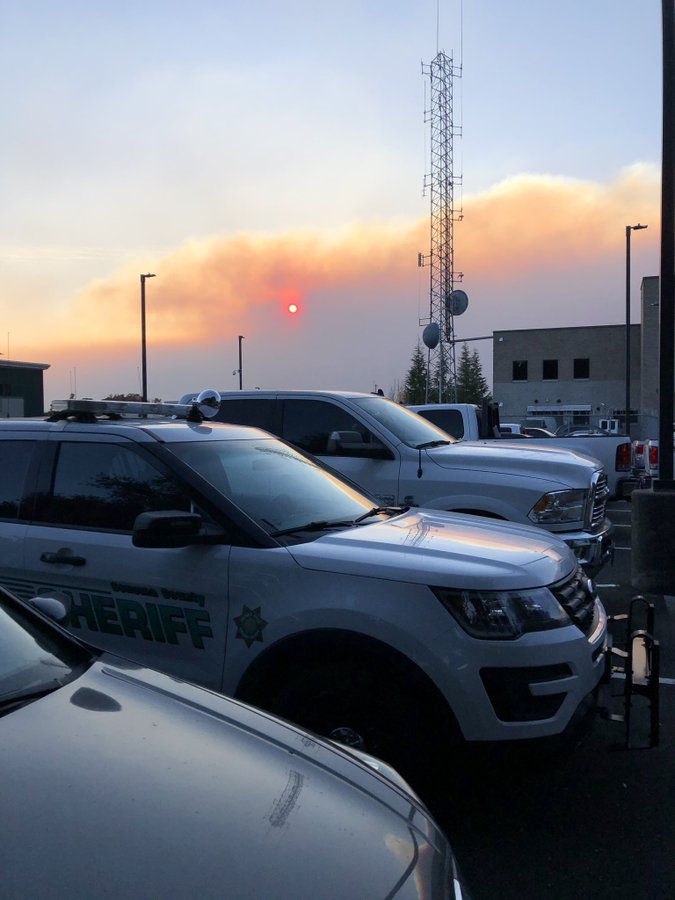 "I live in the San Joaquin Valley in California, the smoke in the air is ominous, and we're a couple hundred miles away." (Twitter User)
"180,000+ people have been ordered to evacuate & the fire has burned more than 30,000 acres. I'm so grateful for the first responders heroically battling this blaze, including our own Glendale and Burbank Fire Departments." (Local Politician)
"Grateful for the heroism of firefighters and first responders working to protect all in the path of fires across California. We stand with our friends & neighbors who have been impacted." -Nancy Pelosi (Speaker of the House)
"While there has been a significant amount of property damage with this fire, I am absolutely amazed and in awe of the firefighters on land and in the air who have managed to provide protection to people and property. Phenomenal effort. Stay Safe!" (Disaster Preparedness User)
"In the midst of the fire, power shutdowns & mass exodus I'm so tempted to vent my anger at the many contributing factors. But tonight isn't the time. Hoping ask those displaced can get a little rest, food and comfort. May those heroes fighting this monster stay safe!" (Singer-Songwriter)
"Scanner Traffic related to fire heading for Mount St. Helena in northern Napa County. Firefighters prepping aggressive response there. Their work holding lines to save downtown Windsor tonight has been amazing." (Media)
"It's not the simple act of your home burning to the ground, it's the terror of choosing between your passport and your wedding album. Of driving into Hell without knowing if you'll ever go home again. And you just did it two years ago." (Media-Reporter)
"Hot spots detected by satellite on ground at Windsor, on US 101. Hail to the heroes who are working hard on the ground and in the air on the dangerous." (Twitter user)
"Fire is now 84.8 square miles. Larger than Riverside, CA & about 5 sq miles smaller than Boston, MA." (Twitter User)
HASHTAGS
#CAwildfires #FireSeason2019 #KincadeFire
(c) 2019 NW Fire Blog – 10/27/2019 @ 2015 hours PDT