Update 1 – May 6, 2020 – Wednesday
Though this wildfire has been burning for three days, we felt it important to show what the good folks in the State of Florida are now going through.
Information gleaned in this posting, is from several verified sources in the Fire Service.
May 4, 2020 [Day 1]
A 250-acre RX fire occurred early in the morning on private land, near Avalon Blvd and I-10.  Several hours later, it appeared the fire had escaped its containment lines, spreading quickly.
Firefighters from the Florida Forest Service – Blackwater Forestry Center, along with other mutual aid agencies to fire burning in the same area.  The fire 's behavior was observed as moderate with long-range spotting, with windy conditions.
The fire was said to be pushing mostly to the northeast and burning south of the Santa Rosa Landfill.  Within one hour of deploying fire assets and personnel, the fire had doubled in size to a whopping 100 acres destroyed.
About 45 minutes  [1644 EDT] thereafter, Fire Officials released this information:
140 acres destroyed
30% contained
10 dozers
3 brush trucks
1 helicopter
1 fixed wing aircraft
No structures were being threatened
At 1930 hours, firefighters stated the fire had burned 150 acres and was at 40% containment.  Most crews had left and will be monitoring this fire through the night. Most of the fire activity had been reduced with increased humidity overnight.  Significant growth is not expected. Crews will return in the morning for a new assessment.
May 5, 2020 [Day 2]
Just after 0500 hours, Firefighters returned to the fire line to build line.  There were personnel on the ground and there were reported issues or fire growth just like they had predicted the night before.
The cause was explained that a RX fire had escaped its containment lines being conducted by a contractor.  No structures were endangered.  Additional local fire departments were called in as mutual aid as precautionary measures.   Press releases went out that firefighters would still be on-scene for the next few days and it appeared that they were beginning to wind down the incident. [0715 EDT]
Less than four hours later [1100 EDT]  activity began picking up along with winds and firefighters were once again on the front lines trying to contain the fire.  With increased winds, swampy land and dry fire fuels seemed to now slow down containment.
Day 2 brought in 14 dozers to help stop the forward progression of the fire, now nearing the City of Milton.  It had now grown to 250 acres which was the maxed amount of acreage for the original prescribed fire, but because it was outside of its boundaries it was becoming something else.
Containment had slipped to 30% from the day/night before at 40% levels in the afternoon. Swamp fires have been hard to fight, as most firefighters whom have first-hand knowledge.  It is the dry fire fuels on the surface allow the fire to easily spread – it is the rising of the water table that makes the soil underneath deeper and more difficult to maneuver with a large piece of equipment, such as a dozer.
The fire has pushed north of I-10 and is east of Avalon Boulevard and near the former Moors Golf course.  It was also said to be burning approximately .5 miles from the nearest structures along the Ski Lane area.  Crews were deployed as needed for structure protection.  [1600 EDT]
Containment had been increased to 40%, allowing crews to make some progress throughout the day and into the evening. [1830 EDT]
May 6, 2020 [Day 3]
Day 3, brings a brighter outlook but would soon change later in the day.
Firefighters have spent the last two days building line around the fire, which has allowed them to fully line it.
Weather is due to be more favorable.  Crews were holding the fire to 250 acres and a containment status of 40%.
At this time [0800 EDT], there were 14 dozers, 1 fixed wing aircraft, 3 helicopters along with 33 total personnel
About an hour later, things started to progressively go downhill thereafter.  Fire behavior was beginning to rear its ugly head and turning to become more extreme.  Fire conditions were beginning to increase activity and here is what has transpired over the latter part of the day.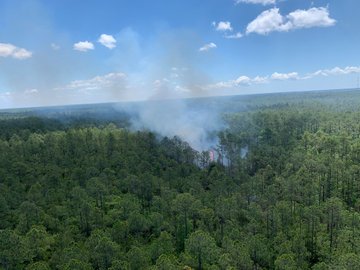 Road closures began going into effect with I-10 being closed from Garcon Road to Avalon Blvd.  Later I-10 was shut down from exit 22 at Avalon to exit 31 on Highway 87.  Due to the fire burning near the roadway, the fire was spotting across the freeway with embers.
A dozer was positioned in the median of the interstate in case needed.  [1000 EDT]
As of this wildfire, two more fires had sparked in the FFS's area, which are being managed separately from this incident.
Fire behavior has now become erratic with the perfect conditions for a Firestorm with high winds, extremely low relative humidity (RH) and nearby structures in the path of disaster.   Fire has destroyed 2,000 acres and containment has been lowered to 20% as it continues to widens its pathway.
Structures have been burned south of the fire and though there have been many, Fire Officials usually would wait for a damage assessment to determine the amount of loss.   It has now crossed over I-10 and there have been many images across Social Media showing zero visibility.  Drivers seem to be clueless or desperate as they drive through the highway covered smoke.  Officials are asking people to avoid the area.
Fire Images Credit:  Florida Forest Service –
(c) 2020 NW Fire Blog – Updated 5/6/2020 2345 EDT / 2045 PDT