Day 2 | Update 3 | 00:00 PT
UPDATE | Level 3 evacuations for the Town of Mansfield are Level 2.
Waterville, Washington – A 3-alarm brush fire broke out west of SR 172 and Roads 11 NW and E NW, just northeast of Wenatchee in Douglas County. The fire broke out on Saturday, July 11, 2020.
Fire behavior is considered extreme, running and wind-driven.  To give an estimate of how dangerous this fast-moving fire really is to look at these significant events:
1800 – Fire is listed at 2,000 acres with a 0% containment status
1930 – Fire has exploded into 10,000 acres with a 0% containment status
5 outbuildings are destroyed
1 primary residence is lost
Level 2 evacuations were upgrade to level 3 due to threats to structures and crops
State Mobe approved 1730 PT
"10 residences west of the Town of Mansfield have received Level 2 evacuation notices.  Phone service is reported to be out.  Approximately 6 structures have been lost with one being a primary residence."
-Douglas County Sheriffs Office
Fire Assets and equipment include:  (2) Type-2 Helicopters, (1) Air Attack Plane, (1) Lead plane, (1) Heavy Tanker and (5) SEATs.  The SEATs are most like dipping out of nearby Banks Lake while the others are able to fly into the Moses Lake Air Tanker base for retardant.  (1) Dozer is also en route.
==============  Evacuations in effect =================
Level 3:
area south of McNeil Canyon Road near the fire
SR 172 at Rd 8 to McNeil Canyon Road
Level 2:
McNeil Canyon Road to the Town of Mansfield
==============  Public Service Announcments =================
Closed Roads | The Sheriffs Office is reporting some drivers are going around barricades that have closed off roadways on the McNeil Canyon Road.  It is important that all drivers heed the area closures to ensure your safety.  Please don't get into a bind where you may need someone to come in to save you, while risking their life. This is a very dangerous and fast-moving fire and this will definitely save your life.
Resources include |  Douglas County Sheriff Office, Washington Emergency Management Spokane County Fire District 8, NWS Spokane, Washington  State Patrol, WA Fire Marshal, CEDAR Digital Corps, Fire Mappers, SE WA IMT.
State Mobe resources are starting to arrive (2225 PT).  They are working on establishing an ICP in Mansfield, where they will be staging.
Photo Credit | SCFD8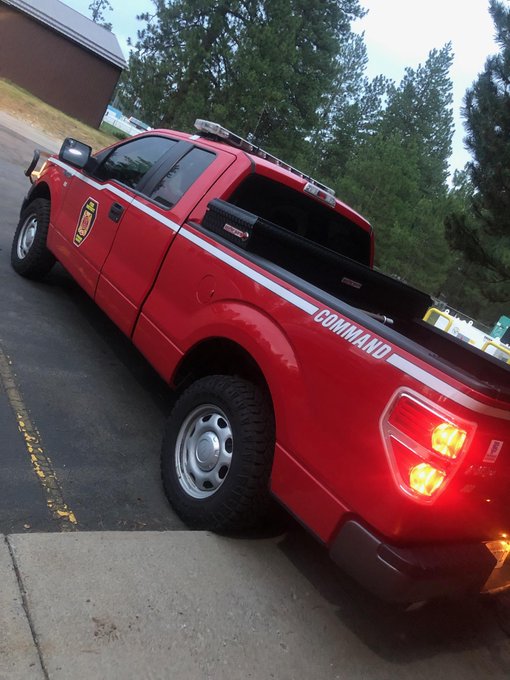 Spokane Co. Fire District 8 Chief Wilkins has been called up as a Strike Team Leader.
Thank you for following our blog and on our Social Channels (Facebook and Twitter @nwfireblog and on our Instagram nwfireblog).
Stay safe!
(c) 2020 NW Fire Blog